The NBA Breakdown offers data-driven analysis for each day's slate using the FantasyLabs Tools and metrics to highlight notable players.
Tuesday features a four-game slate starting at 7 p.m. ET.
Point Guard
Stud
Aside from some stolen baby-rocking celebrations in Game 3, Damian Lillard has mostly gotten the best of Russell Westbrook. The same is true for Projected Plus/Minus tonight, as Dame holds nearly a two-point advantage over Russ on both DraftKings and FanDuel.
Value
Brooklyn ball handlers have been coaxed into hero-ball mode against the 76ers' shaky pick-and-roll defense, which has cut Spencer Dinwiddie's assist chances per game (5.0) nearly in half compared to the regular season (9.3). Still, the fifth-year pro has scored 18 or more points in three of the four games and is a top-two value on both sites among point guards priced $5,000 and under.
Fast Break
Derrick White's quiet Game 4 (8 points, 5 assists and 4 rebounds) has brought his ownership projection down to the 13-16% range on FanDuel and the 9-12% range on DraftKings, giving him a top-three Leverage Rating at the position on each site.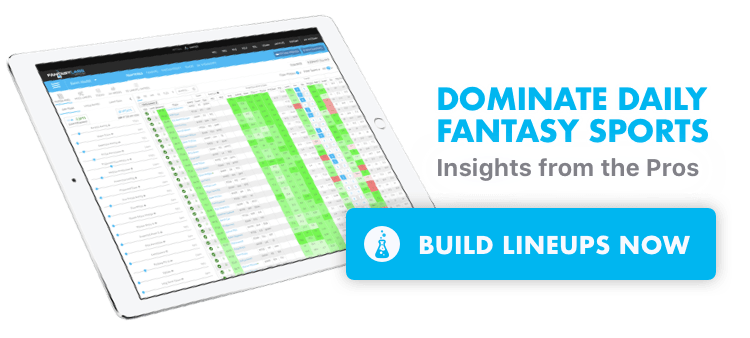 Shooting Guard
Stud
C.J. McCollum has rendered his late-season knee issue a distant memory in the first round against OKC, averaging 26.2 points, 6.3 rebounds and 4.5 assists through four games. His average DraftKings Plus/Minus is +12.94 for the series and our NBA Player Models expect that trend to continue, projecting McCollum as the second- and fourth-best value on DraftKings and FanDuel, respectively, among shooting guards.
Value
Caris LeVert has dropped 23 or more points in three of the four games of the series, posting a DraftKings Plus/Minus of at least +11.2 in each of those three. Our models like that trend to continue, as LeVert has a higher Projected Plus/Minus than any other player on the slate on both sites.
Fast Break
At only 13-16% projected ownership on both sites, DeMar DeRozan is expected to be the lowest-owned stud shooting guard, earning him the top Leverage Rating at the position
Small Forward
Stud
Paul George has posted at least 40 DraftKings points in all four games of the series and is the top value at the position above $6,000 tonight. His $9,000 DraftKings salary gives him a 98% Bargain Rating on that site. On FanDuel he's $10,700, though, giving him a middling Projected Plus/Minus there.
Value
After struggling in terms of both playing time and production during the regular season against the Thunder, Maurice Harkless is having a nice series, posting a 15-point, 10-rebound double-double in Game 4 and nearly missing out on a double-double in Game 2 with 14 points and 9 rebounds. He's at risk of foul trouble (5.0 per game this series), but his Projected Plus/Minus is double that of any other player at the position on FanDuel, and he ranks top-five on DraftKings.
Fast Break
Rudy Gay has been having a hushed series (8.0 points, 7.8 rebounds), but it's decreased his expected ownership to the point where he's now a good-buy low for tournaments. Gay has the top Leverage Score at the position on FanDuel and a top-four mark on DraftKings.
Power Forward
Stud
Pascal Siakam is averaging 22.3 points and 9.3 rebounds in his postseason coming-out party against Orlando. He's a top-three value among power forwards as his team looks to send the Magic on summer vacation.
Value
Tobias Harris owns the top Projected Plus/Minus after George among power forward-eligible players on DraftKings.
On FanDuel, Ed Davis (ankle, questionable), who is eligible only at center on DraftKings, has the top mark thanks to his minimum salary, though I still wouldn't touch him outside of tournaments.
Fast Break
Raptors-Magic has been more of a Marc Gasol series than a Serge Ibaka one, as Toronto has needed the former to shut down Nikola Vucevic. That said, Ibaka can stuff the stat sheet quickly and is projected to draw single-digit ownership on both sites, giving him a top-two leverage rating on each.
Center
Stud
Nikola Jokic is damn near averaging a triple-double in Denver's first-round series with the Spurs, with 20.5 points, 11.8 rebounds and 9.3 assists. He's a strong value on DraftKings, where he has a 96% Bargain Rating and slate-leading 15 Pro Trends.
Also working in Jokic's favor is that he has been much better at home than on the road in his career, averaging a +4.4 DraftKings Plus/Minus and 61% Consistency Rating in Denver compared to -0.3 and 48%, respectively, in road games, per our NBA Trends tool.
Value
After logging 24.3 minutes per game over the first two games of San Antonio's series with Denver, Jakob Poeltl has been on the floor for 30.3 over the past two. With a salary still south of $5,000 on both sites, Poeltl ranks as the top value at the position on FanDuel and third on DraftKings.
Fast Break
Though both players have had trouble staying on the floor for different reasons, both sides of the center matchup in Nets-76es profile as strong DFS values, depending on site. Joel Embiid (knee, probable) is the top-rated player in the Phan Model on DraftKings, while Jarrett Allen is its top-rated player on FanDuel.
News Updates
After this piece is published, FantasyLabs is likely to provide news updates on a number of players. Be sure to stay ahead of your competition with our NBA news feed.
Pictured: Portland Trail Blazers guard Damian Lillard (0)
Credit: Harrison Barden-USA TODAY Sports