The NBA Breakdown offers data-driven analysis for each day's slate using the FantasyLabs Tools and metrics to highlight notable players.
DFS sites are offering one-game showdown slates for Game 6 of Nuggets-Spurs at 8 p.m. ET (TNT) on Thursday.
If you're new to single-game formats, be sure to check out these clutch pieces from Matt LaMarca:
San Antonio Spurs
Stud
LaMarcus Aldridge was born and raised in Texas while DeMar DeRozan hails from LA, perhaps explaining why playing at home has benefitted the former but not the latter this season. Here are the home/road splits for average DraftKings Plus/Minus and Consistency Rating for San Antonio's two stars (via our NBA Trends tool):
Aldridge: +3.7, 58% home | -1.4, 31% away
DeRozan: +0.2, 42% home | +0.5, 47% away
Aldridge has been right on-trend to this point in the series, exceeding his salary-based expectations in both home games, but coming up short in all three in Denver. Our NBA Player Models project him for team-leading marks in Plus/Minus and ceiling.
In the DraftKings piece linked above, Matt discusses the importance of paying up at the Captain spot, and Aldridge should be considered the top option in that regard for anyone who decides to pivot off Nikola Jokic tonight (Aldridge is the better bet to have lower ownership).
Also note that Aldridge's DraftKings production has a slightly negative correlation to DeRozan (-0.11), as well as stronger negative correlations with Bryn Forbes (-0.29) and Jakob Poeltl (-0.19).
Value
Jakob Poeltl has hit value in four straight and is averaging a +3.77 Plus/Minus and 80% Consistency Rating over his last 10. Coach Pop rolled with Poeltl for 28.6 minutes a night over the last three games of the series after deploying him for just 22.6 a night in Games 1-2, and Poeltl responded with 10.0 points on 76.4% shooting, 7.7 rebounds, and 3.0 assists over that span.
PS If you ever want to win one of the easiest bets of your life, just ask someone who doesn't watch much NBA/Spurs (and isn't Austrian) how to pronounce his last name.
Fast Break
Another piece of advice Matt gives in the piece linked up top: Seek out black swans. While a true black swan would, by definition, be impossible to predict, black swans for our purposes come with the benefit of process of elimination — there will only be a handful of random-ass dudes in each team's rotation.
Our models peg Davis Bertans as that dude for the Spurs tonight. The top projected value under $3,000, Bertans has played between 15 and 20 minutes in 4-of-5 games this series, but he has the requisite aim from deep (42.9% on 4.4 attempts in the regular season) to get his black swan on.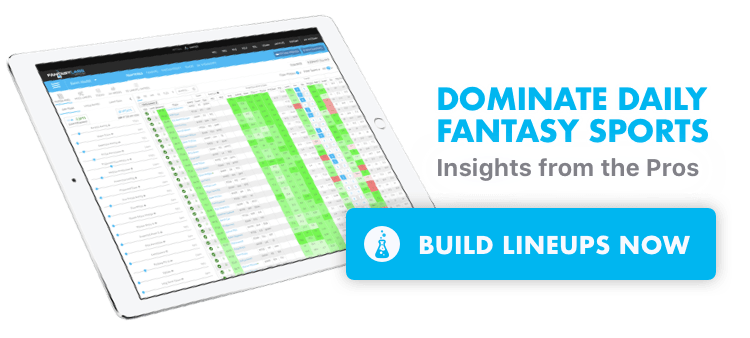 Denver Nuggets
Stud
Nikola Jokic has been on nightly triple-double alert all series, notching one in the first game and missing by a mere two assists in three others. Dating back to his last 10 games, the The Joker has been dealing to the tune of a +7.29 Plus/Minus and 80% Consistency Rating.
And though he has struggled on the road at times this season (-2.0 Plus/Minus, 40% Consistency vs. +3.4, 54% respectively at home), it's tough to think about fading him when no other player on either side comes anywhere close to touching his Projected Plus/Minus (+6.19).
Jokic's strongest positive correlations are to Will Barton (0.27) and Torrey Craig (0.16). His strongest negative correlations are to Mason Plumlee (-0.22), Monte Morris (-0.19), and Malik Beasley (-0.16).
Value
If Torrey Craig had followed up his 18-point, 8-rebound effort in his first start in Game 3 with another big stat line in Game 4, we might not even been talking about him this value section.
But the rookie took only one shot from the field and finished with one of the weirdest stat lines you'll see from an NBA starter: 1 point and 10 rebounds in 27.5 minutes. The important thing is that it triggered a salary increase of just $400, entrenching him in second place behind only Jokic in terms of projected value and player rating in our models.
Fast Break
From the potential-random-outburst-by-a-bench player perspective on the Denver side, our models point squarely at Malik Beasley. The third-year wing is logging 26.3 minutes a game over the last three — up from 19.2 in Games 1-2 — and he doesn't need long to fill it up.
We saw that on full display in Denver's 114-105 win in Game 3 last Tuesday, when he poured in 20 points in 27.5 minutes. Counting that contest, the Spurs have now been on the receiving end of three of Beasley's 13 20-point games this season (23%).
News Updates
After this piece is published, FantasyLabs is likely to provide news updates on a number of players. Be sure to stay ahead of your competition with our NBA News Feed.
Pictured above: San Antonio Spurs power forward LaMarcus Aldridge (12) and Denver Nuggets center Nikola Jokic (15)
Credit: Isaiah J. Downing-USA TODAY Sports