The NBA Breakdown offers data-driven analysis for each day's slate using the FantasyLabs Tools and metrics to highlight notable players.
Tuesday features a four-game slate starting at 8 p.m. ET.
Point Guard
Stud
Despite the risk of a blowout (which I'm not sure is actually a risk given how the Thunder have played recently), Russell Westbrook is the top-rated stud point guard on the slate in terms of Projected Plus/Minus. The nightly triple-double threat is averaging a +3.32 DraftKings Plus/Minus and a 70% Consistency Rating over his past 10 games.
Value
Derrick White's offensive game has abandoned him of late — he's made more than two field goals just once in his past six games — but the minutes should be there for him in this game because he's coach Pop's foremost answer to corralling Trae Young. White is the top projected value at the position and should be playing with confidence against a Hawks team he rampaged for 18 points, 9 assists, 6 rebounds, and 6 blocks on Mar. 6.
Fast Break
Speaking of Trae Young, Atlanta's franchise point guard looks to be in for even higher usage than normal with John Collins (load management) set to miss. The rapidly improving rookie will look to atone for an 8-of-24 shooting night against White and the Spurs last month and is the highest-rated stud at the position after Westbrook (Stephen Curry's projected Plus/Minus is slightly negative for his matchup with Denver).
That said, White's defense and the absence of his top pick-and-roll weapon in Collins could produce another inefficient stat line, so it could pay off to pivot to someone like Rajon Rondo, who has a position-leading Leverage Score on both sites; Jamal Murray (top-three Leverage Score on DraftKings); or Chris Paul (top-three Leverage Score on FanDuel).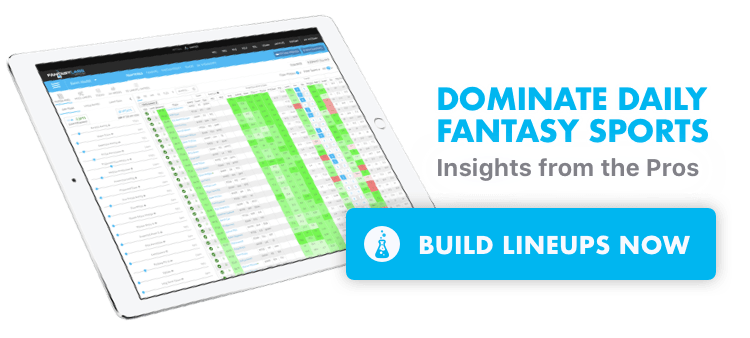 Shooting Guard
Stud
Westbrook has a slightly higher projected ceiling, but no player on the slate is projected for a higher floor than James Harden. The Beard will get his second crack at the Kings in as many games after torching them for a 50-point, 11-rebound, 10-assist triple-double on Saturday.
Value
Kevin Huerter and Justin Anderson are both top value options from the shorthanded Hawks. Huerter is the better shooter (51.3% vs. 45.7% eFG) and projects to play more minutes (30.8 vs. 27.8), but Anderson's $900 discount relative to Huerter on FanDuel gives him a 97% Bargain Rating and the top Projected Plus/Minus at the position on the site.
Note that though Anderson is shooting guard-eligible, the 6-foot-6, 230-pounder will spend most of his time at small and power forward helping to fill the void left by the absence of Collins and Taurean Prince (foot).
Kent Bazemore is also shooting guard-eligible and is another top value option on Atlanta, and he's more likely to spend his minutes on the wing.
In order of Projected Plus/Minus, it's Bazemore-Anderson-Huerter on DraftKings and Anerson-Bazemore-Huerter on FanDuel.
Fast Break
Buddy Hield exceeded salary-based expectations for the first time in six games last time out against Houston. His projected ownership on DraftKings (13-16%) is only one-third of Harden's (36-40%), giving Hield a position-high 70% Leverage Score.
Small Forward
Stud
Paul George edges Kevin Durant in Projected Plus/Minus among studs at the 3. Despite a modest +0.70 DraftKings Plus/Minus over his past 10 games, PG13 has been a high-floor option, hitting value in 7-of-10 over that span. KD, meanwhile, has posted a ghastly -5.09 Plus/Minus and 30% Consistency Rating over his past 10 outings.
Value
Vince Carter is the only member of the Hawks' muddled wing/forward rotation eligible at only at small forward. The 42-year-old lays claim to the top Projected Plus/Minus at the position on both sites but ranks behind Anderson and Bazemore on DraftKings.
Fast Break
Lance Stephenson posted three straight DraftKings Plus/Minuses of +10.0 or better before an 0-for-7 shooting dud in 15:51 on Sunday against New Orleans. Born Ready is a volatile real-life and fantasy "asset," but profiles as a top-two value option on both sites for tonight's four-game slate.
Power Forward
Stud
Since the beginning of March, LaMarcus Aldridge has been on the floor for 36.2 minutes a night, and we've seen him turn in some monster double-doubles of late: 48 points and 13 rebounds at Boston on Mar. 24, 20-and-15 at Charlotte on Mar. 26, and 27-and-18 vs. Sacramento on Mar. 31 (he just missed one against the Hawks with 32-point, 9-rebound effort on Mar. 6). Aside from PG13 (who is eligible at power forward only on DraftKings), LA is the only player at the position with a projected ceiling north of 60.
Value
P.J. Tucker has scored a measly 3 points in each of his past three games, yet missed value on DraftKings by a combined 6.05 points over that span. The 33-year-old grinder shot 3-of-13 from 3-point range in those games, but he's been knocking down triples at an above-average 37.8% clip this season. The probable regression in that area leaves Tucker as a top-three value at 4 on DraftKings, as well as the top overall value at the position on FanDuel.
Fast Break
With Kyle Kuzma (foot) iffy, Draymond Green and Paul Millsap likely to battle it out for who can have the quietest, most workman-like 30-plus minutes, and the shorthanded Lakers unlikely to force the ball out of Westbrook and PG13's hands and into Jerami Grant's, Marvin Bagley is set up to be the top pivot off Aldridge. The rookie No. 2 overall pick out of Duke has come on strong down the stretch with a +5.78 Plus/Minus and 65% Consistency Rating on DraftKings over the past month. He could also see extra playing time given starting center Willie Cauley-Stein's struggles in the prior three meetings with Houston this season (6.0 points and 4.0 rebounds in 21.0 minutes per game).
Center
Stud
Clint Capela has dominated the Kings this season, producing nearly identical stat lines in the two prior meetings which he was active: 23 points on 11-of-14 shooting with 16 rebounds on Nov. 17, and 24 points on 10-of-13 shooting with 15 rebounds on Mar. 30. Per our NBA Trends tool, Capela's 52.38 DraftKings points per game and +17.31 average Plus/Minus against Sacramento are each second-highest in their respective category among all teams he has faced this season.
Value
Another position, another pair of Hawks value options: Deyonta Davis and Alex Len project to split the center minutes for Atlanta in the absence of Collins and Dewayne Dedmon (ankle). Davis has the slight edge in projected value thanks to his min-priced salary, but Len is the higher-ceiling play. Len has posted a +3.30 average DraftKings Plus/Minus and 70% Consistency Rating on DraftKings over his past 10 games, and he turned in a +7.54 mark in the first meeting with the Spurs.
Fast Break
Just as Capela has put up huge numbers against the Kings, Steven Adams has done so against the Lakers, posting 14 points and 15 rebounds on Jan. 2., then 17 points and 15 rebounds on Jan. 17. Adams is the top-rated center on DraftKings in the Phan Model and is top-three on FanDuel as well, yet is projected to be outside the top three in ownership at the position.
News Updates
After this piece is published, FantasyLabs is likely to provide news updates on a number of players. Be sure to stay ahead of your competition with our NBA news feed.
Pictured: Houston Rockets center Clint Capela (15) and guard James Harden (13)
Credit: Troy Taormina-USA TODAY Sports