The MLB Breakdown offers data-driven analysis using the FantasyLabs Tools and predictive metrics to highlight notable players. 
On Monday, we have a nine-game main slate at 7:05 p.m. ET.
Pitchers
Studs
On FanDuel, there is only one pitcher who costs $10,000 or more:
Trevor Bauer (R), $10,200, CIN vs. SD
There are a few different ways to go at pitching tonight, one of which is paying up for Bauer. He's been sporadic over the past month, averaging a -4.05 FanDuel Plus/Minus with a 50% Consistency Rating. And he enters the game with worrisome Statcast data. Opposing hitters have a 228-foot average distance with a 93-mph exit velocity against him over his past two starts. But his matchup against the Padres presents a nice bounceback spot for him.
Their projected lineup carries a high 28.1% strikeout rate and subpar .293 wOBA against right-handed pitchers over the past 12 months. The Reds possess -160 moneyline odds, and Bauer's 8.05 K Prediction leads the main slate. Bauer is a solid play, but with an abundance of teams implied for high run totals, paying down at pitcher might be the preferred play since a few lower-priced pitchers are also in good spots. Bauer, however, does work well on DraftKings, where two pitchers are needed.
Values
Kyle Gibson owns a 99% Bargain Rating on FanDuel, and his +11.25 Projected Plus/Minus is the second-highest mark on Monday's slate of games. He's incredibly underpriced on FanDuel since his salary checks in at $10,100 on DraftKings, making him the fourth-most expensive pitcher on that site.
Gibson squares off against a projected White Sox lineup that has a 27.5% strikeout rate and .280 wOBA against righties over the past 12 months and a 28th-place ranking in Weighted Runs Created Plus (wRC+) against them this season. Overall, he possesses a 6.23 K Prediction, and the White Sox are implied for just 3.9 runs. Gibson is a strong FanDuel option and has the second-highest median projection in our Models.
Brendan McKay is the same price on both sites, but his $7,500 price tag on DraftKings makes him the perfect SP2 candidate. He takes on the Mariners, whose 3.6 implied run total is the second-lowest mark on the slate. Additionally, their projected lineup has a 30.2% strikeout rate and .286 wOBA against lefties over the past year. He's been volatile this season, but this should be an exploitable spot for him.
Fastballs
Wade Miley: He doesn't have much strikeout upside, but he can grind out strong performances, and Miley has one of the best matchups on the board against the Tigers, who have a slate-low 3.3 implied run total. He's especially enticing on FanDuel, where he has a 99% Bargain Rating.
Zac Gallen: He's a serviceable option on DraftKings if you don't have the salary to get up to Bauer. The Rockies knocked him around in his last start, but that was at Coors Field. The Rockies have struggled against righties on the road, ranking 25th or worse in ISO, wOBA and wRC+ against them this season.
Notable Stacks
With our Lineup Builder, it's easy to incorporate stacks into DFS lineups. One of the top four-man DraftKings stacks in the CSURAM88 Player Model belongs to the Houston Astros.
1. George Springer (R)
3. Michael Brantley (R)
4. Alex Bergman (L)
5. Yordan Alvarez (R)
Total salary: $17,500
It isn't a shock to see the Astros rate well. Their 6.8 implied run total leads the slate by almost a full run, and their total has increased by 0.4 runs since lines were first posted. They're in an eruption spot against Edwin Jackson, who has pitched to a 5.84 xFIP with a 5.9% K-BB% this year. He's also allowed a slate-high 2.48 HR/9 over the past 12 months.
Bregman will be on the negative side of his splits for this righty-righty matchup, but he's still throttled right-handed pitchers, hitting them to the tune of a .405 wOBA and .267 ISO. He's also in absurd batted-ball form, possessing a 260-foot average distance, 93-mph exit velocity and 46% hard-hit rate. All of those marks exceed his 12-month averages. Most notable, his two-week average distance is +37 feet further than his year-long mark, and his hard-hit rate exceeds his long-term average by +6 percentage points.
Those marks could bode well for Bregman, since Jackson has allowed a 96-mph exit velocity with 50% hard-hit rate over his past two starts.
But this stack is expensive on DraftKings, so it'll force you to pay down at a few spots in your roster.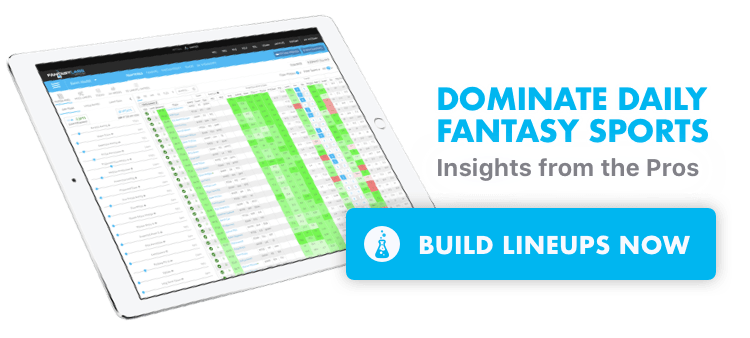 One of the top FanDuel stacks for the main slate in the CSURAM88 Model belongs to the Arizona Diamondbacks.
1. Ketel Marte (R)
2. David Peralta (R)
3. Eduardo Escobar (R)
4. Christian Walker (R)
Total salary: $14,600
The Diamondbacks will face Chi Chi Gonzalez: He's been terrible this season, pitching to a 5.53 xFIP with a 1.7% (!!) K-BB%.
The matchup against the righty will put Peralta on the positive side of his splits, as he owns a .369 wOBA and .214 ISO against right-handed pitchers over the past 12 months. Peralta's +13 Recent Batted Ball Luck (RBBL) also suggests he could enjoy some progression soon. Walker leads this stack with a +30 RBBL, and he possesses the strongest numbers against righties over the past year, boasting a .356 wOBA and .235 ISO.
With how cheap this stack is, it allows you to go multiple ways with roster construction. You can pay all the way up to Bauer for your pitcher, or you can still pay down anyway and load up on other hitters.
Other Batters
If you're trying to make the Astros stack work on DraftKings, you'll need some cheap hitters. Since that stack consists of just four Astros, you can still fit one more. Robinson Chirinos costs only $3,400 and has the fourth-highest median projection and Projected Plus/Minus on DraftKings in our Models.
Another cheap hitter is Adam Frazier, who has an 82% Bargain Rating on FanDuel along with a top-three Projected Plus/Minus. Frazier is projected to bat leadoff and offers cheap exposure to the Nationals' respectable 4.9 implied run total.
Bryan Renolds is intriguing on FanDuel with his 77% Bargain Rating. He's hit righties well over the past 12 months, possessing an elite .416 wOBA along with a .203 ISO. Reynolds has also managed to draw a ton of hard contact over the past two weeks, evidenced by his 94-mph exit velocity and 51% hard-hit rate.
Good luck, and be sure to check out The Action Network if you're looking for more in-depth MLB analysis.
After this piece is published, FantasyLabs is likely to provide news updates on a number of players. Be sure to stay ahead of your competition with our industry-leading DFS-focused news blurbs.
Pictured above: Brendan McKay
Photo credit: Orlando Ramirez-USA TODAY Sports