The MLB Breakdown offers data-driven analysis using the FantasyLabs Tools and predictive metrics to highlight notable players. 
DraftKings and FanDuel will have 13-game main slates starting at 7:05 p.m. ET on Friday.
Pitchers
Studs
On FanDuel, there is one pitcher who cost $10,000 or more:
Gerrit Cole (R), $11,400, HOU @ TEX
Friday's slate is an interesting one as there isn't one team implied for under 4.0 at the time of writing. Cole takes top honors as the top-priced pitcher on Friday night. The matchup on paper isn't perfect considering the Rangers rank 12th in Weighted Runs Created Plus (wRC+) and eighth in ISO against righties this year.
That said, Cole has dominated this season, pitching to a 2.67 xFIP with a 35.6% strikeout rate. Additionally, the projected Rangers lineup carries a 28.4% strikeout rate against right-handed pitchers over the past 12 months. Overall, Cole offers the highest floor and ceiling with his strikeout potential, but with the abundance of high run totals tonight, it might make sense to pay further down at pitcher tonight to get some exposure to high-priced bats.
Values
Jason Vargas could be worth a look as a punt option if you want to load up on bats. The Mets are slight underdogs (+102) against the Marlins, but Miami is implied for just 4.1 runs. And while Vargas' metrics don't jump off the page this year with a 4.98 xFIP, it's a solid matchup as the projected Marlins lineup owns a 28.2% strikeout rate and ranks dead last in team wOBA, ISO and wRC+ against lefties this season. He has a solid 87% Bargain Rating and +12.40 Projected Plus/Minus on FanDuel.
Pitching in the same game is Caleb Smith, who has a 76% Bargain Rating on FanDuel. The matchup isn't as strong since the Mets have hit lefties well this season, ranking third in wRC+ and fifth in wOBA. Although, Smith has considerable strikeout potential if he can keep himself out of trouble, boasting an excellent 31.1% strikeout rate this year. Smith has the third-highest Projected Plus/Minis on FanDuel among pitchers, and he's my preferred FanDuel option for cash games.
Yonny Chirinos is averaging a +8.35 Projected Plus/Minus with an 80% Consistency Rating on FanDuel this year. Of course, a lot of that has to do with his low salary. But, he's worth a look as an SP2 on DraftKings, or if you want to stack up the top-priced hitters on FanDuel. It's an unimposing matchup against a projected Orioles lineup with a 27.6% strikeout rate against righties over the past 12 months, along with ranking 24th or worse in ISO, wOBA and wRC+ against them this season.
Fastballs
Robbie Ray: He's an elite SP2 option on DraftKings with his 98% Bargain Rating. Ray can have some blowup games, but that's typical for him with his high walk rate. But, he boasts an outstanding 30.6% strikeout rate against a projected Cardinals lineup that has a 27.7% strikeout rate against lefties over the past year.
Domingo German: The Yankees are the largest (-271 moneyline) favorite on the slate against a Blue Jays team that ranks 24th in wRC+ against righties this year. Their 4.1 implied run total is among the lowest marks on the slate. German is by far a better value on FanDuel where he has a 94% Bargain Rating.
Notable Stacks
With our Lineup Builder, it's easy to incorporate stacks into DFS lineups. One of the top four-man DraftKings stacks in the CSURAM88 Player Model belongs to the New York Yankees.
1. DJ LeMahieu (R)
2. Aaron Judge (R)
3. Aaron Hicks (S)
5. Didi Gregorius (L)
Total salary: $18,800
Despite this stack being so expensive, they still lead DraftKings' main slate with a Team Value Rating of 87 in our Vegas Dashboard. This is largely due to their absurd 7.0 implied run total. They'll square off against Aaron Sanchez, who hasn't been great this season, pitching to a 5.33 xFIP with a 4.9% K-BB%.
Overall, targeting hitters in games that feature implied run totals this high has historically been a fruitful investment for DFS players. Per our Trends tool, in non-Coors Field games, hitters in games with comparable implied run totals have averaged a massive +2.80 DraftKings Plus/Minus.
The only downside with this stack is how expensive it is, which means you'd likely have to incredibly cheap at pitcher and everywhere else in your lineup.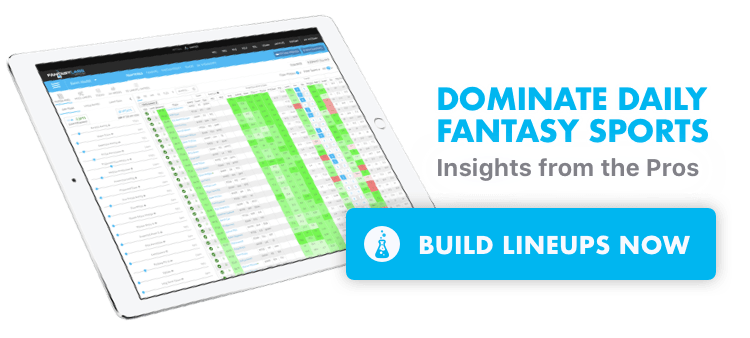 One of the top FanDuel stacks for the main slate in the CSURAM88 Model belongs to the Milwaukee Brewers.
1. Yasmani Grandal (S)
2. Christian Yelich (L)
4. Ryan Braun (R)
5. Eric Thames (L)
Total salary: $14,500
The Brewers carry a nice 5.6 implied run total on Friday, which seems par for the course on this slate since there are 10 teams with implied run totals over 5.0. They'll square take on Shaun Anderson, who has pitched to a subpar 4.59 xFIP with a 6.3% K-BB% this season.
Note that Braun (knee) was hurt leading up to the All-Star break, so be sure to pay attention tonight as lineups are released.
The matchup against the righty is a smash spot for Yelich as he's demolished right-handed pitchers over the 12 months, hitting them to the tune of a .499 wOBA and .393 ISO. Overall, Yelich has great Statcast data over the past two weeks, flaunting a 241-foot average distance, 97-mph exit velocity and 66% hard-hit rate.
Thames is in the same boat as he'll be on the positive side of his batting splits, sporting a .333 wOBA and .237 ISO against righties. He has the best Statcast data of this stack, owning a whopping 264-foot average distance with a 97-mph exit velocity and 54% fly-ball rate.
Other Batters
Jason Kipnis could be a potential cheap bat on DraftKings with his 87% Bargain Rating. The Indians' 4.9 implied run total isn't as high as some of the other teams, but it's not far off either. Kipnis is projected to hit cleanup and will at least be on the positive side of his splits, owning a .357 wOBA and .200 ISO against righties over the past year.
Chris Taylor costs just $3,000 on FanDuel and is projected to hit leadoff for a Dodgers team that is implied for 5.2 runs. The matchup against the lefty puts him on the positive side of his splits, boasting a .360 wOBA and .235 ISO against them over the past 12 months. He's also generated a ton of hard contact over the past two weeks, evidenced by his 95-mph exit velocity and 50% hard-hit rate. Leadoff hitters featured in games with comparable implied run totals have historically averaged a +1.74 FanDuel Plus/Minus.
If you want some Coors Field exposure, Charlie Blackmon has throttled right-handed pitchers over the past year, possessing an elite .416 wOBA and .275 ISO against them. He trails only Yelich in median projection among outfielders.
It's also hard to ignore Mike Trout against Mike Leake, who has allowed 1.46 HR/9 over the past year, along with a weak 6.38 K/9. Trout dominated righties with his .491 wOBA and .388 ISO, not to mention his elite Statcast data over the past two weeks, sporting a 278-foot average distance, 96-mph exit velocity and 67% fly-ball rate.
Good luck, and be sure to check out The Action Network if you're looking for more in-depth MLB analysis.
After this piece is published, FantasyLabs is likely to provide news updates on a number of players. Be sure to stay ahead of your competition with our industry-leading DFS-focused news blurbs.
Pictured above: Caleb Smith
Photo credit: Dale Zanine-USA TODAY Sports