This article is a data-driven deep dive on strategic decision-making and roster construction for DFS cash games and tournaments. It relies heavily upon FantasyLabs' extensive suite of analytical DFS tools, as well as advanced metrics and film study. First, I walk through narrowing down the player pool at each position. Then, I lay out how to choose the highest-floor lineup combinations for cash games. Finally, I go game-by-game to present the biggest edges (stacks, pivots, leverage opportunities, etc.) in each.
Week 10 shmoney time.
Quarterback (Cash)
Lamar Jackson ($7,300 DK, $8,600 FD) at CIN
Jameis Winston ($6,800 DK, $7900 FD) vs. ARI
Patrick Mahomes ($7,000 DK, $8,400 FD) at TEN
Drew Brees, Saints ($6,700 DK, $8,300 FD) vs. ATL
Lamar Jackson has scored fewer than 21 FanDuel points only once this season, but he sets up better on DraftKings play because of their yardage bonuses, which he's unlocked three times on the ground and once though the air. One of those 100-yard rushing performances was against these Bengals on Oct. 13.
Jameis Winston is not ideal as a cash game play, but this week he serves as an alternative to capture the production of Mike Evans and Chris Godwin, who are expected to be among the chalkiest players on the slate.
Drew Brees has a matchup at home against a Falcons defense that has allowed multiple TD passes in six straight games. The Falcons defense allowed worse marks in yards per attempt (8.6) and TD rate (7.6%) than the Cardinals unit Brees just rattled off 373 yards and 3 scores against (8.3, 7.6%).
Patrick Mahomes has been the highest-floor QB in fantasy. His early exit against Denver marked the first time since taking over as starter that he'd been held under 17.9 DK points. He was 10-of-11 for 76 yards and a TD in that came with the Chiefs driving as he departed, s you now how that woud have turned out.
For more on QBs, check out Matthew Freedman's Week 10 Fantasy QB Breakdown.
Running Back (Cash)
Jaylen Samuels, Steelers ($6,300 DK, $6,200 FD) vs. LAR
Ronald Jones, Buccaneers ($4,300 DK, $6,300 FD) vs ARI
Devin Singletary, Bills ($5,000 DK, $6,000 FD) at CLE
David Montgomery, Bears ($5,300 DK, $6,400 FD) vs. DET
Saquon Barkley, Giants ($8,600 DK, $8,600 FD) at NYJ
Christian McCaffrey, Panthers ($10,500 DK, $10,500 FD) at GB
Our models currently don't have any RBs this week projected for the true top Tier of value on DK (3.0 or more points per dollar), but Ronald Jones, Devin Singletary, David Montgomery, and Devonta Freeman each project in Tier 2 (2.6-2.9), which has returned an average Plus/Minus of +4.1, with 63% of RBs who fit the trend hitting value.
I mentioned that Winston can serve a certain purpose on this slate, and the same rings true of Jones. The high projected ownership of Evans and Godwin and the variety of lineup construction options create a conundrum, which can be solved in some ways by stacking Winston and Ronald Jones in hopes of capturing all the Tampa Bay offense.
David Montgomery has posted two multi-D games in his last three and has good odds to do so again against a Lions defense that ranks last in fantasy points allowed to RBs.
Devonta Freeman has a tough matchup against a Saints defense that has wiped out the rushing attacks of some of their opponents, but his price is low enough to warrant using in a a specific situation that lets you unlock an Evans-Godwin build I'll talk more abut in a bit.
Jaylen Samuels received an early-season Austin Ekeler-like eight carries and 13 targets last week. Along with Saquon Barkley, Samuels is projected for 2.0 points per dollar, which is where you starring seeing a 60% or better Consistency rate take hold. Barkley, in fact, is the top RB value on the slate. He is seeing nearly 100% of the backfield touches since coming back from injury a few weeks ago, and the Jets surrendered over 130 scrimmage yards to both Ezekiel Elliott and Leonard Fourrnette over the past four weeks.
Christian McCaffrey is the only player projected for a double-digit floor in our Models. He's topped 30 DK points in an absurd five of his past six games, so I'll include him in my favorite build.
For more on running backs, check out Matthew Freedman's Week 10 Fantasy RB Breakdown.
Wide Receiver (Cash)
Michael Thomas, Saints ($8,300 DK, $8,600 FD)  vs. ATL
Mike Evans, Buccaneers ($7,600 DK, $8,200 FD)
Chris Godwin, Buccaneers ($7,200 DK, $8,300 FD) vs. ARI
Christian Kirk, Cardinals ($5,200 DK, $5,700 FD) vs. TB
D.J. Moore, Panthers ($5,200 DK, $5,800 FD) at GB
A.J. Brown, Titans ($4,300 DK, $ FD) vs. KC
Michael Thomas has earned auto-play status. He has caught at least eight passes in all but one game. The Falcons, meanwhile, specialize in letting passes get caught, giving up the fourth-highest completion rate (69.6%) in the league. Atlanta also rates as a bottom three in fantasy points allowed to WRs, which is highlighted by their +3.8 Opponent WR Plus/Minus, worst on the slate after the Bucs.
Per our NFL Trends tool, Mike Evans and Chris Godwin have been worth pairing. Combined, they've averaged a +15.74 DK Plus/Minus and 46.08 combined DK points per week while failing to surpass expectations only in Week 1 against what we now know is a stingy 49ers defense. Christian Kirk is also in a great spot. As mentioned, Tampa Bay's defense in the NFL's worst against WRs, and no team has allowed WRS to beat salary expectations more than the Bucs (+4.0 average Opponent Plus/Minus).
D.J. Moore has seen 28% of the air yards and 24% of the targets in Carolina, and is undervalued at $5,200 on DK and #5,800 on FD. The
A.J. Brown ran a season-high 80% of the pass routes. His Projected Plus/Minus is second among WRs after Thomas. I don't view Brown as a must-play but he does make certain builds work.
Thomas, Moore, Kirk, Brown, Evans, and Godwin are each projected for 1.8 points per dollar or more, which is the top value tier cutoff. WRs in that group have posted a +2.8 Plus/Minus and 57% Consistency since the start of last season.
For more on WRs, check out Matthew Freedman's Week 10 Fantasy WR Breakdown.
Tight End (Cash)
Rhett Ellison, Giants ($2,500 DK, $5,000 FD) at NYJ
Mike Gesicki, Dolphins ($3,100 DK, $5,300 FD) at IND
Travis Kelce, Chiefs ($6,400 FD, $6,700 FD) at TEN
This is one of those weeks were you must take what the slate is giving you at TE or pay up to play Travis Kelce. When Rhett Ellison has been on the field, he's been a target magnet with Daniel Jones, seeing looks on 22% of his routes. At minimum price, Ellison is within tenths of a point of Kelce in terms of DraftKings Projected Plus/Minus. Mike Geiscki is a more talented pass catcher and is in a great spot against a Colts scheme that tends to funnel the action underneath and benefit TEs. He posted a 6-6-95 line last week against the Jets and has caught 15-of-22 (68.2%) for 213 yards (9.7 YPT) from Ryan Fitzpatrick compared to 6-of-10 for 25 yards from Josh Rosen.
Whereas Kelce is neck and neck with the punt plays on DK, on FanDuel he projects for a Plus/Minus nearly two points above everyone else. He's the only FD TE with a top-tier Projected Plus/Minus of +2.5 or better, which has produced a +3.0 Plus/minus and 58% Consistency Rating, on average, since the start of 2918. The Titans are ranked 21st in Football Outsiders DVOA on passes to TEs, so Kelce has a good chance at notching a ceiling game despite being more of a floor play thus far (he has only one 100-yard game with a TD, but four-plus receptions in every game, and 58 or more yards in all but one).
For more on TEs, check out Matthew Freedman's Week 10 Fantasy TE Breakdown.
Defense/Special Teams (Cash)
Cleveland Browns ($2,500 DK, $3,000 FD) vs. BUF
The Browns come at a nice price point for their spot as a home favorite against the Bills in what's projected to be a low-scoring game. Despite being priced outside the top-12 on both sites, Browns DST has a top-five median projection. Per the Trends tool, DSTs projected for at least 2 FD points per dollar with an implied opposing team total of below 21 have netted an average of 10.5 FD points, a +3.2 Plus/Minus and 65% Consistency.
Roster Build (Cash)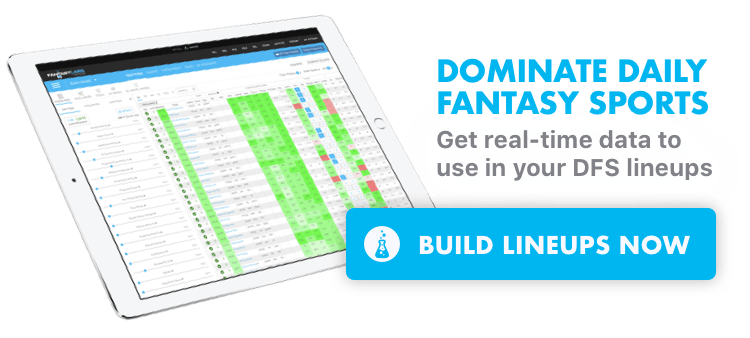 There are a few main ways to build this week, with the Bucs players essentially lynchpins. The favorite I came up with on DK allows you to get in get in a WR core of Thomas-Evans-Godwin, plus Lamar at QB,  if you go with Freeman instead of Montgomery at RB alongside Jones and Singletary at RB, and punt with Ellison at TE and Browns DST.
Jamming in CMC means fading Evans and Godwin; Thomas is projected for a better median than CMC at a cheaper price, so you don't want to give up value by jamming in CMC at Thomas' expense. That then lends itself to the WInston-Jones stack I mentioned earlier, and going Kirk and Brown at WR, Ellison at TE make it work.
On FanDuel, you can jam McCaffrey by going Winston-Samuels-Montgomery-Thomas-Kirk-Moore-Gesicki-Browns, but the trade-off gives up a 5 projected point to a combo of Winston-Barkley-Montgomery-Thomas-Moore-Kirk-Kelce-Samuels-Browns,
Arizona Cardinals at Tampa Bay Buccaneers
Kyler Murray and Christian Kirk have had a strong negative correlation this season, while Murray and Larry Fitzgerald have had a strong positive one (+0.62). This sets up well for the pivot with Fitz popping as one of the top WRs in Leverage Plus/Minus.
Atlanta Falcons at New Orleans Saints
Ellison and Gesicki are expected to capture one-third or more of TE ownership, which creates a situation in which the two highest-ceiling players at the position — Travis Kelce and Austin Hooper — almost surely won't command the top ownership. In other words, this is lineup construction edge: In addition to the cheap  TEs, a quarter of builds are expected to have a $10,000 player in McCaffrey, while upwards of half are expected to have some combination of Jones, Singletary, and Montgomery at RB. Meanwhile, players like Hooper should be set up in a blind spot starting in the upper $5,000s for all positions and and running through through the mid-$7,000s at RB.
The same rings true for Alvin Kamara. His ceiling is exactly the same as Thomas's, but Kamara will be in not even half as many lineups.
Baltimore Ravens at Cincinnati Bengals
With Montgomery, Singletary, Samuels, Jones, etc. all available on the cheap, who is dropping to Joe Mixon? Absolutely nobody. The floor is a lot lower, but the ceilings are similar, and the 0-1% projected ownership makes things interesting for Cincy coming off the bye with a lot of unknowns that could ed up working in their favor.
Buffalo Bills at Cleveland Browns (GPP)
This a great GPP week for RBs. A lot of lineups will be built on either jamming McCaffrey in at over $10,000 or using some combination of the value chalk (Jones, Singletary, Montgomery). Meanwhile, many of the RBs in the upper tier will go overlooked because their price doesn't stand out as a value, or because  the build won't allow it. A prime example is Nick Chubb, who also has the return of Kareem Hunt to contend with. This is a high upside spot for Chubb against a Bills defense that is ranked 30th in run-defense DVOA.
On the Bills side, a projected low-scoring game doesn't matter for Josh Allen — he's always involved in a low-scoring game. But this week, we get him at ownership likely well under 5%, making him one of the highest-upside QB plays
Detroit Lions at Chicago Bears (GPP)
Allen Robinson is a good option to buy low and projects for sub-5% ownership. A-Rob is top-six in both target share (26%) and air yard share (39%) and makes for a nice pivot of Montgomery. The Bears are also a top-three projected DST who will likely see single-digit ownership.
Carolina Panthers at Green Bay Packers (GPP)
Aaron Jones, is one of just four RBs on the slate projected for a 30-point ceiling in our Models as is going up against the worst defense in rushing DVOA, so it's a great time to buy low.
Indianapolis Colts at Miami Dolphins (GPP)
With T.Y. Hilton (calf) and Parris Campbell (hand) out and Deon Cain being let go as well, somebody's gotta catch the ball for the Colts, and Chester Rogers is popping in our models along with Brian Hoyer.
The cheap unknowns in this game present a lot of GPP value. With Kenyan Drake and Mark Walton out of the picture, Kalen Ballage has an outside shot at 20-plus touches for near minimum price and projects as a top-five RB value on FD.
Kansas City Chiefs at Tennessee Titans (GPP)
Patrick Mahomes could conceivably wind up fifth or below in ownership behind Jackson, Winston, Brees, and perhaps a Kyler Murray or Matt Ryan. The Titans are ranked 24th in DVOA vs. TEs, so this is a nice spot to get Mahomes-Kelce at reasonable ownership.
Los Angeles Rams at Pittsburgh Steelers (GPP)
Potentially destined for ownership in the 0-1% range, Juju Smith-Schuster is popping with the top Leverage Plus/Minus among all WRs in our Models, and Vance McDonald leads all TEs. Both are nice pivots of Jaylen Samuels. McDonald had four red zone targets last week, converting one for a score, and he also posted a two-TD game by catching two red-zone targets from Rudolph in relief of Ben Roethlisberger back in Week 2.
Projected ownership implies that nearly every lineup in the field will have one of Thomas, Evans, Godwin, or Tyreek, which doesn't leave much wiggle room for Cooper Kupp to be highly owned.
New York Giants at New York Jets (GPP)
Jamison Crowder has quietly posted 80-plus yards in three of five games with Sam Darnold and could pop again against a vulnerable Giants defense in the slot. The G-Men just benched Grant Haley for Corey Ballentine, whose inexperience doesn't play well with the inconsistent DeAndre Baker.
The obvious cash value in Ellison, but in GPPs, this is also a sneaky spot for another Darius Slayton big game. He leads the Giants in air yards (537) and air-yard share (27%), and while Golden Tate faces off against Jets nickel corner Brian Poole, who is ranked 16th in coverage among cornerbacks, Slayton will face a collection of players al ranked outside the top 50.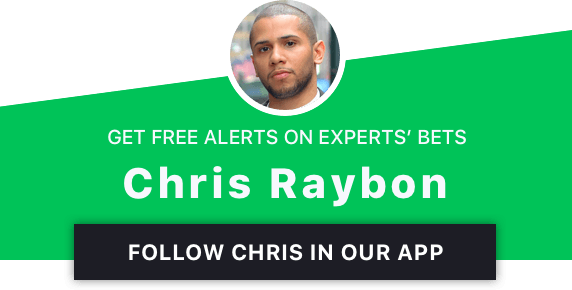 Chris Raybon is a Senior Editor at the Action Network and a host of "The Action Network" on Sirius XM Fantasy Radio every Wednesday-Friday at 10 a.m. ET. He also hosts the weekly NFL Betting edition of The Action Network Podcast and is featured each week on The Fantasy Flex edition of the pod, as well. He has watched every snap of every NFL game since 2010 — even the kneel downs. Follow him on Twitter @ChrisRaybon and read about how he quit his accounting job and got paid to watch sports.
Pictured above: Seattle Seahawks quarterback Russell Wilson (3) and wide receiver Tyler Lockett (16)
Photo Credit: Steven Bisig-USA TODAY Sports