The NBA Breakdown offers data-driven analysis for each day's slate using the FantasyLabs Tools and metrics to highlight notable players.
Wednesday features a two-game slate starting at 8 p.m. ET.
Point Guard
Value
After a shooting an unbefitting 1-for-9 from 3-point range in Game 4 against the Clippers, Stephen Curry's salary is down to $8,300 on DraftKings. His salary has been lower than $8,500 only 15 times over the past three seasons; in those games, he's averaging a +6.57 Plus/Minus and 80% Consistency Rating, per our NBA Trends tool. Our NBA Player Models project his Plus/Minus to be more than double that as the Warriors look to close out the Clippers, leading all players on the slate.
Fast Break
Despite coming off a 40-point fantasy game — 12 points, 10 rebounds, 5 assists, 3 blocks and 1 steal — Patrick Beverley is expected to be one of the lowest owned point guards on the slate. In Game 4, Doc Rivers showed he is willing to leave in Beverley for more than 36 minutes if he is able to stay out of foul trouble.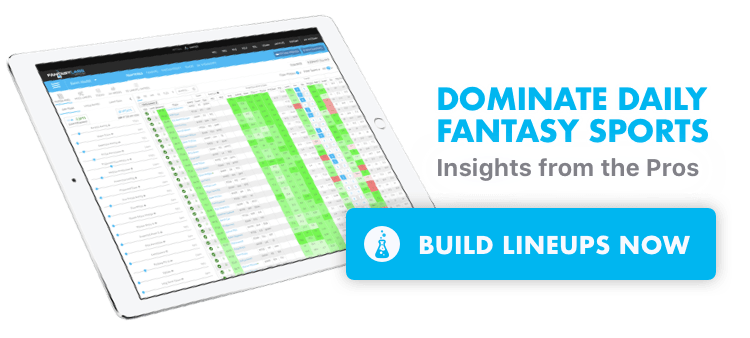 Shooting Guard
Value
James Harden trails Curry in Projected Plus/Minus by more than five points on DraftKings and more than two on FanDuel, but he's still a top-value value at the position on both sites. After making 11 field goals in each of the first two games of the series, The Beard has made 11 combined over the past two; regression is imminent.
Fast Break
The Warriors stuck Andre Iguodala on Lou Williams more in Games 3 and 4 than they did in Games 1 and 2, and it worked: Williams shot 6-of-21 over the past two games after going 24-of-43 over the first two. Nevertheless, Sweet Lou's true expectation lies somewhere in the middle, and he projects as the top value at the position on FanDuel and the third-best on DraftKings.
Small Forward
Value
Curry isn't the only Warrior whose price tag has dipped below $8,500 on DraftKings; it's even more of a rarity for Kevin Durant, who is priced at $8,200 for tonight. KD has been priced below $8,500 only five times over the past three seasons, delivering nearly identical value as Curry in those situations (+6.64 Plus/Minus, 80% Consistency Rating). KD's Projected Plus/Minus for tonight's slate is second behind only Curry.
The correlation between the two players' fantasy production has been non-existent rather than positive or negative this season.
Fast Break
Joe Ingles apparently forgot to take his game with him when the regular season ended. He's failed to crack double figures in scoring in all four games against Houston, sending his salary into free fall in the process. The resulting $1,000-plus price drop on both sites has created a buy-low opportunity, however, as Ingles now projects as a top-three value on both sites as his team looks to extend the series to a Game 6 back in Salt Lake City.
Power Forward
Value
JaMichael Green's first stint as the Clippers' starting center was so uneventful that his salary stayed the same on DraftKings and decreased on FanDuel. A player who attempts only two shots in 21 minutes is usually implored to be more aggressive in the next game, so Green's numbers will likely improve this time around, and the lack of a salary increase leaves him as a top-three value among all players on the slate on both sites.
Fast Break
Kevon Looney exceeded salary-based expectations in Games 1 and 2, averaging a +9.33 DraftKings Plus/Minus, then went AWOL on the road with a -5.27 average mark in Games 3 and 4. According to the Trends tool, that's been the case all season with Looney: He averaged a +2.7 Plus/Minus and 64% Consistency Rating at home but just a +0.7 Plus/Minus and 43% Consistency Rating on the road.
Back at home for Game 5, Looney is right up there with JaMichael Green in terms of value among punt plays.
Center
Value
Foul trouble is a concern for Andrew Bogut — he has committed 11 over the past two games — but he's also just missed a double-double by two points in each of those games and is averaging 8.0 points, 12.0 rebounds and 4.5 assists in those contests. Bogut's Projected Plus/Minus is more than four points higher than any other center on FanDuel.
Fast Break
Much of the talk regarding the center matchup in the Rockets-Jazz series has centered around Houston's ability to neutralize Rudy Gobert, so it's gone somewhat unnoticed that Clint Capela has been mostly a non-factor since Game 1, averaging just 7.3 points and 10.3 rebounds in 30 minutes. Gobert has a 98% Bargain Rating on DraftKings and is the better value of the two there, but neither player stands out as a viable alternative to Bogut on FanDuel.
News Updates
After this piece is published, FantasyLabs is likely to provide news updates on a number of players. Be sure to stay ahead of your competition with our NBA News Feed.
Pictured above: Golden State Warriors guard Stephen Curry (30, left) and forward Kevin Durant (35, right)
Credit: Kelvin Kuo-USA TODAY Sports