I'll be breaking down the top wide receiver/cornerback matchups every week throughout the 2018 NFL season.
Below is a data-driven analysis of the week's best passing-game matchup, seven potential shadow matchups and an additional seven potential non-shadow matchups. At the end, I'll wrap up with a quick look at plus and minus matchups.
You can read about WR/CB matchups for the three Thanksgiving Day games here.
Visit the FantasyLabs NFL page for more weekly fantasy breakdowns. You can also view all of this week's WR/CB matchups using our Matchups tool.
Jump to: Matchup of the Week | Shadow Matchups | Non-Shadow | Plus/Minus
Matchup of the Week
Colts Offense vs. Dolphins Defense
The Colts have been on an absolute tear over the past month, winning four straight games by a combined score of 146-69. Andrew Luck joins Dan Marino, Peyton Manning and Tom Brady as the only quarterbacks to throw  three or more touchdowns in at least seven consecutive games.
The only "problem" with Luck's performance is that fantasy investors have had a tough time nailing down exactly who will reap Luck's rewards any given week. T.Y. Hilton is the clear-cut No. 1 receiver since the team's Week 9 bye, but the rest of passing game's pecking order has been muddled over the past two weeks.
Hilton: 16 targets
Dontrelle Inman: 10
Jack Doyle: 7
Nyheim Hines: 7
Mo Alie-Cox: 5
Ryan Grant: 4
Marlon Mack: 4
Eric Ebron: 3
Chester Rogers: 3
Luck had more targets (1) in Week 11 than Ebron (0), who leads the Colts with nine receiving touchdowns this season.
Doyle is at least locked in as the Colts' featured tight end in terms of targets and snaps, but Hilton is the only wide receiver to play more than 50% of the offense's snaps in each of the past two games.
Stacks built around Luck and Hilton will be made or broken by the receiver's ability to win his likely shadow date with Dolphins' No. 1 cornerback Xavien Howard. Pro Football Focus' No. 38 overall cornerback hasn't been perfect this season, but the ball hawk is one of only 10 defenders with at least seven interceptions since Week 1 of 2017.
Hilton shouldn't run all of his routes in Howard's shadow, as the Dolphins have only asked their No. 1 corner to move into the slot on 11 total snaps this season. Hilton is also simply capable of #winning considering the Dolphins' up-and-down-performance vs. No. 1 receivers this season.
Howard hasn't exactly been roasted during every matchup this season, but the position's better talents have largely had their way against the third-year corner.
Both Hilton and Luck have historically been better inside the friendly confines of Lucas Oil Stadium (per our NFL Trends tool), and the Dolphins-Colts' matchup joins the 49ers-Bucs as the main slate's only games with an over/under of at least 50 points (see live odds here).
The Week 12 Shadow Club
Not many cornerbacks are consistently asked to travel with the opposition's No. 1 wide receiver, but we can expect the following seven teams to regularly line up across from their opponent's top receiver in Week 12. (That doesn't include Howard's shadow date with Hilton, or Thanksgiving Day games.)
Bengals WR A.J. Green and John Ross vs. Browns CBs T.J. Carrie and Denzel Ward
The Browns have been inconsistent with the usage of the 2018 draft's No. 4 overall pick. Ward has earned PFF's No. 13 overall grade and stood up to challenging matchups against Keenan Allen (4-62-0) and John Brown (4-58-0), but interim head coach Gregg Williams has gone with three different game plans against Mike Evans, Antonio Brown and Julio Jones.
The Browns shadowed Evans with free safety Damarious Randall and had Ward split time on field-stretchers DeSean Jackson and Chris Godwin.
Ward shadowed AB … but was burned for two touchdowns.
Carrie was asked to shadow Jones in Week 10, while Ward largely erased Calvin Ridley on the other side of the field.
The main factor that has seemingly compelled the Browns to not use Ward against the opponent's No. 1 receiver has been size: Allen (6-foot-2), Brown (5-foot-10) and AB (5-foot-10) were each better size matchups for Ward (5-foot-11) than either Evans (6-foot-5) or Jones (6-foot-3).
Green (6-foot-4) certainly falls in the taller receiver category, so it seems likely that he won't draw Ward. Carrie (5-foot-11) isn't all the vertically gifted himself, but he's 20-plus pounds heavier than Ward and has an extra four years of experience.
Of course, Green is plenty capable of winning against either cornerback thanks to his own elite ability and hefty 26% target share. It just remains to be seen if he'll play through his toe injury. Be sure to monitor our Week 12 Injury Report to see Green's daily practice participation and estimated/official game status.
The presence of Green would lead to Ward — who ran a 4.32 second 40-yard dash — on John Ross (4.22), and leave Tyler Boyd free to work in the slot against Briean Boddy-Calhoun, PFF's No. 95 overall cornerback. Andy Dalton would certainly welcome back his No. 1 receiver, as Dalton has failed to throw multiple touchdown passes in eight of his 12 career games with Green sidelined.
Bills WR Kelvin Benjamin vs. Jaguars CB Jalen Ramsey
Benjamin is a shadow cornerback's equivalent to a bye week. The opportunity to pad coverage stats against the Bills' "No. 1" receiver has been given to Brandon Carr, Casey Hayward and Xavier Rhodes this season. The artist formerly known as K-Benji has just one game with more than 50 yards.
The Jaguars asked Ramsey to shadowed Benjamin in last season's playoff matchup. It went about as well as you'd expect.
First Team All-Pro @jalenramsey was assigned to defend Bills WR Kelvin Benjamin in today's win.

Benjamin finished with 1 catch for 9 yards on 2 targets.

He was also penalized 10 yards for offensive pass interference against Ramsey.

9 minus 10 = -1 yard. #AllProShoes https://t.co/bl79S1FxsH

— #DUUUVAL (@Jaguars) January 7, 2018
Don't play Benjamin in any fantasy formats, even if there's a fire.
Seahawks WRs Doug Baldwin, Tyler Lockett and David Moore vs. Panthers CBs Captain Munnerlyn, Donte Jackson and James Bradberry
The Panthers have consistently asked their cornerbacks to travel with assigned receivers this season. A common theme has emerged for each:
Bradberry (6-foot-1 and 212 pounds) is the nominal No. 1 cornerback and travels with the opponent's most physical outside receiver.
Jackson (4.32 second 40-yard dash) tracks the opponent's deep threat at outside receiver.
Munnerlyn sticks to the slot.
This week's matchup feeds perfectly into the Panthers' coverage scheme. Munnerlyn (86% slot) should spend the majority of his afternoon across from Baldwin (64%), Jackson should track the speedy Lockett (4.4) while Bradberry will stick to plus-sized Moore (6-foot-0 and 215 pounds).
None of the receivers offer much of a ceiling or floor in the Seahawks' pass-averse offense, but a matchup against the Panthers' 25th-ranked defense in Football Outsiders' pass DVOA isn't particularly daunting. Baldwin seems to have at least finally emerged as the offense's de facto No. 1 option.
Seahawks targets since Doug Baldwin returned in Week 4

Baldwin (38)
Tyler Lockett (32)
David Moore (32)
Mike Davis (26)
Nick Vannett (21)

Nobody else has more than 5 targets

— Ian Hartitz (@Ihartitz) November 20, 2018
Cardinals WR Christian Kirk vs. Chargers CB Casey Hayward
Larry Fitzgerald has run 65% of his snaps from the slot this season, so it seems unlikely Hayward moves inside considering he's spent a total of 16 snaps in the slot after 11 weeks. The Chargers simply haven't needed to use their No. 1 cornerback in the slot, as Desmond King has largely locked up the likes of Cooper Kupp (4-71-1), Jarvis Landry (2-11-0), Baldwin (4-77-0) and Emmanuel Sanders (4-56-0).
This leaves Kirk as the likely victim of Hayward's shadow coverage.
The Cardinals' second-round pick has found the end zone twice in three games since Byron Leftwich took over play-calling duties, but the Chargers' Pro Bowl cornerback has won all six of his shadow matchups this season.
Every WR Hayward has shadowed in 2018
Week 2: Kelvin Benjamin 2 receptions-19 yards-1 TD (3 targets)
Week 5: Amari Cooper 1-10-0 (1)
Week 6: Antonio Callaway 2-9-0 (11)
Week 7: Corey Davis 3-10-0 (7)
Week 10: Jordy Nelson 0-0-0 (1)
Week 11: Courtland Sutton 3-78-0 (6)
The Cardinals' new-look offense has emphasized feeding David Johnson the ball, but the team still averaged a pedestrian 17.7 points per game against the 49ers, Chiefs and Raiders. Fantasy investors should instead consider targeting Johnson and the rushing game against a Chargers defense that's without starting linebacker Denzel Perryman (knee, IR) and defensive tackle Corey Liugent (quad, IR).
Jets WR Quincy Enunwa and Robby Anderson vs. Patriots CB Stephon Gilmore and Jason McCourty
The Patriots asked Malcolm Butler to shadow Anderson in both of their matchups against the Jets last season. They've consistently utilized Gilmore on the opposition's bigger-bodied outside receiver instead of the faster field-stretcher, so it'd make sense if Gilmore matches up with Enunwa and McCourty on Anderson.
Corey Davis managed to dominate his matchup with Gilmore in Week 10, but the Patriots' No. 1 cornerback had previously allowed fewer than 80 yards in seven shadow matchups against DeAndre Hopkins (8-78-0), Sammy Watkins (2-18-0), Allen Robinson (1-4-0) and Davante Adams (6-40-1).
Enunwa saw a team-high eight targets with Josh McCown under center in Week 10, but that was with Anderson sidelined. The Patriots have mostly shut down the Jets' field-stretcher over the years anyway, as Anderson has caught 7-of-20 targets for 112 scoreless-yards in four career games against the Jets' divisional rival.
Neither appears poised for much success in this matchup against Gilmore and McCourty — PFF's No. 4 and No. 8 overall cornerbacks this season, respectively.
Broncos WR Courtland Sutton vs. Steelers CB Joe Haden
The Broncos haven't been able to get their new No. 1 outside receiver going in matchup against the Texans and Chargers since trading Demaryius Thomas. This week's impending shadow date with Haden shouldn't be much easier considering how successful the Steelers' No. 1 cornerback has been this season.
Joe Haden in shadow coverage since joining the Steelers

DeAndre Hopkins: 4 receptions-65 yards-1 TD (6 targets)
Julio Jones: 5-62-0 (9)
A.J. Green: 7-85-0 (12)
John Brown: 3-15-0 (6)
Devin Funchess: 3-32-0 (5) pic.twitter.com/hvLS4LgMDd

— Ian Hartitz (@Ihartitz) November 20, 2018
Sutton possesses a fantasy-friendly average target depth of 15.7 yards, but he's ultimately failed to gain more than 80 receiving yards in a game this season.
Emmanuel Sanders also isn't positioned all well for a big week against Steelers slot corner Mike Hilton, who is PFF's 12th-highest graded cornerback. Still, this didn't prevent Tyler Boyd (7-62-2), Mohamed Sanu (4-73-1), Jarvis Landry (7-106-0) and Willie Snead (7-58-0) from putting up big fantasy performances.
Packers WR Davante Adams vs. Vikings CB Xavier Rhodes
Adams won his first matchup with Rhodes this season, catching 8-of-12 targets for 64 yards and a touchdown. Aaron Rodgers' undisputed No. 1 wide receiver has managed to find the end zone in each of his last three matchups against the Vikings.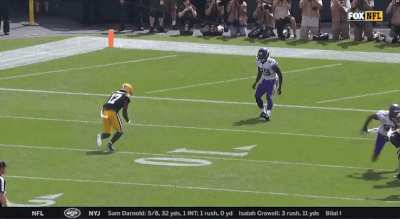 Overall, Adams has scored a touchdown or surpassed 100 receiving yards in 24-of-33 games (73%) with Rodgers under center since 2016. Adams deserves to be mentioned alongside Hopkins and AB as the league's most-matchup proof receivers.
Of course, Rhodes has been playing some of the best football of his career of late. He added Allen Robinson (3-39-0) to his burn list after a dominant shadow performance in Week 1, although Adams did win their first battle.
Xavier Rhodes shadow coverage 2018

Marquise Goodwin: 0-0-0 TD (left early due to injury)
Davante Adams: 6-64-1
Kelvin Benjamin: 3-29-0
Brandin Cooks: 7-116-1 (scored 47-yard TD on Trae Waynes)
Alshon Jeffery: 2-39-0
Chad Williams: 1-5-0
Robby Anderson: 3-44-0
Marvin Jones 6-66-0 pic.twitter.com/dezdx6Uwax

— Ian Hartitz (@Ihartitz) November 14, 2018
The rest of the Packers' pecking order at receiver remains a bit murky. Randall Cobb (hamstring) isn't 100%, so Marquez Valdes-Scantling has seen an average of 5.7 targets per game since Week 4. Equanimeous St. Brown will start in 3-WR sets if Cobb is once again sidelined and could feasibly see more targets anyway with Jimmy Graham (thumb) questionable to suit up.
The Vikings have allowed the second-fewest DraftKings points per game to opposing wide receiver units this season, so this isn't the best week to have exposure to Rodgers' auxiliary pass options. There hasn't been a ton of extra volume to go around since the emergence of Aaron Jones after the team's Week 7 bye, as Rodgers has 30 or fewer pass attempts in three of his past four games after only having one such game in Weeks 1 through 6.

Potential Non-Shadow Matchups
Bills CB Tre'Davious White: White and Richard Sherman are the only corners averaging more than 20 coverage snaps played per reception allowed. Still, the Bills been selective about deploying their No. 1 corner in shadow coverage, letting White stay on the left side of the field against offenses without a clear No. 1 receiver. This describes the Jaguars, who have fed T.J. Yeldon (25), Dede Westbrook (24), Donte Moncrief (23), D.J. Chark (19) and Keelan Cole (10) double-digit targets over their past four games. The Bills, Ravens and Bears are the league's only defenses allowing fewer than five yards per play.
Giants CB Janoris Jenkins: The Giants haven't asked Jackrabbit to shadow since Week 4. This means the Eagles should be free to matchup Alshon Jeffery with Jenkins and B.W. Webb as they please — PFF's No. 89 and No. 69 overall cornerbacks, respectively. This leaves undrafted rookie free-agent Grant Haley in the slot to deal with Golden Tate, who had a team-high eight targets last week and played 71% of the offense's snaps. Jeffery (8-74-2), Zach Ertz (7-43-1) and Nelson Agholor (3-91-0) largely had their way with the Giants' secondary back in Week 6.
Titans CB Adoree' Jackson: Jackson held Josh Gordon to a mediocre 4-81-0 line on 12 targets back in Week 10 … but was then eviscerated for 155 yards and two scores by T.Y. Hilton last week. The Titans haven't asked Jackson to shadow DeAndre Hopkins in three career meetings, although that could change due to the absence of Will Fuller (knee, IR). Hopkins remains 100% matchup proof, especially against a Titans defense that he's scored a league-high seven touchdowns against since entering the league in 2013. Still, volume is a concern, as Deshaun Watson has 25 or fewer passes in five straight games.
49ers CB Richard Sherman: Sherman has balled out this season, but he's lined up as the defense's left cornerback on 84% of his snaps. This means Mike Evans should be free to run the majority of his routes against Ahkello Witherspoon. The 49ers' No. 2 cornerback possesses enough size at 6-foot-2 to physically match up with Evans, but PFF has graded Witherspoon as the league's fifth-worst cornerback among 111 qualified players. Sherman's presence on the other side is bad news for DeSean Jackson and Chris Godwin, although D-Jax possesses the type of speed to win even the toughest battles.
Ravens CB Jimmy Smith: The Ravens asked Smith to follow Michael Thomas in their Week 7 battle against the Saints, but they've largely taken their chances with letting offenses match up whoever against Smith, Brandon Carr (PFF's No. 24 CB), Marlon Humphrey (No. 18) and slot corner Tavon Young (No. 49). The results have largely been excellent, as the Ravens rank seventh in defensive DVOA and have allowed a league-low 4.8 yards per play. Week 12's home matchup against the Raiders' sad excuse for an offense is a great time to target the Ravens defense in any and every fantasy format.
Cardinals CB Patrick Peterson: Peterson has been asked to travel on the outside with mixed success in recent matchups with Stefon Diggs (3-33-0), Marquise Goodwin (1-51-1) and Tyreek Hill (7-117-2). This makes Tyrell Williams a candidate to get blanketed, but Keenan Allen should be fine considering Peterson has spent just seven total snaps in the slot this season. Allen is in the midst of another second-half renaissance, as he's scored a touchdown or gained 100 yards in every game since the Chargers' Week 8 bye. The Chargers are one of three main-slate offenses implied for 28-plus points.
Broncos CB Chris Harris Jr.: It's tough to understate just how great Harris has been in the slot for the better part of the past five seasons. Overall, he's led all slot corners in most coverage snaps per reception allowed in four consecutive seasons. This is bad news for JuJu Smith-Schuster, who has spent 72% of his snaps in the slot this season. Antonio Brown has a league-high 11 touchdowns in 10 games this season, but just five opposing wide receivers have gained more than 100 yards in Denver over the past five seasons. The Broncos defense ranks fourth in both overall and pass DVOA this season.
Potential Plus Matchups
49ers WRs Marquise Goodwin, Pierre Garcon and Dante Pettis vs. Bucs
The Nick Mullens era is alive and well in San Francisco. The only problem is that our two-game sample size of target distribution includes just one game from each from Marquise Goodwin and Pierre Garcon, who should be considered probable and questionable, respectively, for Sunday.
Tight end George Kittle leads all tight ends in yards per route run and remains the offense's No. 1 pass-game option. Still, it's tough not to get excited about Goodwin's chances at busting a big play against the Buccaneers' porous secondary. Overall, the Bucs rank among the league's bottom-three defenses in overall DVOA, pass DVOA and DraftKings points per game allowed to wide receivers.
The Buccaneers have allowed 30-plus points in all but three games this season. The 49ers accordingly carry a solid 25.8-point implied total in a game with forecasts calling for nothing but clear skies and sunshine.
---
Ravens WRs John Brown, Michael Crabtree and Willie Snead vs. Raiders
Snead is one of only nine players with at least seven targets in seven consecutive games, and he led the Ravens with a team-high eight targets in Lamar Jackson's first career start under center last week. The only problem is that Jackson threw only 19 total targets. For reference, Joe Flacco's (hip, doubtful) fewest pass attempts in a game this season was 34 back in Week 1.
It'd make sense if the Ravens' rookie quarterback continues to feed Snead; the slot receiver's team-low average target depth of 8.7 yards provides a more readily-available target for Jackson behind an offensive line that could be without starting tackles Ronnie Stanley (leg) and James Hurst (back).
Either way, the Ravens appear committed to a run-first offense with Jackson and Gus "The Bus" Edwards.
Of course, Smokey Brown's big-play ability has as good a chance as ever of cashing in this week against one of only two defenses in the league that have allowed double-digit completions of 40-plus yards this season.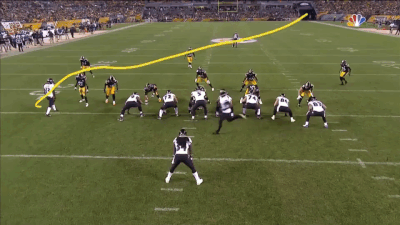 ---
Patriots WRs Josh Gordon, Julian Edelman and Chris Hogan vs. Jets
The Patriots have had an entire bye week to sulk in the misery of their 34-10 loss to the Titans. New England should have every opportunity to take its anger out on a Jets defense that managed to allow 41 points to the freaking Bills.
Both Julian Edelman (knee) and Rob Gronkowski (back) are tentatively expected to suit up. The presence of Gronk in particular is great news for Brady, who has historically been a different monster with the presence of his all-world tight end since he was drafted in 2010.
With Gronk (106 games): 25.4 PPR, 290.3 pass yards, 2.2 TD, 0.5 INT, 8.01 Y/A
Without (28 games): 21.4 PPR, 260 pass yards, 1.8 TDs, 0.6 INTs, 6.89 Y/A
Jets cornerbacks Morris Claiborne, Trumaine Johnson and Darryl Roberts are far from complete liabilities, but a well-rested Patriots offense implied for 27.8 points is a handful for any secondary to deal with.
---
Giants WRs Odell Beckham Jr. and Sterling Shepard vs. Eagles
The biggest red flag for the Giants this week is their 27th-ranked offensive line in Football Outsiders' adjusted sack rate attempting to contain the Eagles' ferocious defensive line that will welcome back stud defensive tackle Timmy Jernigan.
The green flags for the Giants are surprisingly plentiful.
Eli Manning has thrown for three-plus touchdowns or 300-plus yards in five of his past six matchups against the Eagles.
The Eagles defense has allowed a league-high 92.1 yards per game to opposing No. 1 wide receivers.
Only the Rams (82) have allowed more points than the Eagles (75) since they returned from their Week 9 bye.
Making matters worse for the Eagles' already-porous secondary is the fact that they're incredibly banged up.
Injured Eagles CBs:
Avonte Maddox (knee)
Rasul Douglas (knee)
Sidney Jones (hamstring)
Jalen Mills (foot)
Ronald Darby (knee, IR)

This leaves …
Cre'von LeBlanc – signed Nov 5
Chandon Sullivan – rookie UDFA signed from p-squad Oct 26
De'Vante Bausby – signed from p-squad Nov 17 pic.twitter.com/GcM1AD1TIM

— Ian Hartitz (@Ihartitz) November 21, 2018
OBJ remains one of the few receivers in the league with 200-plus yards and multiple touchdowns in his weekly range of potential outcomes.
The ceiling/floor combos of Shepard and Evan Engram aren't quite as high in this pristine matchup, as Shepard has just five combined targets over the past two weeks, and Engram (17 snaps) was out-snapped by both Rhett Ellison (40) and something named Scott Simonson (18) in Week 11.
---
Vikings WRs Adam Thielen and Stefon Diggs vs. Packers
The Vikings have struggled to create explosive plays in recent weeks and haven't scored more than 24 points in a game since Week 7. Nevertheless, the pass game is positioned well against a Packers secondary that has struggled to slow down Stefon Diggs and Adam Thielen over the past two and a half seasons.
Stefon Diggs and Adam Thielen have owned the Packers over the past 2.5 years

Diggs:
9-128-2
5-60-1
4-29-1
9-182-1

Thielen:
12-131-1
2-24-0
9-96-0
12-202-2
4-41-0

— Ian Hartitz (@Ihartitz) November 21, 2018
The Packers secondary would certainly appreciate the presence of cornerbacks Kevin King (hamstring) and/or Bashaud Breeland (groin), but the larger issue could be the defense's tendency to shrink away from the friendly confines of Lambeau Field. Overall, the Packers have allowed an average of 19.1 points per game at home compared to 27 points per game on the road since 2015.
The biggest concern for Kirk Cousins and the Vikings is their mediocre offensive line, as well as rookie cornerback Jaire Alexander. The Packers have utilized their first-round pick as their left cornerback in recent weeks, so Thielen should mostly avoid PFF's No. 11 overall corner.
---
Potential Minus Matchups
Panthers WRs Devin Funchess, D.J. Moore and Curtis Samuel vs. Seahawks
Cam Newton is in the midst of making another compelling case as the league's MVP, but figuring out who will reap the benefits of the Panthers' 11th-ranked scoring offense has become a weekly burden for fantasy investors.
The targets have been fairly spread out all over the offense since Greg Olsen returned to action in Week 6.
Panthers targets since Greg Olsen returned in Week 6

Devin Funchess (40)
Christian McCaffrey (39)
D.J. Moore (31)
Greg Olsen (31)
Curtis Samuel (19)
Jarius Wright (14)
Torrey Smith (11 in 2 games)

— Ian Hartitz (@Ihartitz) November 21, 2018
The potential return of Smith (knee) would add another variable to consider, but the real-life Panthers should at least be pleased with their plethora of explosive weapons in the pass game. Newton is always in play in DFS as a naked fantasy quarterback due to this elite rushing ability.
The only problem is this week's matchup comes against the Seahawks' top-10 defense in both overall and pass DVOA. This is despite cornerbacks Justin Coleman, Tre Flowers and Shaquill Griffin all ranking outside PFF's top 85 cornerbacks, so the Panthers' receivers do boast winnable individual matchups.
Still, Newton has historically not been at his best as a passer against the Seahawks' Cover 3 scheme, as he's failed throw multiple touchdowns in all but one of his seven career matchups against Pete Carroll and Co.
---
Titans WRs Corey Davis, Taywan Taylor and Tajae Sharpe vs. Texans
There are better passing games to consider this week than one led by either Blaine Gabbert or an injured Marcus Mariota. The offense has scored 12 or fewer points in four separate games this season, demonstrating the type of floor that can prove to be catastrophic for any involved fantasy members.
Not helping matters is a tough matchup against the Texans' third-ranked defense in overall DVOA. Cornerbacks Kareem Jackson (No. 3) and Johnathan Joseph (No. 10) have earned top-10 graded from PFF this season, although Davis should run at least a portion of his routes against annual-burn victim Shareece Wright.
Not helping matters for the Titans is a Texans offense that has morphed away from its shootout-friendly unit of the past in an attempt to expose Watson to less big hits.
There currently isn't an over/under due to the Titans' uncertainty under center, but this potential defensive slugfest presents an unappealing fantasy spot.
Be sure to check out FantasyLabs' industry-leading NFL News and Models, along with the Multi-Lineup Builder, Stack Builder, ownership projections and more. Other tools for the 2018 season are also available, including the Matchups page, DFS Contests Dashboard, NFL Ownership page and NFL Correlations page.
Pictured above: Davante Adams, Xavier Rhodes
Credit: Brace Hemmelgarn-USA TODAY Sports