The NBA Breakdown offers data-driven analysis for each day's slate using the FantasyLabs Tools and metrics to highlight notable players.
Wednesday features a 12-game slate starting at 7 p.m. ET.
Point Guard
Stud
Kemba Walker (BX stand up!) has put up at least 54 DraftKings points in three of his last five games and has the highest Projected Plus/Minus on the slate of any player priced above $8,500. Walker also has a top-two Opponent Plus/Minus as his Hornets visit a defensively-challenged Pelicans squad playing at the fastest pace in the league since the All-Star break.
Using data from Bet Labs, John Ewing found that road favorites going against bad teams tend to be undervalued late in the season, and if the Hornets do indeed cover the 4-point spread (view live odds), Walker will assuredly be the chief (only?) reason why.
Value
Starting for what looks to be a shorthanded Knicks backcourt against Orlando, Emmanuel Mudiay is a top-two projected value on both DraftKings and FanDuel among players eligible only at point guard. Since March 12, Denver's 2015 draft lottery bust is generating post-hype appeal in New York, averaging 18.4 points, 4.2 assists and 3.9 rebounds in 32.2 minutes per game.
Fast Break
Jamal Murray is seemingly the only starter playing with any semblance of confidence right now on what was very recently thought to be a promising Nuggets squad, and he should be well rested after playing only 28.7 minutes in last night's beatdown courtesy of the soon-to-be champion Warriors (tell me I'm wrong). Murray is the highest-rated point guard on DraftKings in the Phan Model and posted Plus/Minuses of +13.73 and +13.95 in his two most recent meetings with the Spurs.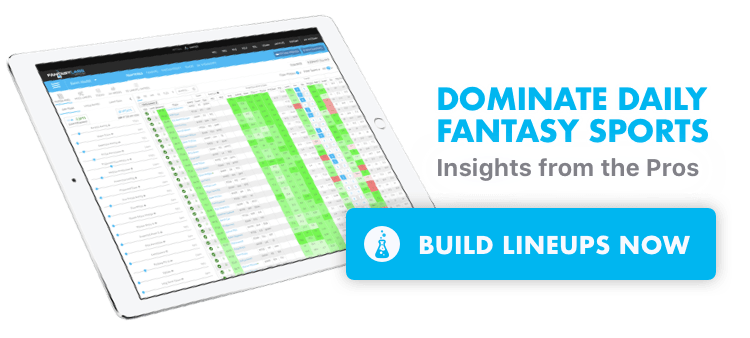 Shooting Guard
Stud
Even with 12 games on the slate, most stud players in action have negative Projected Plus/Minuses. James Harden is not one of them.
Houston's matchup with the Clippers is the second leg of a back-to-back, but the third-seeded Rockets don't seem to be taking their foot off the gas. The Beard has the highest ceiling projection of the night and is averaging 69.34 DraftKings points, a +12.33 Plus/Minus and 81.8% Consistency Rating on the second nights of back-to-backs this season (per our NBA Trends tool).
Value
In the three games that both Mike Conley (ankle, doubtful) and Avery Bradley (shin, out) have missed since the All-Star break, Tyler Dorsey and Delon Wright are averaging +18.3 and +16.8 DraftKings Plus/Minuses, respectively, per our NBA On/Off tool.
Our NBA Player Models have Dorsey and Wright as the top two values at the position among players projected to play at least 29 minutes. The Blazers defense has a middling 109.4 Defensive Rating since the break, and with Jonas Valanciunas (ankle) also out, someone has to score for the Grizzlies.
Fast Break
DeMar DeRozan has put up 48-plus DraftKings points in 2-of-3 meetings against the Nuggets this season, and he's averaging a +5.85 Plus/Minus and 72.7% Consistency Rating on the second legs of back-to-backs, per the Trends tool. The former Raptor is the only player at the position with a projected ceiling of at least 54 and projected ownership under 5%.
Going further down the salary scale, among the slate's top values at the position are players with similar salaries and recent production but vastly different experience levels: Nineteen-year vet Jamal Crawford ($3,500) has put up Plus/Minuses of +16.43, +10.1, and +13.1 over his past three games for the Suns, while rookie Aaron Holiday ($3,700) has posted +4.52, +9.22, +8.57 marks over his last three for the Pacers.
Small Forward
Stud
Danilo Gallinari technically plays the 4 for the Clippers, but he's also eligible at the 3 in DFS. In a game with a 1-point spread and the third-highest total of the night, Gallo could build on the +6.82 Plus/Minus and 90% Consistency Rating he's put up over the last 10 games.
Value
With the Blazers continuing to hold out C.J. McCollum (knee), Rodney Hood is a top-three value at the position on both sites. Hood averaging +5.75 DraftKings Plus/Minus in 29.4 minutes per game over his last five.
Fast Break
In his first game of the season for the Bulls, JaKarr Sampson played 30 minutes off the bench and poured in 22 points with 7 rebounds, 1 steal and 1 block. The fourth-year wing has been priced up to $4,800 on DraftKings but is the top value on the slate on FanDuel, where he's still min-priced.
Power Forward
Stud
After taking a night off to preserve the tank, John Collins should be ready to go for the Hawks against the 76ers in Wednesday's highest-totaled game. Collins and opposing power forward Tobias Harris have the top two Projected Plus/Minuses at the position.
Value
Josh Jackson is averaging 32.2 minutes per game in two games since returning from an ankle injury and put up a 19-point, 10-rebound double-double for the Suns against Cleveland on Monday. We have Jackson projected for 34 minutes tonight, resulting in a top-two Projected Plus/Minus on both sites despite a tough matchup with the Jazz.
Fast Break
Aaron Gordon is averaging 28.5 points on 63.6% shooting on two games against the Knicks this season, destroying pretty much every defender the Knicks will have available to throw at him tonight.
Center
Stud
Rudy Gobert is the highest-rate center in the Phan Model for tonight's matchup with a Phoenix squad that tends to get destroyed in the paint. Gobert's +3.54 Opponent Plus/Minus is the highest of any player priced $8,000 or above on DraftKings.
Value
Robin Lopez is the only Bulls starter not to go down with the tank yet, and he's a top-two projected value at center on both sites as he goes up against the Wizards. Lopez scored 29 points on 18 shots in Chicago's last game on Monday.
Fast Break
Despite a price increase, Enes Kanter is still a top-five projected value on both sites. Kanter is averaging 16.8 points, 10.0 rebounds and 1.3 blocks in 27.2 minutes per game in the four games since Jusuf Nurkic's season-ending leg injury.
News Updates
After this piece is published, FantasyLabs is likely to provide news updates on a number of players. Be sure to stay ahead of your competition with our NBA news feed.
Pictured: Charlotte Hornets point guard Kemba Walker (15)
Credit:Troy Taormina-USA TODAY Sports