We're on to Week 5 of the Alliance of American Football league, which means we once again have the luxury of competing in the glorious pastime known as daily fantasy football.
Here's this weekend's four-game slate:
Orlando Apollos at Birmingham Iron: Saturday at 2 p.m. ET on TNT
Salt Lake Stallions at San Diego Fleet: Saturday at 8 p.m. ET on NFL Network
Memphis Express at Atlanta Legends: Sunday at 4 p.m. ET on CBS Sports Network
San Antonio Commanders at Arizona Hotshots: Sunday at 8 p.m. ET on NFL Network
FanBall offers daily fantasy contests featuring six-player lineups with a $35,000 salary cap with one quarterback, one running back, one wide receiver and three flex players (running back, wide receiver or tight end). Scoring is pretty much the industry-wide point-per-reception format with multi-point bonuses for clearing 100, 150 and 200 rushing or receiving yards and 300, 350 and 400 passing yards.
And if you're looking for more in-depth analysis, we have you covered with all the AAF content your heart could desire:
Be sure to check out this week's betting guide later in the week for specific Week 4 takeaways along with relevant matchup and injury notes.
We're going to change up the format a bit this week in an effort to better grasp where the value lies in the slate. Here's a key to the table below that features the following information for every player included in our FantasyLabs AAF Fantasy Rankings.
Personal: Player name, team, opponent, position and FanBall salary.
Workload: Pass attempts, carries and targets per game.
Week 4 snap %: Each player's respective percentage of snaps played on offense.
Opportunity per dollar: The sum of each player's average pass attempts and rush attempts (for quarterbacks) or carries and targets (for running backs and wide receivers) per game divided by their FanBall salary. A higher number indicates that player has earned an above-average workload relative to their price tag, while a low number could mean that specific player might need a huge game to meet their salary-implied expectation
Week 5 FantasyLabs AAF Model
The Legends (64% pass play rate) are the AAF's most pass-happy offense. They're followed by San Diego (61%), Birmingham (60%), Arizona (57%), Orlando (56%), Salt Lake (53%), San Antonio (53%) and Memphis (52%).
No quarterbacks have demonstrated any type of rushing ability other than backup San Antonio signal caller Marquise Williams, who has racked up 65 rushing yards on just 25 snaps this season. Week 4 marked the first time all season that Williams didn't replace Logan Woodside for at least one play.
Memphis and Atlanta have renewed life thanks to their respective quarterback changes to Zach Mettenberger and Aaron Murray, although the players' heightened price tags mean they'll need to perform like true saviors to meet their salary-based expectations.
The opportunity per dollar metric is least relevant at the quarterback position considering the league's various signal callers have essentially separated into five tiers of passers based on their yards per attempt.
AAF QB tiers by yards per attempt (min. 30 attempts):

Gilbert (9.5 Y/A)
…
Mettenberger (7.9)
Wolford (7.6)
Murray (7.3)
…
Bercovici (7.0)
Nelson (6.7)
Simms (6.3)
…
Woodside (6.0)
Woodrum (5.9)
Perez (5.6)
Hackenberg (4.5)
Allen (3.7)

— Ian Hartitz (@Ihartitz) March 6, 2019
Trent Richardson's stranglehold on the Birmingham backfield could be nearing its end. The Iron's painfully inefficient starter played his fewest snaps of the season and was out-carried 9-to-8 by backup Brandon Ross.
Still, Richardson is easily the league's most-active receiving back now that Legends scat back Akrum Wadley (knee, IR) is out indefinitely.
Oliver's status as the Stallions' featured back is dependent on how his groin responds to treatment. He was unable to practice Wednesday. Joel Bouagnon and Terrell Newby would likely split snaps along with newly-signed Nick Holley if Oliver is ultimately unable to suit up. Bouagnon would likely emerge as the slate's chalky value back if Oliver is ultimately ruled out before lock.
Terrell Watson and Ja'Quan Gardner have split snaps almost equally for most of the season, but both could see fewer opportunities moving forward thanks to the expected presence of Bishop Sankey, who was removed from the injured reserve list this week. Still, it'd be surprising if either Gardner or Watson was truly phased out of the offense during Sankey's season debut.
Orlando and Atlanta each appear poised to move forward with multi-back committees that are tentatively headlined by D'Ernest Johnson and Tarean Folston, respectively.
Overall, 10 running backs played at least 30% of their offense's snaps in Week 4.
10 AAF RBs played at least 30% snaps in Week 4:

Kenneth Farrow (78%)
Zac Stacy (65%)
Trent Richardson (58%)
Jhurell Pressley (57%)
Branden Oliver (52% — hurt groin)
Ja'Quan Gardner (49%)
Terrell Watson (49%)
D'Ernest Johnson (41%)
Tarean Folston (39%)
Justin Stockton (31%)

— Ian Hartitz (@Ihartitz) March 6, 2019
Five teams have more or less established their No. 1 pass-game option by this point. Orlando (Charles Johnson), San Antonio (Mekale McKay), Birmingham (Quinton Patton), Arizona (Rashad Ross) and Atlanta (Seantavius Jones) all have a receiver averaging more than six targets per game.
Jones' status in Atlanta is the most volatile, as the Legends gave seven (!!!) wide receivers between 31-53% of the offense's snaps in Week 4.
The remaining passing attacks from Salt Lake (De'Mornay Pierson-El), Memphis (Reece Horn) and San Diego (Nelson Spruce) aren't as set thanks to each of their offense's inability to use just one quarterback this season.
Jalin Marshall and L'Damian Washington along with tight ends Wes Saxton and Keith Towbridge deserve extra consideration in fantasy considering each played on more than 90% of their offense's snaps last week.
Roster Construction Notes
Quarterback
The big four quarterbacks at the top of the pricing scale have each shown stretches of strong play this season.
Garrett Gilbert ($6,800) is plenty deserving of the highest salary even in a tough matchup thanks to the Apollos' ridiculously efficient passing game. I'm leaning toward John Wolford ($6,000) in our next tier over Zach Mettenberger ($6,100) or Aaron Murray ($5,900), though, thanks to Wolford's superior matchup at home against the Commanders' league-worst defense.
Josh Woodrum ($5,700) has helped steady Salt Lake's briefly sinking ship, but his reliance on getting the ball out quickly, check-downs and lack of dual-threat ability hasn't translated to a productive fantasy player. Meanwhile, Luis Perez ($5,300) and Logan Woodside ($5,500) have consistently demonstrated low-floor/ceiling outcomes.
Mike Bercovici ($5,000) is a viable play this week with San Diego starter Philip Nelson (fractured clavicle, IR) sidelined for the foreseeable future. Bercovici looked awful in Week 1, but his price tag is at least $500 too cheap considering Alex Ross ($5,600) replaced Nelson after the injury occurred and was priced as if he'd be the starter.
---
>> Sign up for The Action Network's daily newsletter to get the smartest conversation delivered into your inbox each morning.
---
Running Back
FanBall's pricing has drastically changed from Weeks 4 to 5 when it comes to the league's starting running backs.
Jhurell Pressley's workload seems to be the most secure among our top four starers who saw the highest price increases, but that's still a fairly outrageous one-week increase considering his consistent usage.
I'm not convinced Kenneth Farrow will continue to play out-snap Trey Williams by a 3-to-1 ratio while Branden Oliver's potential absence would make both Joel Bouagnon — and particularly Terrell Newby — more-intriguing plays
Zac Stacy and Trent Richardson are tentatively locked in as their offense's lead backs despite their respective sub-par performances in Week 4.
No running back in Atlanta or Orlando appear to offer much value at their respective price tags considering the general uncertainty surrounding both backfields.
Ja'Quan Gardner's usage didn't change in Week 4; just his production. It's unclear whether Gardner or Terrell Watson will be more affected by the return of Bishop Sankey, but it'd be surprising if Gardner is suddenly phased out of the offense after looking like the Fleet's most explosive player in Weeks 1-3.
Wide Receiver
The value at wide receiver should help daily fantasy players to pay up at either running back or quarterback. Freddie Martino, L'Damian Washington, Dontez Byrd, Alton Howard, Brian Brown and De'Mornay Pierson-El are all viable cost-saving options who are expected to start in their respective offense's 3-WR sets.
There's also plenty of value in San Antonio, as Mekale McKay and Greg Ward Jr. have averaged 7.5 and 5.5 targets per game, respectively, but offer reduced price tags thanks to Woodside's general incompetence under center.
Alpha dogs like Rashad Ross and Charles Johnson don't need an introduction, but Jalin Marshall, Reece Horn and Quinton Patton also managed to play at least 85% of their offense's snaps last week.
It'll be tough to invest in any Atlanta receivers as long as they're utilizing a seven-man rotation. Ervin Philips might be the best bet for success considering he led the way with a 53% snap rate last week and is only $3,200. The Legends' passing attack showed renewed life with Aaron Murray under center for most of Week 4.
Tight End
Only four tight ends received an average fantasy rank inside the top-50 flex options in our Action Network fantasy rankings. Those players are Gavin Escobar, Wes Saxton, Marcus Baugh and Gerald Christian. Escobar (75% snap rate) and Saxton (95%) are the better bets for consistent usage.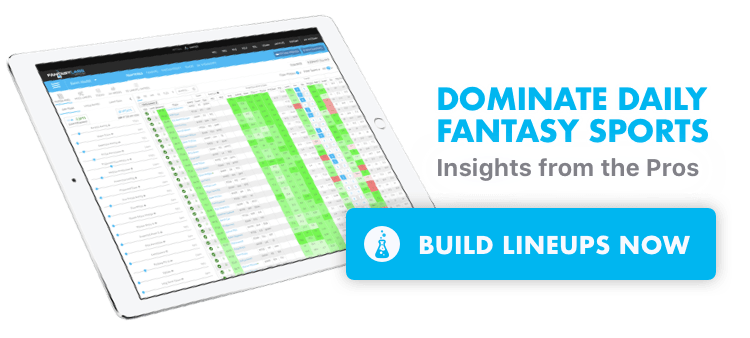 Cash Game Strategy
It remains to be seen whether T-Rich's reduced snaps in Week 4 are a sign of future change, but his reduced price tag makes him more feasible to target among the slate's big-three backs.
I'm also inclined to continue to ride the Garrett Gilbert-Charles Johnson combination until someone proves capable of stopping it. This obviously stretches the salary cap a bit thin, so we'll need to reserve one of the flex spots for a low-priced option. The best bets for touches among players priced under $4,000 include …
Either Arizona WR Freddie Martino ($3,700) or Richard Mullaney ($3,000), depending on whether Mullaney is able to play through his knee injury. Josh Huff (knee) was placed on the injured reserve list, so both Martino and Mullaney are expected to start in 3-WR sets.
Atlanta WR Ervin Philips ($3,200) is too cheap for any starting receiver.
Salt Lake RB Terrell Newby ($3,300) assuming Branden Oliver (groin) is ultimately unable to suit up.
Memphis WR Dontez Byrd ($4,000) is the cheapest starting option in Memphis' suddenly lethal passing game.
Including two of these players lets us finish the lineup with one of the slate's under-priced studs between Ja'Quan Gardner ($5,600) or Quinton Patton ($5,500).
Tournament Strategy
Riding with Mike Bercovici ($5,000) gives users monstrous room to include some of the slate's top receivers and running backs. Still, I'm more inclined to ride with John Wolford ($6,000) in his dream matchup considering how much better the Arizona offense has generally been than San Diego this season.
It's usually not a great idea to chase steep price hikes in daily fantasy at any position. Taking a chance on the following running backs who haven't experienced massive changes in salary over the last week is my preferred method of saving money in tournaments while still maintaining some roster flexibility.
Starting AAF RBs and their change in salary from Week 4-Week 5:

Pressley: +$1,900
Farrow: +$1,500
Oliver: +$1,100
Folston: +$1,000
…
Stacy: +$100
T-Rich: -$300
Johnson: -$500
…
Gardner: -$1,400

(Note Oliver has a groin injury + Fleet RB Bishop Sankey was activated off IR)

— Ian Hartitz (@Ihartitz) March 6, 2019
Charles Johnson ($7,900) and Rashad Ross ($7,400) are deserving of their massive salaries, but pivoting to one of Arizona's complementary receivers or Jalin Marshall ($5,400) could perhaps help differentiate lineups.
There's also plenty of low-cost options at wide receivers who can be utilized in flex spots to open up more salary elsewhere. I like the following wide receivers thanks to their cheap salary and high Week 4 snap count.
Notable $5K-or-cheaper AAF DFS WRs that played at least 70% of their offense's snaps in Week 4:

L'Damian Washington ($4,600 – 91%)
Dontez Byrd ($4,000 – 82%)
Brian Brown ($4,500 – 82%)
De'Mornay Pierson-El ($5,000 – 79%)
Freddie Martino ($3,700 – 75%)
Alton Howard ($4,600 – 73%)

— Ian Hartitz (@Ihartitz) March 6, 2019
Core Groups
Orlando: Garrett Gilbert, Charles Johnson, D'Ernest Johnson
Arizona: John Wolford, Rashad Ross, Richard Mullaney/Freddie Martino
Memphis: Zach Mettenberger, Alton Howard, Reece Horn, Dontez Byrd
Dart Throws
QB: Mike Bercovici
RB: Terrell Newby, Denard Robinson, Justin Stockton, Bishop Sankey
WR: Dontez Byrd, Richard Mullaney/Freddie Martino, Kaelin Clay, Ervin Philips