This is a breakdown of one-game DFS contests for the AFC Divisional Round matchup featuring the Tennessee Titans at Baltimore Ravens on Saturday, Jan. 11 at 8:15 p.m. E.T. on CBS. Be sure to check our Models up until kickoff for up-to-date projections that reflect the latest breaking news.
Cash Game Strategy
Lamar Jackson has hung at least 30 DraftKings points on eight of the 15 opponents he's faced this season while failing to score fewer than 21 only once. Going up against a Titans defense that allowed opposing QBs to surpass their salary-based expectations at 71% clip this season, Jackson lands a full nine points ahead of every other player in terms of median projected points in our DraftKings Showdown Models and is worth the 1.5x hike for the Captain spot.
With Jackson locked in 1.5x slot, you can also fit Derrick Henry plus either Ryan Tannehill or Mark Ingram (calf, questionable), who are projected similarly. I usually trust the QB more in a situation like this, but in addition to not trusting Tannehill very much after he posted only 72 yards on a minuscule 15 attempts last week, I also think that spending so much on Jackson makes Ingram more valuable as in insurance policy in this instance. Sticking with that theme, I'd finish it off with Gus Edwards, Justice Hill and Nick Boyle, essentially locking in all of the passing and rushing production for a Ravens team that is implied by the odds to outscore the Titans by 10 (view live odds here).
FanDuel's scoring format gives Tannehill the edge over Ingram in terms of median projected points, but our Models also peg Ingram with a floor twice as high, so I would still lean toward rolling with Ingram or splitting exposure here.
With $13,000 left over after locking in Jackson, Henry, and one of Ingram/Tannehill, the optimal combo is Baltimore's top two wide receivers, Marquise Brown and Willie Snead, who rank third and fifth, respectively, in Projected Plus/Minus (there's not enough salary to go Edwards-Hill here).
Core GPP Plays
Note: These are in addition to the players already mentioned in the cash write-up and generally has a focus on pass-catchers, though sometimes players from the cash section will be re-highlighted as appropriate. On FanDuel, QBs generally make for the top plays in the 1.5x slot because the half PPR format creates a wider gap in scoring between QB and RB/WR/TE; on DraftKings, a RB/WR/TE who hits the 100-yard bonus is the ideal play.
RB Derrick Henry, Titans: He's like a Madden-created player with maxed-out height, weight, power and speed.
RB Mark Ingram, Ravens: He clocks in third in projected ceiling after Jackson and Henry, And as I alluded to earlier, he also provides the most leverage on Jackson after piling up five multi-touchdown games during the regular season.
Ravens DST: The Ravens blitz at a league-high 54.9% clip, according to Pro Football Reference, and are set up to thrive as 10-point favorites that boasts the top-rated pass defense in schedule-adjusted efficiency, according to Football Outsiders' weighted passing DVOA (which weights recent games more heavily). If the Ravens can force to drop back at a normal rate, they'll have monster upside, as Tannehill has taken a sack on a whopping 31.0% of pressured dropbacks this season, according to Pro Football Focus.
Correlations/Stacks
Note: Individual player correlations can be found in the player cards in our NFL Player Models. Team positional correlations can be found in our NFL Correlations Dashboard. Unless otherwise noted, all player correlation data is from the past 12 months and team correlation data is from the start of 2019.
Ravens
Jackson-Andrews +0.60
Jackson-Brown +0.49
Brown-Andrews +0.38
Jackson-Roberts +0.37
Jackson-Boykin +0.34
Jackson-Ravens DST +0.30
Ingram-Brown +0.26
Jackson-Ingram +0.19
Jackson-Edwards +0.12
Jackson-Boyle -0.08
Jackson-Tucker -0.10
Ingram-Andrews -0.12
Jackson-Snead -0.17
Brown-Snead -0.29
Jackson-Hurst -0.47
Mark Andrews has seen a target share of at last 24% of 10-of-15 games and has upside for even more if his routes run per dropback tick up from his regular-season mark of 61%. He also leads the team in red-zone targets (14) and red-zone touchdowns (7). Marquise Brown could also benefit from an uptick in snaps after running a route on only 72% of dropbacks during the regular season. Neither qualify is true core GPP plays because of how expensive Jackson and Henry are.
If you go Jackson in the Captain spot and Henry in a FLEX, you have almost no flexibility in the last two pots if you also pair Andrews and Brown. As Brown is capable of scoring from farther out, I'd follow the numbers and lean Jackson-Ingram-Brown over Jackson-Ingram-Andrews.
If you fade Jackson the the Captain spot for one of the Titans but are still using him in a FLEX, it becomes key to pair him with Ingram in hopes of production being split between just evenly enough to ensure they're both worth paying up for without being the highest-scoring player on the slate. If you fade Jackson completely, you have to think about going with potentially going with two of the RBs along with Ravens DST and/or Justin Tucker. 
Titans
Tannehill-Brown +0.70
Henry-Titans DST +0.38
Brown-Davis +0.34
Tannehill-Davis +0.33
Henry-Brown +0.22
Brown-Smith +0.20
Tannehill-Smith +0.21
Tannehill-Sharpe +0.06
Tannehill-Henry -0.13
Henry-Davis -0.24
Tannehill-Titans DST -0.56
Tannehill-Firkser -0.60
The Ravens allowed NFL-high 69% target rate to wide receivers, which gives A.J. Brown a lot more viability in this spot than he had in last week's matchup with Stephon Gilmore. Thanks to Brown's relatively discounted salary, he could potentially pay off not only as a pivot off Henry, or stacked with Tannehill, but also as the lone member of the Titans' Big 3 in lineups with Jackson in the MVP spot — not to mention, the rookie will likely carry low ownership himself in the 1.5x slot.
I'm expecting the field to look toward Titans pass-catchers for value on DraftKings while overlooking the DST, so there is once again an edge to be had by stacking the Tennessee defense with Henry.
Leverage Plays
Players whose production would benefit owners more than expensive or highly-owned players. Kickers and D/STs generally make for strong leverage plays, but those who stand out will be highlighted below.
K Justin Tucker, Ravens: He's put up seven double-digit games with a high of 17, and our Models have him scoring the seventh-most points on the slate. If the Titans defense shows up, there's a realistic scenario in which he could sink almost every lineup that he isn't a part of.
Titans DST: This play worked out last week, but the odds aren't as high of it hitting again this week. Still, the impact on the rest of the slate would be massive enough to warrant be overweight on them. And the fact remains that in Jackson's only postseason appearance, he was sacked seven times, threw a pick and lost a fumble. I don't think that version of him still exists, but we've seen stranger things.
RB Gus Edwards, Ravens: Carries have been in the three to 17 range with Ingram active with an outside shot at sniping TDs from both Ingram and Jackson.
RB Dion Lewis, Titans: Liable to siphon snaps from Henry in must-pass situations.
Dart Throw Rankings
Ranking the low-cost, complementary players not already discussed in the leverage section by likelihood of having a worthwhile fantasy stat line.
WR Seth Roberts, Ravens: Splitting the No. 2 wide receiver role with Snead but costs half as much on DraftKings.
TE Nick Boyle, Ravens: Inline tight end who runs a route on just under 50% of dropbacks.
TE Hayden Hurst, Ravens: Ran more routes than Boyle down the stretch but liable to see his snaps decrease if Andrews plays more, as Hurst has rarely been used as a blocker.
WR Willie Snead: Overpriced on DraftKings but a great play at minimum on FanDuel.
RB Justice Hill, Ravens: 3.2 carries per game; dart-throw version of Edwards.
WR Miles Boykin, Ravens: Runs roughly a third of the routes, but all Ravens pass-catchers running routes are arguably more valuable than all of the Titans pass-catchers given both how expensive Jackson is and the upside he possesses: Jackson has thrown three or more touchdowns in 8-of-15 games and tossed four or more scores in 4-of-15.
WR Corey Davis, Titans: Forgotten man averaging 4.4 targets per game with a high of seven, but he will likely be chalkier than you would like for a player in his price range, especially when taking into account Tannehill's ceiling compared to Jackson's.
WR Tajae Sharpe, Titans: Tough matchup against corners more talented than him, but still has to be taken into consideration given the fact that he ran 50% of the routes last week.
TE Jonnu Smith, Titans: Volatile with rushing upside, but the Ravens allowed the second-fewest schedule-adjusted receiving yards to tight ends (36.4) and he's barely a lock to run more routes than Anthony Firkser and MyCole Pruitt.
TE MyCole Pruitt, Titans: Ran 39% of the routes last week — the same amount as Firkser and more than Henry (34%) and Lewis (34%).
TE Anthony Firkser, Titans: Ran 39% of the routes last week and has blocked on only 4% of his snaps this season, per Pro Football Focus, but people will likely be on him after he caught a TD last week.
WR DeAnthony Thomas, Ravens: At $200 on DraftKings, he unlocks a unique roster construction on DraftKings stacked with Ravens DST if he returns a kick for a score.
FB Patrick Ricard, Ravens: Runs a route on 10-20% of dropbacks per game.
WR Kalif Raymond, Titans: Should slot back in as the primary return man/No. 4 wide receiver.
RB Khari Blasingame, Titans: No. 3 back who sees a couple of snaps per game.
WR Chris Moore, Ravens: Hasn't been used on offense in nearly three months.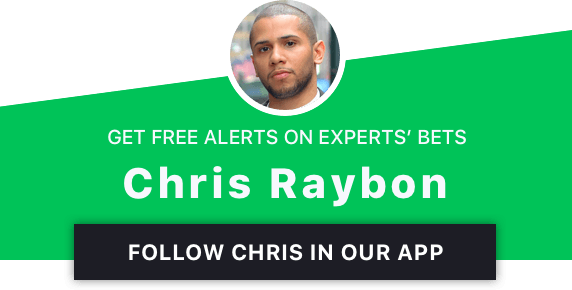 Chris Raybon finished No. 4 in FantasyPros' weekly fantasy football rankings accuracy contest in 2019. He is a Senior Editor and NFL analyst at the Action Network, as well as a co-host of "The Action Network" on Sirius XM Fantasy Radio on Thursdays and Fridays at 10 a.m. ET. He also hosts the weekly NFL Betting edition of The Action Network Podcast and is featured each week on The Fantasy Flex edition of the pod, as well. He has watched every snap of every NFL game since 2010 — even the kneel downs. Follow him on Twitter @ChrisRaybon and be sure to read about how he quit his accounting job and got paid to watch sports.