There are better things to do than watch the Pro Bowl. But if you're reading this, you have no ida what those things are, and I'm here for you.
Here's a DFS breakdown for the NFL's 2019 Pro Bowl, which kicks off on Sunday, Jan. 28, 2020 at 3 p.m. ET on ABC.
So without further ado…it's Pro Bowl shmoney time.
Quarterback
Lamar Jackson, AFC ($10,000 DK, $14,500 FD)
Deshaun Watson, AFC ($8,600 DK, $13,500 FD)
Ryan Tannehill, AFC ($5,400 DK, $12,000 FD)
Russell Wilson, NFC ($8,400 DK, $13,000 FD)
Drew Brees, NFC ($7,600 DK, $14,000 FD)
Kirk Cousins, NFC ($5,000 DK, $12,500 FD)
Over the past two seasons — which coincides with a return to the AFC vs. NFC format from the Rice vs. Irvin setup — no QB has thrown multiple TD passes in the Pro Bowl. No QB had a rushing attempt last season, and a QB hasn't finished with positive rushing yardage since the 2017 Pro Bowl.
The highest-upside bets here are Ryan Tannehill and Kirk Cousins, who are expected to finish the game for their respective squad. Starters Lamar Jackson and Russell Wilson should carry the lowest expectations.
Running Back
Derrick Henry, AFC ($7,200 DK, $9,800 FD)
Nick Chubb, AFC ($6,600 DK, $10,000 FD)
Mark Ingram II, AFC ($3,000 DK, $11,000 FD)
Patrick Ricard, AFC ($600 DK, $6,000 FD)
Ezekiel Elliott, NFC ($8,200 DK, $12,000 FD)
Alvin Kamara, NFC ($6,800 DK, $11,000 FD)
Dalvin Cook, NFC ($6,400 DK, $11,000 FD)
C.J. Ham, NFC ($200 DK, $6,000 FD)
On average, RBs in the Pro Bowl have averaged 2.4 carries and 2.3 targets over the past two contests, with fullbacks have accounting 23% of the carries and 26% of the targets. At least one fullback has been among the top fantasy performers in each of the past two Pro Bowls: the AFC's Anthony Sherman posted a game-high 105 scrimmage yards with a TD on seven touches, and the NFC's Kyle Juszczyk posted 51 yards on 8 touches the year prior.
Given that all RBs — fullbacks included — are likely headed for a near-even split in terms of usage, Patrick Ricard and C.J. Ham offer the most bang for the buck. After that, I'd give the edge to first-time participants Dalvin Cook, Derrick Henry, and Nick Chubb.
Wide Receiver
Keenan Allen, AFC ($7,000 DK, $11,500 FD)
Jarvis Landry, AFC ($6,200 DK, $10,500 FD)
D.J. Chark, AFC ($4,800 DK, $10,000 FD)
Courtland Sutton, AFC ($4,200 DK, $10,000 FD)
Andre Roberts, AFC ($400 DK, $6,000 FD)
Matthew Slater, AFC ($200 DK, $6,000 FD)
Michael Thomas, NFC ($9,400 DK, $12,500 FD)
Davante Adams, NFC ($7,800 DK, $12,000 FD)
Amari Cooper, NFC ($5,800 DK, $11,000 FD)
Kenny Golladay, NFC ($4,600 DK, $10,500 FD)
Cordarrelle Patterson, NFC ($1,200 DK, $6,000 FD)
Deonte Harris, NFC ($200 DK, $6,000 FD)
We've seen veterans lead their teams in receiving yardage over the past couple of years: Keenan Allen and T.Y. Hilton for the AFC, and Davante Adams and Odell Beckham for the NFC. That puts Allen, Adams, Michael Thomas, and Jarvis Landry at the top of the list for this year's tilt. I'm expecting Landry to get ample opportunity to put up good numbers after he failed to catch a pass on seven targets in last year's Pro Bowl.
Kickoff returns are not permitted in the game (though punt returns are), but I wouldn't be surprised to see head coach Sean Payton give Deonte Harris some snaps at wide receiver.
Tight End (Cash)
Mark Andrews, AFC ($6,000 DK, $10,000 FD)
Jack Doyle, AFC ($3,600 DK, $7,000 FD)
Jared Cook, NFC ($5,600 DK, $9,000 FD)
Zach Ertz, NFC ($5,600 DK, $10,000 FD)
Austin Hooper, NFC ($5,200 DK, $9,000 FD)
Tight ends are this game's most likely high scorers. Last year, Jared Cook finished third on the AFC in receiving yards (71), Eric Ebron scored the AFC's only receiving TD by an offensive skill player (cornerback Jalen Ramsey also caught one), and George Kittle and Austin Hooper finished second and third, respectively, in receiving yards for the NFC, with Hooper accounting for the NFC's only TD on the day. In 2017, Travis Kelce and Delanie Walker accounted for the AFC's only two TDs, while Jimmy Graham finished tied for second among NFC receivers in catches (5).
Mark Andrews is the most explosive option here, but I wouldn't be surprised to see the biggest game come from Jack Doyle, a dirty-work type who commands a lot of respect in his own locker room and around the league.
Zach Ertz may still have lingering injury issues and Cook is one of Payton's players, so I'd peg Hooper with the best chance of leading the NFC in production at the position.
Kicker
Justin Tucker, AFC ($1,600 DK, $9,500 FD)
Wil Lutz, NFC ($1,600 DK, $9,000 FD)
Both Justin Tucker and Wil Lutz earn top-five median projections from our DraftKings Showdown Models. Over the past two Pro Bowls, three of the four kickers attempted multiple field goals.
Defense/Special Teams
AFC DST ($2,400 DK)
NFC DST ($2,400 DK)
The DSTs clock in as the two highest projected options on the slate in our models. Thanks to quarterbacks' reluctance to scramble, defenses have been able to rack up an average 4.3 sacks and 2.0 interceptions each in the last two Pro Bowls. In Jackson, Watson, and Tannehill, the AFC has the less accurate, more interception-prone group of passers among the two teams, so I'd give the NFC DST the slight edge.
Roster Build (Cash)
Six of the seven offensive TDs scored over the past two Pro Bowls have come through the air, so going QB-heavy is the best bet in cash games.
On DraftKings, you can fit all six QBs with either team's projected finisher (Tannehill, Cousins) in the Captain spot.
On FanDuel, you can get in the four non-starters (Watson, Brees, Tannehill, Cousins) with $8,000 left. The best option for the final slot is either Hooper or Doyle.
5 Tips for Tournaments/Guaranteed Prize Pools (GPPs)
1. Leave salary on the table.
The highest-scoring players in the game could end up being fullbacks, kickers, and DSTs, so there's no reason to worry about how much of the cap you're using up.
2. Heavy personnel (TEs, FBs) works best for Captain/MVP.
The Pro Bowl requires one running back and one tight end on the field at all times, and players at these positions face less depth-chart competition. A good chunk of the field will probably favor flashier names at QB, RB, and WR, so rostering TE and FB is also +EV from a game theory perspective. TEs are likelier to post more points, but FBs will likely see the lowest rates of ownership and make for the best contrarian selections on the slate in the 1.5x slot.
3. Fade obvious stacks.
Stacks like Brees-Thomas and Jackson-Andrews may end up being popular by virtue of being familiar, but there's been no evidence that stacking teammates provides an edge. In fact, I would suspect that QBs would be wary of showing teammate bias and are more likely to go out of their way to target players on other teams.
4. Use running backs sparingly (except fullbacks).
Over the past two Pro Bowls, the two squads have combined for 176 passes but just 61 runs, a pass rate of 74.3%. There has been only one rushing TD scored over the NFL's past two all-star games, and it came from fullback Anthony Sherman.
5. Be as contrarian as possible.
This ties the other four together, but it's worth underscoring. This is unlike any other NFL game. The players who see the least action as playmakers during the regular season are likely to get the most opportunities in the Pro Bowl. Quarterbacks almost never run. Non-quarterbacks could be on either end of TD passes.Only certain formations are permitted on offense, and the defense is somewhat limited as to what it can do, coverage-wise, as well.
Since returning to AFC vs. NFC format, both games have been low-scoring (AFC won 26-7 in 2018 and 20-13 in 2017), so a willingness to roster kickers, punt returners, DSTs, and fullbacks could make all the difference.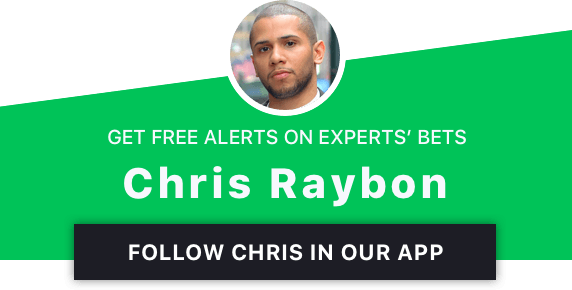 Chris Raybon finished No. 4 in FantasyPros' weekly fantasy football rankings accuracy contest in 2019. He is a Senior Editor and NFL analyst at the Action Network, as well as a co-host of "The Action Network" on Sirius XM Fantasy Radio on Thursdays and Fridays at 10 a.m. ET. He also hosts the weekly NFL Betting edition of The Action Network Podcast and is featured each week on The Fantasy Flex edition of the pod, as well. He has watched every snap of every NFL game since 2010 — even the kneel downs. Follow him on Twitter @ChrisRaybon and be sure to read about how he quit his accounting job and got paid to watch sports.