The FantasyLabs MLB Player Models have numerous data points to help you construct your MLB DFS rosters.
They house our floor, median, and ceiling projections for each player, but that's just the beginning of what you'll find inside. You'll also find our Trends tool, stacking tool, and more.
Also, don't forget that for large-field tournaments, you can utilize our Lineup Optimizer to effortlessly create up to 150 lineups, or use our Lineup Builder if you like to hand-build your teams for cash games or small-field tournaments.
Let's dive into some MLB plays that stand out in our Player Models for today's main slate.
Bargain Rating Picks
You might be asking: what is Bargain Rating, and why should I care?
Bargain Rating shows how much of a bargain a player is on one DFS site versus others. If a player is significantly cheaper on one site than the other, they will have a favorable Bargain Rating on the site where they're more affordable and a poor Bargain Rating on the site where they're more expensive. It's a straightforward metric, but targeting players at reduced price tags is almost always a strong strategy in DFS.
Bargain Rating strongly correlates with player value, which you can quickly see with our predictive projected Plus/Minus metric.
Seeing how Plus/Minus helps you project how many points a player is expected to score compared to what their salary implies them to score, this is a good company for Bargain Rating.
MLB DFS DraftKings Bargain
Jesus Aguilar ($2,100): First Baseman, Miami Marlins
Daily fantasy players are always looking for low-budget dart throws to add cheap upside potential to their lineups. Aguilar fits the bill tonight in Philadelphia.
The veteran first baseman is batting .252 with a .315 wOBA this year, well below his recent season totals. His salary has dipped from a crazy $5,200 on June 2 all the way down to a tasty $2,100.
Aguilar went hitless yesterday in the final game in Houston but posted 10 DraftKings points on Saturday and a massive 30-point game on Friday with two dingers. Take advantage of this sale price in lineups tonight.
---
MLB DFS FanDuel Bargain
J.T. Realmuto ($2,800): Catcher, Philadelphia Phillies
Realmuto's FanDuel salary has remained consistent, hovering between $2,800 and $3,000 over the last month. Over his previous 10 games, he has posted an average Plus/Minus of +1.26.
His .249 average and three home runs on the season do not jump off the page, but Realmuto has provided five 15+ FanDuel point performances since May 26.
He provides some potential upside as a low-ownership bargain tonight as most players will fade the Phillies against Marlins right-hander Sandy Alcantara, who is 6-2 with a 1.61 ERA this season.
MLB DFS Ceiling Projection Picks
Pitcher
Alek Manoah ($9,800 DraftKings, $10,800 FanDuel) vs. Baltimore Orioles
With the highest ceiling on the slate for pitchers and the third-highest salary, Manoah is worth the top-end salary against a struggling Orioles lineup.
Manoah is off to an incredible start in 2022 with a 7-1 record and an AL-leading 1.81 ERA in 11 starts. He has a +4.49 Plus/Minus rating on the year with just two negative Plus/Minus results.
The Orioles rank near the bottom of the league in batting average and near the top of the league in strikeouts. They have by far the lowest implied run total on the slate. Expect Manoah to be a popular lineup pick today for a good reason.
---
Hitter
Juan Soto ($5,100 DraftKings, $4,100 FanDuel) vs. Atlanta Braves
A statistical anomaly, Soto is batting .230 in 2022 — more than 60 points below his career average — but still ranks in the top-3% of the league with a .417 xwOBA, per Baseball Savant.
The ultimate boom-or-bust play, Soto has a +2.61 Plus/Minus over his last 10 games. He has three 20+ DraftKings point performances since May 29, along with six sub-5 point stinkers in that span.
Soto destroys right-handed pitching (.471 wOBA) and faces right-hander Ian Anderson tonight, who is 5-3 with a 4.53 ERA.
Top Stacking Pick from THE BAT X
One of the great features of being a FantasyLabs Pro member is the option to purchase additional items in the FantasyLabs Marketplace.
A new addition to our MLB projections is THE BAT from Derek Carty of RotoGrinders. With this purchase, you can use his projections alone or create aggregate projections within our Player Models.
The top five-man DraftKings stack from THE BAT using projected points in our stacking tool belongs to the Braves. When you load them into our Lineup Builder, you'll have the option to hand-build the rest of your team or optimize the rest of it.
Note: There is precipitation projected in the forecast for this game. Be sure to monitor the status of this game leading up to lock.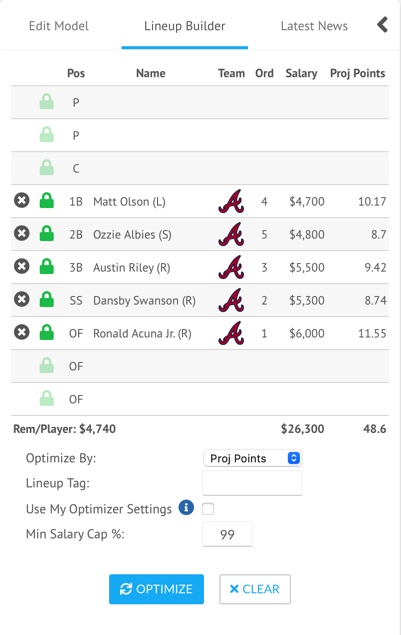 The Braves have one of the highest implied run totals tonight in Washington, with great weather expected for hitters.
Ronald Acuna Jr. anchors the stack with his incredible start in 2022. He is batting .311 with a .424 xwOBA on the year and an impressive 1.194 OPS in June.
With eight home runs in his last 18 games, Austin Riley's DraftKings salary has risen by $1,000 in that span. Despite the rising price tag, he has a +1.28 Plus/Minus over his last 10 games.
Not to be outdone, shortstop Dansby Swanson has posted a +2.64 Plus/Minus over his last 10 games. He has five multi-hit games in that time, including two 20+ DraftKings point performances.
Ozzie Albies and Matt Olson round out the stack as sub-$5,000 plays. Albies has hit safely in 12 of his last 14 games but has only produced a few strong point totals during that run.
Olson may be the bargain of the stack at the sixth-highest salary for first basemen on the slate. Despite his modest salary, he has the second-highest projection at the position.
The Braves will take on Nationals' right-hander Josiah Gray. The second-year hurler is 6-4 with a 4.33 ERA in 12 starts. He has allowed a .343 wOBA and 39.9 hard-hit %, both above league averages.