The MLB Breakdown offers data-driven analysis using the FantasyLabs Tools and predictive metrics to highlight notable players. 
Wednesday's slate differs depending on the site. DraftKings has a six-game early slate, while FanDuel's is four games; both start at 1:10 p.m. ET. FanDuel also offers a 14-game all-day slate starting at 1:10 p.m. ET.
Both nine-game main slates begin at 7:05 p.m. ET.
Pitchers
Studs
On FanDuel, there is just one pitcher above $10,000:
Gerrit Cole (R), $11,400, HOU @ LAA
Cole is the most-expensive pitcher on Wednesday's main slate by $1,800. He had success against these Angels last time out, striking out nine through seven innings. The Angels have just average power against righties this season, ranking 13th in team ISO, but they do rank third in Weighted Runs Created Plus (wRC+) and their projected lineup boasts a low 20.9% strikeout rate over the last 12 months.
Cole always carries a high floor with his 2.62 xFIP and massive 37.4% strikeout rate this season, but he's probably a better tournament play than cash play in the subpar matchup. Paying down at pitcher on the main slate will allow you target some of the more expensive bats. That said, Mike Trout (calf) could potentially be out tonight, which certainly would improve Cole's outlook even more.
You're mostly paying for Cole's safety because he's not the best value, sporting a +1.51 Projected Plus/Minus on FanDuel.
Values
Mike Clevinger is a better value on FanDuel with his 76% Bargain Rating, but he's still an excellent option on DraftKings as well. At the time of writing, the Indians are the largest favorite (-254) on the main slate, and the Tigers are implied for just 3.4 runs.
Overall, Clevinger has allowed just one earned run over his last two starts after a rough start in his return from an ankle injury in late June. He carries an excellent 8.5 K Prediction and squares off against a Tigers team that ranks 27th in ISO and dead last in both wOBA and wRC+ against right-handed pitchers this year. He's where I'll be starting my cash games tonight, as he leads our median projections and has a +12.63 Projected Plus/Minus.
Chris Paddack leads FanDuel's main slate with a 98% Bargain Rating for his matchup against the Marlins. Their projected lineup has a high 27.7% strikeout rate and terrible .287 wOBA against right-handed pitchers over the past year. It's one of the strongest matchups on the board against a team that ranks 29th or worse in ISO, wOBA and wRC+ against righties this season. The Marlins' 3.1 implied run total is the lowest on the main slate.
Fastballs
Daniel Ponce de Leon: The early slate is void of any safe options, but he has a 99% Bargain Rating and should allow you to target some elite bats. At the time of writing, the Pirates have a slate-low 4.3 implied run total, and the Cardinals check in as slight -122 favorites. Overall, his +9.92 Projected Plus/Minus is the second-highest mark for the early games.
Yu Darvish: He hasn't been great this year, but options are thin on the early slate, especially if you need to roster two pitchers. The Reds' 4.3 implied run total is among the lowest marks on the early slate, and Darvish's 8.0 K Prediction trails only Chris Archer's.
Eduardo Rodriguez: He's worth a shot in tournaments if you want to save a little more salary. The Blue Jays have a middling 25.2% strikeout rate, but they also rank 22nd or worse in wOBA and wRC+ against lefties this year. There is currently rain in the forecast for this game, so be sure to monitor the status leading up to lock.
Notable Stacks
With our Lineup Builder, it's easy to incorporate stacks into DFS lineups. One of the top four-man DraftKings stacks for the early slate in the CSURAM88 Player Model belongs to the Colorado Rockies.
1. Charlie Blackmon (L)
2. Trevor Story (R)
3. David Dahl (L)
5. Daniel Murphy (L)
Total salary: $21,200
The Rockies check in as the highest-rated stack for the early slate with their whopping 7.4 implied run total and slate-best 88 Team Value Rating in our Vegas Dashboard. They'll square off against righty Shaun Anderson, who has a 4.45 xFIP and an abysmal 7.6% K-BB% this year.
The matchup against the righty puts Blackmon on the positive side of his splits. Over the past year, he's hit righties to the tune of a .402 wOBA and .259 ISO. He's also in good form, sporting a 232-foot average distance, 96 mph exit velocity and 48% hard-hit rate. All of those marks exceed his 12-month averages.
Overall, this entire stack is in good batted-ball form, as they all own average batted-ball distances between 230-255 feet and exit velocities between 92-97 mph. Additionally, they all have Recent Batted Ball Luck Scores (RRBL) of at least 32, suggesting progression could be coming. What better place for that to happen than in a game that has a Weather Rating and Park Factor of 100 today?
Per our Trends tool, hitters featured in games with Weather Ratings and Park Factors of 100 have averaged a +1.92 Plus/Minus on DraftKings. If you filter for just hitters in the 1-5 spots, the Plus/Minus jumps to +2.24.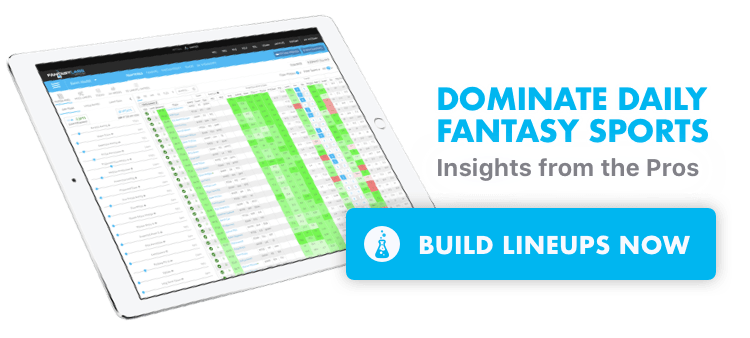 One of the top FanDuel stacks for the main slate in the CSURAM88 Model belongs to the Boston Red Sox.
1. Mookie Betts (R)
2. Rafael Devers (L)
3. Xander Bogaerts (R)
6. Christian Vazquez (R)
Total salary: $15,800
At the time of writing, the Red Sox's 6.8 implied run total leads the main slate by a full run. They carry a solid Team Value Rating of 82, but you'll need to pay attention to this game as lock approaches because there is currently rain in the forecast.
They are in a smash spot against Aaron Sanchez, who has a 5.39 xFIP and 4.6% K-BB% this year. Betts has throttled right-handers over the past 12 months, boasting a .403 wOBA and .240 ISO. Further, he's smashing the baseball over the past two weeks, possessing a 248-foot average distance, 95 mph exit velocity and 52% hard-hit rate.
It's the same story for Vazquez, who has a 250-foot average distance, 96 mph exit velocity and 51% hard-hit rate. He also provides some nice salary relief with his 98% Bargain Rating.
Other Batters
If you need some salary relief on DraftKings, Jason Kipnis has an 82% Bargain Rating, and the Indians are implied for a solid 5.7 runs. He'll be on the positive side of his splits, owning a .355 wOBA and .200 ISO against righties over the past 12 months, and his +1.20 Projected Plus/Minus leads all second basemen on DraftKings.
Robbie Ray is in good form, but he can get knocked around at times. Joey Gallo has an absurd .441 wOBA and .417 ISO against lefties over the past year, and he has excellent Statcast data, sporting a 238-foot average distance, 94 mph exit velocity and 56% fly-ball rate. Meanwhile, Ray has allowed a 48% fly-ball rate over his last two starts. There's always a risk in Gallo with his high strikeout rate, but he also has considerable upside.
Good luck, and be sure to check out The Action Network if you're looking for more in-depth MLB analysis.
After this piece is published, FantasyLabs is likely to provide news updates on a number of players. Be sure to stay ahead of your competition with our industry-leading DFS-focused news blurbs.
Pictured above: Mike Clevinger
Photo credit: Steven Branscombe-USA TODAY Sports