This piece focuses on five golfers projected to have less than 5% ownership in large-field guaranteed prize pools, such as the massive Millionaire Maker on DraftKings.
For more information on the PGA, check out Justin Bailey's PGA DFS Tips and Strategies for 2019 PGA Championship and be sure to utilize all of the amazing features in the FantasyLabs PGA Models.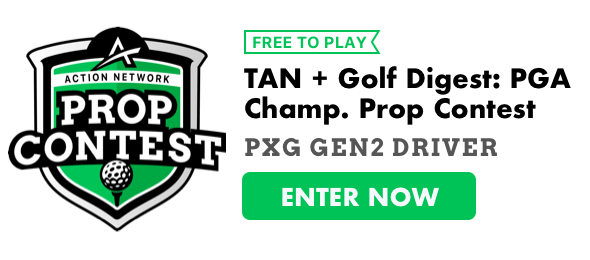 Will there be a high-priced golfer with low ownership?
Among all players with a DraftKings salary of $9,000 or higher, Hump feels strongly that the current Champion Golfer of the Year, Francesco Molinari ($9,700), will be the lowest owned. A combination of factors, including Molinari's water-sogged finish at The Masters and lack of power off the tee (his 297.3-yard LT Driving Distance ties him for 73rd in this week's field), contribute to him seemingly flying under the radar for the PGA Championship this week.
That said, Francesco's 68.5 LT Adj Rd Score is tied for 13th, and his 63.0 LT SC percentage — quite certain to come in handy this week — is tied for fourth in the field. Since 2016, Molinari has finished 22nd, second and sixth at The PGA Championship, and his last four appearances in Major championships have resulted in fifth, sixth, first and 25th-place finishes.
Anyway, here are the five golfers I think provide the most bang for the buck when projected ownership is taken into account.
Jorge Campillo
When I built my FantasyLabs model for this week, Jorge Campillo ($6,900) was one of the first names I noticed, primarily because the only players who rank higher than him have names like Dustin Johnson, Brooks Koepka and Tiger Woods. His name also pops in Bryan Mears' Optimal Model for the 2019 PGA Championship.
Campillo provides a blend of power (303.2-yard LT DD) and accuracy (61.7% LT DA) off the tee, and he arrives in mind-boggling form with two third-place finishes, two runner-ups and a win in his last six starts. Campillo has scored at least 89 DraftKings points in each of his last five starts. He is projected for 0-1% ownership in our models.
Max Homa
Max Homa ($6,900) is riding high, fresh off his win at the Wells Fargo Championship, where he accumulated 117 DraftKings points. Homa also notched a top-10 finish at the ATT Pebble Beach Pro-Am and has made the cut in six of his last seven events on the PGA Tour.
While Homa's long-term numbers aren't impressive, his recent ones certainly are: His 68.8 Recent Adj Rd Score ranks 33rd, his 315.2-yard Recent DD ranks sixth and his 20 Adj Birdies per round ranks third in the field among golfers with at least two starts the past six weeks. Homa is projected for 0-1% percent ownership in our models.
Julian Suri
Another player who rated extremely well in my FantasyLabs model this week is Julian Suri ($6,400). In addition to Suri's exceedingly low salary, his length (310.9-yard LT DD) and accuracy (64.0% LT DA) make him quite appealing this week. Suri's recent Scrambling (66.2%) and Adj Bird Avg (14.5) will also suit him well at Bethpage.
Although the majority of his starts have occurred outside of the PGA Tour, it's worth noting that Suri finished 19th in last year's PGA Championship and was 28th in last year's Open Championship; he's shown the capability of mixing it up with the big dogs. Suri is projected for 2-4% ownership in our models.
Kevin Kisner
Another Georgia Bulldog flying under the radar this week is Kevin Kisner ($7,700), primarily due to his lack of length off the tee on this extremely long and water-logged track that will likely cause it to play even longer this week. Kisner's 290-yard LT DD and 286-yard Recent DD are some of the shortest numbers in the entire field.
That said, Kisner's 68.5 Recent Adj Rd Score is tied for 18th in the field, and importantly he has demonstrated a penchant for straight balling out at Major championships. Kisner has notched top-30 finishes in six of his last nine Majors, with finishes of seventh, 12th and 18th in the three most recent PGA Championships. Kisner is projected for 5-8% ownership in our models.
Good luck, and be sure to check out The Action Network if you're looking for more Masters coverage!
Credit: USA TODAY Sports
Pictured: Kevin Kisner