If you're an NFL DFS player, preseason slates are like Christmas in August. But dominating in the preseason is about more than knowing the names of a couple of rookies or second- and third-stringers. In fact, it's a whole different beast entirely, and if you're playing it like you would a regular-season slate, you're doing it all wrong.
I have compiled data from the last three preseasons to reveal which types of players to target and avoid, and I also threw in more general but critical strategy and research tips to create this comprehensive guide to crushing it preseason DFS. Enjoy!
Fade starters/weekly regulars outside of Week 3
An NFL team's 90-man roster is littered with players the average DFS player has probably never heard of. As such, they oftentimes resort to rostering a bunch of first-stringers who they are more familiar with, despite the fact that starters (and players such as third-down backs, No. 3 wide receivers, etc. that are expected to have an every-week role during the regular season)  rarely project to play even half of the snaps outside of Week 3, which is considered by most coaches as the "regular season dress rehearsal."
Here's how playing time breaks down.
HOF Game/Week 1: Starters play no more than a few series, and many sit out entirely.
Week 2: Starters play 1-2 quarters.
Week 3: Starters usually play the entire first half. Some will play into the third quarter.
Week 4: Starters don't play at all.
Coaches have little incentive to put their best players with solidified spots on the 53-man roster at risk. Even if there are depth chart battles to be sorted out, a coach knows they can sort that out during normal practice and adjust on the fly as the season progresses if necessary. Coaches are far more interested in using the preseason to decide roster battles for the last few spots on the final 53.
Just to drive the point home, here are the players at each position who entered the preseason as the starter and finished with top-10 fantasy production on either DraftKings or FanDuel at their respective position in 2016, 2017, and 2018.
QB: Russell Wilson (2017)
RB: Christian McCaffrey (2018)
WR: Tyreek Hill (2018), JuJu Smith-Schuster (2018), Kelvin Benjamin (2017),
TE: David Njoku (2018), Eric Ebron (2018), Jason Witten (2017), Jared Cook (2016), Kyle Rudolph (2016), Zach Ertz (2016)
Every-week regulars have accounted for just 3.3% of top-10 fantasy preseasons over the last three years at QB and RB, 10.0% at WR, and 20.0% at TE.
Who to target instead
With even less information available to differentiate between the talent level of different players in the preseason, opportunity reigns supreme.
Even more crucially, there's not much opportunity to go around. Below are the leaders in total preseason usage over the past three years.
Pass attempts: Tyler Bray, 97 (2018), Matt McGloin, 111 (2017), Joe Callahan, 88 (2016)
Rush attempts: Chris Warren III, 58 (2018), Elijaah Penny, 49 (2017), Kenny Hilliard, 51 (2016)
WR targets: Tanner Gentry, 26 (2018), JoJo Natson, 22 (2017), Jaxon Shipley, 26 (2016)
TE targets: Jerrell Adams, 20 (2018), Jacob Hollister, 15 (2017), A.J. Derby, 20 (2016)
The players who tend to get the most playing time — and thus, are the most productive — in the preseason are those considered in the running for a spot on the 53, but without much prior tape of live NFL game action. The two main things that help identify these types of players are draft pedigree and years of NFL experience, though exactly what you are looking for in each of these areas varies by position.
Draft Pedigree
The table below shows how the top 10 preseason scorers at each position break out in terms of draft pedigree.

Drafted QBs
In contrast to the other positions, QBs who post top-10 preseason results tend to be drafted more often than undrafted. In particular, Day 3 picks — often considered developmental prospects that may or may not be worth keeping around long term — tend to do well, making up nearly half of all top-10 QB preseasons since 2016, while not accounting for more than 27% of top-10 scores at any other position.
RB, WR, TE: Undrafted or late-round picks
Some DFS players realize that rostering starters is -EV, and will instead gravitate to highly drafted players in hopes that their talent translates into on-field production. This is also not necessarily optimal. Undrafted players have accounted for at least half of all top-10 preseasons over the past three years at RB, WR, and TE, while Day 1 and Day 2 picks have combined for 30% or less. (Some of this is due to the fact there are less Day 1-2 picks than there are Day 3 picks and undrafted free agents, but the point is that the latter two largely goes overlooked despite combining to produce the majority of top preseason scorers.)
Experience Level
Here's how the top 10 preseason scorers at each position break out in terms of years of experience.

Experience is not a big factor at QB
Rookie QBs have produced slightly more top-10 preseasons than QBs with at least one year of NFL experience, but there's less deviation between experience level at QB than any other position. This is because teams generally keep only two QBs these days, which often pits a veteran signal caller against a younger passer, a battle which tends to stack the odds in favor of the more experienced player due to the inherent mental nature of the position.
The less experience, the better, at RB and WR
Rookies comprise nearly half of all top-10 scores at RB and WR, while rookies and Year 2 players combine to account for at least two-thirds. Coaches and scouts have been itching all offseason to get their first look at rookies in live game action and to see the development of players making the jump from Year 1 to Year 2.
Beyond that, there are obviously some exceptions, but generally speaking, if a RB or WR hasn't earned their way out of substantial preseason standing on the roster by Year 3, odds are they aren't a player you want to count on in your DFS lineups, either. More often than not, these types of players are on a one-way crash course toward "camp body" status.
Experience means the most at TE
Most NFL coaches and insiders will tell you that tight ends take longer to develop than most other positions, and the data backs that up. It's not uncommon to see talented tight ends fail to make a big impact in the passing game in the preseason early in their careers, and coaches won't as readily take this as cause for alarm as much as they would with players at the other skill positions.
Thus, we see a sizable chunk of top-10 preseasons at TE come from veteran in Year 3 and beyond. As you may recall from earlier, regular starters at TE produced at least twice as many top-10 preseasons as any other position, which accounts for part of this bucket. The remainder tends to be made up of one-dimensional pass-catching or blocking types in make-or-break years who are trying to prove capable enough at their less honed skill to earn the team's final TE spot.
Which position should you target for the FLEX (or in one-game contests)?
Below is a table of the average points per game for top-10 scorers at each position over the past three preseasons.
RBs have a slight edge, but scoring is generally equalized among all positions besides TE. The TE position should generally be avoided in the FLEX and faded completely in one-game contests (outside of situations where we have knowledge that the TE will play a large portion of the game).
Kicker and D/ST are much more valuable
Because even top-10 options at QB, RB, WR, and TE struggle to crack double-digits, kickers and defenses have a much better chance of outscoring them.
Target teams with only one Kicker on the roster
Some teams will carry more than one kicker in camp, and some won't, so the ideal situation to target kickers who are at least guaranteed to be the one making the kicks if a field goal or point-after try is called for.
On one-game slates, I lean toward the kicker who is second on the depth chart, as he may get more opportunities to prove himself worthy of overtaking a more established veteran.
Don't hesitate to user kicker or D/ST in the 1.5x spot in one-game contests
I especially like to go with a D/ST in the captain slot. They're essentially getting the most snaps of anyone you can roster, and since the preseason features less talented and experienced offensive players that tend to make more mistakes.
Stack in tournaments
Stacking is not quite as effective as in the regular season because the players you stack aren't guaranteed to see the field together.
Limit QB stacks to one pass catcher on large slates
Given limited snaps, it's tougher for stacks with multiple pas catchers can hit, and it can be futile trying to nail down the right one, so I usually limit my QB stacks to one pass catcher and aim to fill my other pass-catching slots with other teams' leading receivers.
Even on one-game slates this can hold true; I'd rather take a stab at a QB-RB-WR/TE stack than going with two pass catchers in certain instances, though some of the two-pass catcher risk is mitigate because having the highest-scoring QB along with the highest-scoring pass-catchers is all that matters, regardless of who else was involved.
Stack D/STs with RBs or WRs vying for return jobs
This is one of my favorite preseason DFS tactics. If a RB or WR is competing for a job as the team's primary kick or punt returner, it means that they would be active on game day. Therefore, you're benefitting from not only the correlation of a potential return TD double-dip, but also the fact that coaches are more likely to give these players a lot of opportunities to prove they can cut it as a runner or receiver if called upon on game day.
You can see an archetype of the ideal preseason DFS play at RB/WR emerging: A late-round/undrafted player in Year 1/2 also vying for a return job. And the added upside of returns themselves, in addition to the potential for increased opportunities as a runner or receiver that come along with fighting for a return job, makes Day 1/2 picks who are in the mix for a returner role preferable to those who aren't.
Don't overrate Vegas odds
You may reason that since there is more uncertainty regarding specific players in preseason DFS, relying on Vegas odds is even more important, but that isn't the case. Vegas handicappers are at an informational disadvantage relative to the regular season, too and generally let the market dictate the line.
One of John Ewing's 7 simple profitable tips for betting NFL preseason games is to fade the public: The fewer bets on a side, the more likely that side is to cover. John also uses Bet Labs data to show that the larger the underdog, the more likely it is to cover, and the lower a total, the more likely it is to go over. These same public biases will manifest in DFS ownership, so it's more profitable to use Vegas as a market gauge in order to do the opposite than take Vegas lines as the best projection of how a game will unfold.
Be aware of preseason coaching tendencies
Perhaps the most useful Vegas data is that of coaches' past performance against the spread in the preseason (which can be found on Bet Labs). Veteran coaches with veteran-laden rosters expected to contend for the playoffs are more likely to use the preseason to work specific plays and packages, which can hinder the team's odds of winning. Coaches in their first year on the job or with a new team, meanwhile, will usually want to establish a winning culture and appease the fan base by making more of an effort to emerge victorious. Oddsmakers are often aware of these trends and will set lines accordingly, so this is one situation where I wouldn't go out of my way to go against the Vegas lines just for the sake of being contrarian.
If you're truly dedicated, you can pore over a head coach's box scores from prior preseasons. They will often contain clues and reveal tendencies that can be used in conjunction with the information above regarding which types of players tend to play the most in order to make more informed decisions.
Local team beat reports are key
Team reporters and beat writers who attend training camps often have an inside scoop on a coach's plan for each game as far as how many snaps or series the starters will play, and how playing time will be allotted among QBs.
They also can lend insight into which jobs are up for grabs and who the prime candidates are, which, especially when it comes to RBs and WRs also in the mix at returner, can be extremely valuable for projecting which players are likely get the highest usage.
And since there are no official injury reports, reporters close to the team will have the best information on which players will sit out due to injury. I would hesitate to roster a player even if he is playing through an injury because we're mostly talking about fringe NFL talents who can't afford to lose any of their already limited effectiveness.
Finally, local team news is also useful for finding out who is making plays on the practice field and generating buzz. In and of itself, buzz implies some level of talent above his peers, and also tends to afford players every opportunity to replicate their practice-field success on the big stage.
Many will point to knowing depth charts and knowing who the third- and fourth-stringers are as the key to selecting the right players for preseason DFS, but absent of reports from team insiders, depth chart information alone fails to provide much of an edge.
Twitter or a simple Google search are both invaluable resources to keep up with team beat writers, with Twitter increasing in importance for up-to-the minute updates on injury statuses, etc. as game time approaches.
Preseason lends itself to tournaments
The unpredictability of the preseason means that even if you're a skilled player, cash games can be more of a toss-up. If you're good at roster construction, the flat pricing structure can also remove some of your edge.
Meanwhile, tournaments are ripe for exploitation because starters are almost guaranteed to be over owned while the players most likely to post top scores go overlooked.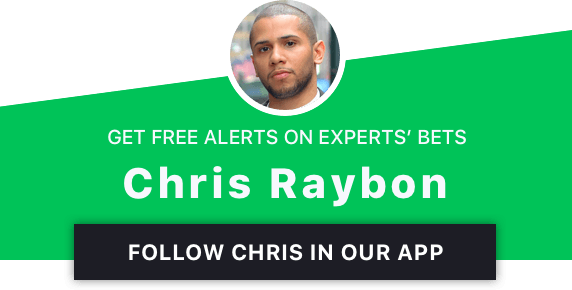 Chris Raybon is a Senior Editor at the Action Network and a co-host on Sirius XM Fantasy Radio. He has watched every snap of every NFL game since 2010 — even the kneel downs. Follow him on Twitter @ChrisRaybon and read about how he quit his accounting job and got paid to watch sports.
Pictured above: Atlanta Falcons wide receiver Julio Jones (11).
Photo credit: Brett Davis-USA TODAY Sports.