We've been treated to some fantastic performances through the first two weeks of the NFL regular season, and Week 3 should be no less exciting, gifting us a 13-game main slate on Sunday, Sept. 23, at 1 p.m. ET.
For analysis on the smaller slates, consult Chris Raybon's premium strategy pieces (released throughout the week).
In writing this piece, I've relied primarily on the FantasyLabs Models. This breakdown is less of a comprehensive analysis of each tight end and more of an introduction to this week's players via our large suite of analytic DFS Tools. We'll start with two high-priced tight ends, follow with four guys at the top of our individual Pro Models and finish with the rest of the slate's fantasy-relevant pass-catchers.
For updates on Vegas spreads and over/unders, check out The Action Network Live Odds page.
---
>> Sign up for The Action Network's daily newsletter to get the smartest NFL conversation delivered into your inbox each morning.
---
Jump to: Highest-Priced Tight Ends | At the Top of Our Models | Rundown of the Rest
Highest-Priced Tight Ends

Two tight ends occupy the top of the salary scale across DraftKings and FanDuel this week.
Zach Ertz: $6,800 DraftKings; $7,500 FanDuel
Travis Kelce: $6,700 DraftKings; $7,000 FanDuel
Zach Ertz: Philadelphia Eagles (-7) vs. Indianapolis Colts, 46.5 O/U
Ertz leads the position with 16 targets on the year, and he's likely to have a high target share in Week 3. Wide receiver Alshon Jeffery (shoulder) has not yet been cleared for contact and is not expected to play this week. Wide receiver Mike Wallace (leg, IR) was injured last week and won't return until later in the year (if at all). Additionally, the Eagles could lean on the passing game more than usual — top running backs Jay Ajayi (back) and Darren Sproles (hamstring) have been ruled out — and that could result in even more targets for Ertz.
And then there's the return of quarterback Carson Wentz, who was the league's presumptive Most Valuable Player at the time of his season-ending injury last year. With Wentz in 2017, Ertz averaged 15.2 DraftKings points per game with a 63.6% Consistency Rating. Despite what the team says, Wentz (knee) is unlikely to be 100% until November at the earliest (per Dr. David Chao), but Ertz should still be able to dominate Colts safety Malik Hooker in Pro Football Focus' No. 1 matchup for tight ends. The Colts have a new defensive coordinator in Matt Eberflus — and through two weeks they have the No. 7 PFF coverage grade (77.4) — but it's notable that just last year their pass defense had a league-worst 28.5% in Football Outsiders' Defense-Adjusted Value Over Average (DVOA).
If there's cause for concern with Ertz, it might be the recent return of wide receiver Jordan Matthews, who opened his career with three straight 800-yard seasons, running the supermajority of his routes from and earning almost all of his targets and touchdowns in the slot.
2014: 92.4%, 94-of-98 targets, 8-of-8 touchdowns
2015: 92.7%, 114-of-120 targets, 8-of-8 touchdowns
2016: 67.1%, 77-of-109 targets, 2-of-3 touchdowns
In head coach Doug Pederson's offense, Ertz has been his most dynamic when playing as a big-bodied high-priority slot receiver — and his ability to do that might be diminished with Matthews back on the team, since Matthews will directly complete with Ertz for targets in the middle of the field. During Pederson's tenure, Ertz has had drastic point-per-reception (PPR) Matthews-based per-game splits.
With Matthews (12 games): 10.2 PPR points, 6.3 targets, 4.7 receptions, 49.8 yards, 0.08 touchdowns
Without Matthews (18 games): 16.5 PPR points, 9.2 targets, 6.2 receptions, 65.8 yards, 0.61 touchdowns
Matthews is unlikely to jump back into the offense and automatically see the 8.4 targets per game he had in 2016, but his presence does endow Ertz with a little more uncertainty. Even so, he has a position-high 99% Bargain Rating and is tied for first at the position with seven Pro Trends on FanDuel, where he's the top tight end in the Levitan, Koerner, SportsGeek and Freedman Models
Another Eagles tight end to know:
Travis Kelce: Kansas City Chiefs (-6.5) vs. San Francisco 49ers, 55 O/U
After a 1-6-0 receiving performance in Week 1, Kelce was the fantasy TE1 in Week 2, turning his 10 targets into a 7-109-2 onslaught and 32.9 DraftKings points. Since 2016, Kelce has actually outscored Rob Gronkowski on a per-game basis (15.8 DraftKings points vs. 15.6) while playing in more games (33 vs. 24). Additionally, Kelce's been a more economical option with his +2.33 Plus/Minus (vs. Gronk's -0.85). Kelce enters Week 3 with a position-high 0.29 market share of targets and 211 air yards. It's not a surprise that Kelce has position-high median and ceiling projections in our Models.
On the midweek edition of The Action Network NFL Podcast, Kelce was highlighted as a potential chalk lock, and it's not hard to see why. He's the top receiving option on a team averaging 40.0 points per game and led by the league's most exciting quarterback — and the Chiefs-49ers over/under is approaching record levels.
On top of that, Kelce has a good matchup against the 49ers. Last year they were fifth in pass defense against tight ends with a -19.5% DVOA, but that was primarily due to the strong play of safety Jaquiski Tartt, who was one of PFF's top safeties with an 81.2 coverage grade. Tartt (shoulder) is dealing with an injury and missed practice on Wednesday and Thursday before getting a limited session on Friday. Even if he plays in Week 3, Tartt will be exploitable at less than full strength.
Through two weeks, the Chiefs have absolutely punished Vegas. On a per-game basis, the Chiefs have drastically outperformed their year-to-date Vegas expectations. Specifically, the Chiefs have:
Outscored their implied totals by 16.63 points (No. 2 in league),
Surpassed their game total by 22 points (No. 1),
And covered their spreads by 11.25 points (No. 5).
The Chiefs lead the slate with an implied Vegas total of 30.5 points and have scored more points in the first two weeks of the season (80) than any team since the 2013 record-breaking Broncos (90). It's true that under head coach Andy Reid, Arrowhead Stadium has had a league-worst 14-26-0 over/under record: No home team since 2013 has lost over bettors more money (-31% ROI) than the Chiefs. But that was with another quarterback. Patrick Mahomes is not just another quarterback.
Kelce will have a high ownership rate in guaranteed prize pools, but it won't be nearly as high as that of Chiefs wide receiver Tyreek Hill. If you're stacking the Chiefs in tournaments, you might want to use our Lineup Builder to pivot to Kelce away from Hill. Last week, Kelce was stacked with Mahomes in just 1.68% of Millionaire Maker lineups.
On Sunday morning, I will definitely look for action on Kelce's yardage prop, especially if I see that Tartt is ruled out. To find the best bets in the props market, use our Player Props Tool, which is powered by our industry-leading projections. Since Week 1, the props with a bet quality of 10 have gone 40-23, which is good for a 63% win rate.
Model Tight Ends

Besides Ertz, there are four other tight ends atop the individual Pro Models that Jonathan Bales, Peter Jennings (CSURAM88), Adam Levitan, Sean Koerner, Chris Raybon, Kevin McClelland (SportsGeek) and I have constructed.
Evan Engram: $4,300 DraftKings; $5,800 FanDuel
Kyle Rudolph: $4,100 DraftKings; $5,900 FanDuel
Austin Seferian-Jenkins: $3,300 DraftKings; $4,600 FanDuel
Austin Hooper: $2,900 DraftKings; $5,200 FanDuel
Evan Engram: New York Giants (-6.5) at Houston Texans, 42.5 O/U
After finishing 2017 with the second-most PPR points ever (11.6 per game) for a rookie tight end, Engram has ceded massive target share to wide receiver Odell Beckham (24) and running back Saquon Barkley (22) to open the year. Even so, Engram is top-12 among tight ends with 12 targets, matching No. 2 wide receiver Sterling Shepard and outperforming him on a per-target basis (9-85-1 vs. 8-72-0). With more snaps collectively in the slot and out wide than inline (62 vs. 59), Engram is basically a glorified wide receiver who pretends to be a tight end almost half the time.
It's theoretically disadvantageous that Engram has a short 3.8-yard average depth of target (aDOT) — that's the lowest mark in the league for any wide receiver or tight end with double-digit targets — but his catch rate has improved markedly (75% 55.7%), so his role as a short-yardage pass-catcher might actually improve his fantasy prospects. Through two weeks, even though he hasn't been particularly impressive, he's averaging 11.8 PPR points per game. Plus, it's possible that Engram could have a big season as an after-the-catch playmaker. Last year he was fourth among tight ends with 306 yards after the catch, and this year leads all wide receivers and tight ends with 5.1 yards of separation when targeted. If that number holds, this year he should often find himself with the ball in his hands and nothing but open space in front of him.
Engram doesn't have a great matchup against Texans strong safety Tyrann Mathieu, but the Honey Badger — with two ACL tears in his past — hasn't been anything close to an elite cover man since his 2015 All-Pro campaign: Last year he had a 69.1 PFF coverage grade. If Engram gets his targets, he should be able to produce. Engram is tied for first at the position with seven Pro Trends on FanDuel, where's the highest-rated tight end in the Bales Model.
Kyle Rudolph: Minnesota Vikings (-16.5) vs. Buffalo Bills, 40.5 O/U
Rudolph leads the Vikings with 16 touchdowns from scrimmage and 42 red-zone targets since 2016 even with wide receivers Adam Thielen and Stefon Diggs on the roster. The Bills have allowed a league-high 39 points per game to opposing teams and rank dead last in pass defense with a dreadful 57.7% DVOA. No team has allowed more touchdowns than the Bills with 10 or a higher percentage of scoring drives with 50%. If the Vikings are to score multiple touchdowns this game, Rudolph has a decent chance of snagging one, especially with running back Dalvin Cook (hamstring) ruled out.
But Rudolph might be a touchdown-or-bust option this week. This week the Vikings are at home against the Bills, who opened as historically large September underdogs, and while that's ostensibly good for the Vikings, they could have a run-heavy game script by the second quarter, limiting Rudolph's potential for a big game. It also doesn't help that since his 2016 breakout season, Rudolph has had significant reverse home/away and favorite/dog per-game splits.
Home (17 games): 10.0 DraftKings points, +0.95 Plus/Minus, 52.9% Consistency Rating
Away (17 games): 13.6 DraftKings points, +4.81 Plus/Minus, 76.5% Consistency Rating
Favorite (25 games): 11.5 DraftKings points, +2.52 Plus/Minus, 64.0% Consistency Rating
Underdog (10 games): 12.8 DraftKings points, +4.02 Plus/Minus, 70% Consistency Rating 
As a result, Rudolph has been a near-neutral salary-adjusted player as a home favorite.
Home Favorite (14 games): 9.8 DraftKings points, +0.57 Plus/Minus, 42.9% Consistency Rating
Even so, Rudolph probably deserves some GPP exposure: His touchdown upside is high, and we're projecting him for less than 5% ownership. He's the highest-rated FanDuel tight end in the CSURAM88 Model. In cash, though, he might be someone to fade.
Austin Seferian-Jenkins: Jacksonville Jaguars (-9.5) vs. Tennessee Titans, 39.5 O/U
ASJ is the highest-rated FanDuel tight end in the Raybon Model, but I don't know about this. Raybon's Model heavily weights projected Plus/Minus and salary change over the past month. ASJ has a reasonable +1.9 FanDuel Plus/Minus, and (unlike many other tight ends) he's not more expensive than he was when the season started — but I can't stomach the idea of rostering him. It's true that he's had five targets in each game, and last week he scored a touchdown, but he has 48 yards on the season, and with 58 routes run, he trails wide receivers Keelan Cole (77), Donte Moncrief (67) and Dede Westbrook (61) in pass-catching importance.
Additionally, with the new, defensive-minded coach Mike Vrabel, the Titans have been tough against the position. Granted, they've played only two games, and those were against the Dolphins and Texans, both of which significantly "feature" rookie tight ends. Nevertheless, the Titans have an imposing safety duo with All-Pro (and Deion Sanders fan) Kevin Byard — who led the league last year with eight interceptions — and free-agent addition Kenny Vaccaro. They also have a strong duo of interior linebackers with unit stalwart Wesley Woodyard and first-rounder Rashaan Evans. The Titans defense ranks No. 1 against tight ends with a -94.7% DVOA, having allowed just 4.6 DraftKings points per game to the position.
If you're looking to punt on FanDuel while still giving yourself a decent chance of getting five-ish targets, ASJ might be your guy — but that's definitely not what I'll be doing this week.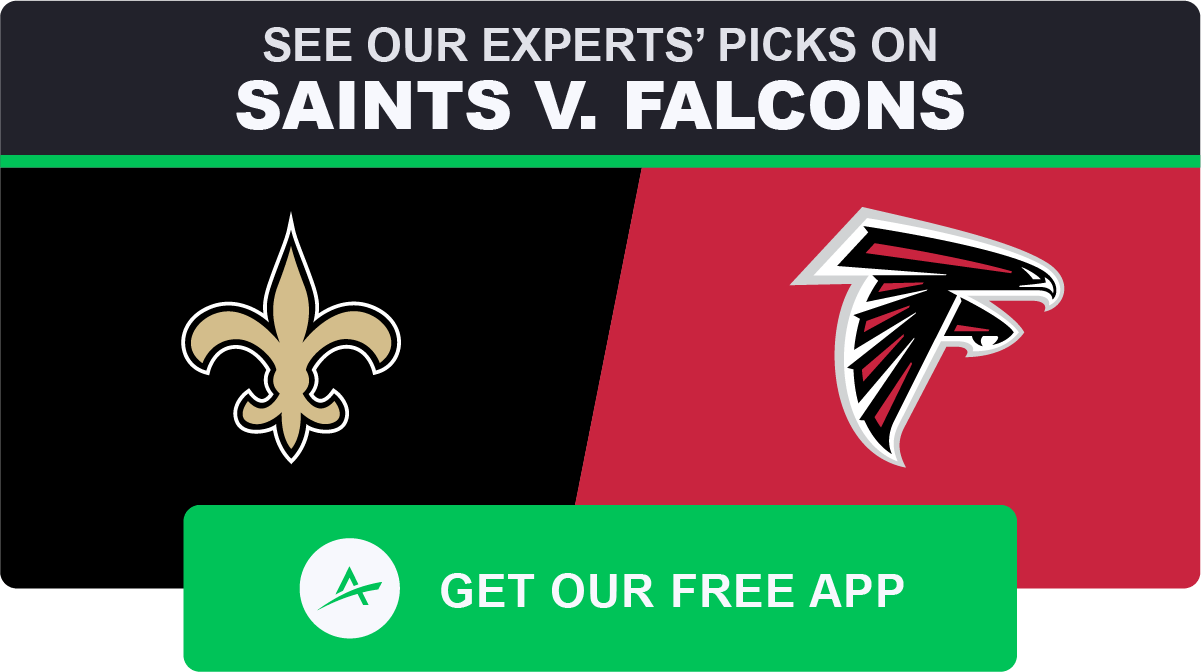 Austin Hooper: Atlanta Falcons (-3) vs. New Orleans Saints, 53.5 O/U
Hooper is the No. 1 DraftKings tight end in every Pro Model this week. He leads the team and is top-10 in the league with three targets inside the 10-yard line. The Saints-Falcons game has the slate's second-highest total, and the Saints have a trio of subpar pass defenders into whose coverage Hooper is likely to run.
Linebacker A.J. Klein: PFF coverage grades – 64.8 (2018), 56.5 (2017)
Safety Kurt Coleman: PFF coverage grades – 60.2 (2018), 45.7 (2017)
Safety Vonn Bell: PFF coverage grades – 64.2 (2018), 65.4 (2017)
The Saints-Browns game has the second-highest total on the slate, and Hooper — even with his fairly nondescript 57-609-4 receiving line since last year — has averaged 9.0 DraftKings points per game and a +2.64 Plus/Minus at home. Of all the non-Ebron tight ends on the slate, Hooper is the one with the highest projected Plus/Minus.
Tight End Rundown

Here's a quick look at the remaining fantasy-relevant tight ends on the slate.
Jordan Reed: Washington Redskins (+2.5) vs. Green Bay Packers, 45 O/U
Reed: $5,400 DraftKings; $6,000 FanDuel
Reed has the highest floor projection in our DraftKings Models and trails only Gronk (17.0) and Kelce (13.8) with his 13.5 DraftKings points per game in his four years with head coach Jay Gruden.
Jimmy Graham: Green Bay Packers (-2.5) at Washington Redskins, 45 O/U
$4,900 DraftKings; $6,200 FanDuel
Graham ranks first among all tight ends with his 51 slot routes and second with his 160 air yards.
George Kittle: San Francisco 49ers (+6.5) at Kansas City Chiefs, 55 O/U
$4,500 DraftKings; $5,800 FanDuel
Kittle has played at least 40% of offensive snaps in five of quarterback Jimmy Garoppolo's starts: In those games he has averaged 11.5 DraftKings points with a +5.92 Plus/Minus. Since 2014, tight ends have had a 0.40 correlation with their quarterbacks; Kittle has a 0.62 correlation with Garoppolo.
Jared Cook: Oakland Raiders (+3) at Miami Dolphins, 44.5 O/U
$4,000 DraftKings; $5,600 FanDuel
Cook is tied for first among tight ends with seven DraftKings Pro Trends and is facing a pass defense that last year allowed a league-high 16.3 DraftKings points per game to tight ends.
Trey Burton: Chicago Bears (-4.5) at Arizona Cardinals, 39 O/U
$3,900 DraftKings; $5,700 FanDuel
Among the Bears pass-catchers with double-digit targets, Burton leads the team with a 5.5 adjusted yards per target from quarterback Mitch Trubisky.
Eric Ebron: Indianapolis Colts (+7) at Philadelphia Eagles, 44.5 O/U
$3,400 DraftKings; $5,500 FanDuel
Tight end Jack Doyle (hip) is out. Ebron is tied for first with seven DraftKings Pro Trends and is an insta-chalk play, given how much quarterback Andrew Luck has historically relied on tight ends.
Will Dissly: Seattle Seahawks (-1) vs. Dallas Cowboys, 41 O/U
$3,300 DraftKings; $4,600 FanDuel
Dissly is a fourth-round non-receiving homegrown University of Washington product who leads the team's pass-catchers with 147 yards and two touchdowns in a Doug Baldwin-less vacuum.
Tyler Eifert: Cincinnati Bengals (+3) at Carolina Panthers, 44.5 O/U
$3,200 DraftKings; $5,100 FanDuel
Eifert is sixth at the position with 13.0 DraftKings points per game since his 2015 breakout season and is functioning as a receiving specialist with 52-of-72 snaps coming on pass plays.
Ben Watson: New Orleans Saints (+3) at Atlanta Falcons, 53.5 O/U
Charles Clay: Buffalo Bills (+16.5) at Minnesota Vikings, 40.5 O/U
$3,000 DraftKings; $4,800 FanDuel
Among starting tight ends, Clay has a position-high 17.7 aDOT — and just two receptions.
Ricky Seals-Jones: Arizona Cardinals (-4.5) vs. Chicago Bears, 39 O/U
$2,800 DraftKings; $5,100 FanDuel
RSJ has a position-high 97% DraftKings Bargain Rating is third in the league with a 0.28 market share of air yards.
Ian Thomas: Carolina Panthers (-3) vs. Cincinnati Bengals, 44.5 O/U
Jake Butt: Denver Broncos (+5.5) at Baltimore Ravens, 45.5 O/U
$2,700 DraftKings; $4,800 FanDuel
Butt has five targets per game and is facing a Ravens pass defense that last year was 29th against tight ends with a 19.6% DVOA.
Virgil Green & Antonio Gates: Los Angeles Chargers (+7) at Los Angeles Rams, 48 O/U
Green: $2,700 DraftKings; $4,300 FanDuel
Gates: $2,600 DraftKings; $4,800 FanDuel
Green has 36 routes to Gates' 30. Green is second on the team behind wide receiver Keenan Allen with 2.11 yards per route (PFF). Gates (illness) is questionable … as always.
Jonnu Smith: Tennessee Titans (+9.5) at Jacksonville Jaguars, 39.5 O/U
$2,700 DraftKings; $4,200 FanDuel
Last week Smith played his first NFL game ever without starting tight end Delanie Walker. He played 100% of the snaps and had zero targets.
Nick Boyle, Mark Andrews & Maxx Williams: Baltimore Ravens (-5.5) vs. Denver Broncos, 45.5 O/U
Boyle: $2,600 DraftKings; $4,400 FanDuel
Andrews: $2,600 DraftKings; $4,000 FanDuel
Williams: $2,500 DraftKings; $4,300 FanDuel
These Hayden Hurts placeholders have combined for 17-177-1 receiving on 24 targets and now face a Broncos defense that last year allowed the third-most DraftKings points per game (14.9) to the position and this year has allowed an average of 17.5.
Positional Breakdowns & News
Be sure to read the other Week 3 positional breakdowns.
• Quarterbacks
• Running Backs
• Wide Receivers
For more in-depth NFL analysis information, check out The Action Network.
After this piece is published, FantasyLabs is likely to provide news updates on a number of players. Be sure to stay ahead of your competition with our industry-leading DFS-focused news blurbs.
---
---
Matthew Freedman is the Editor-in-Chief of FantasyLabs. He has a dog and sometimes a British accent. In Cedar Rapids, Iowa, he's known only as The Labyrinthian.
Pictured above: Eric Ebron
Photo credit: Geoff Burke-USA TODAY Sports