The PGA Course Breakdown offers data-driven analysis for each week's slate, using the Fantasy Labs Trends Tool and metrics to highlight stats for the upcoming tournament.
Finally, the Pro-Am is out of the way and The Genesis Invitational is here. This field is stacked with the likes of Rory McIlroy, Justin Thomas, Jon Rahm, Tiger Woods, and many other high-profile golfers participating this week.
Let's dive in.
The Course
As always, I back-tested various metrics in our PGA Models to find out those that have been the most valuable at Riviera Country Club. Per our Trends tool, here's how the top 20% of golfers in various metrics have done at this course (in Plus/Minus valuation).
Historically, this course has yielded averages of 45.01 DraftKings points and a -3.69 Plus/Minus with a 44.4% Consistency Rating to the field.
Metrics that tested with at least a +2.00 Plus/Minus:
Recent Driving Distance: +3.78
Recent Par-3 Scoring: +3.73
Course Adjusted Round Score: +3.51
Long-Term Driving Distance: +3.11
Recent Eagles: +2.93
Recent Adjusted Round Score: +2.58
Recent Greens in Regulation: +2.57
Recent Par-4 Scoring: +2.56
Recent Birdies: +2.24
Long-Term Par-4 Scoring: +2.10
Long-Term Adjusted Round Score: +2.06
Riviera CC is a par 71, 7,322-yard course which typically plays as one of the harder courses on tour. So, seeing Long-Term Adjusted Round Score (LT Adj Rd Score) and Recent Adj Rd Score among the top metrics isn't surprising — good golfers play well here, historically. There's also a healthy mix of recent form metrics standing out in the backtesting, suggesting that players coming into this event in good form typically find success.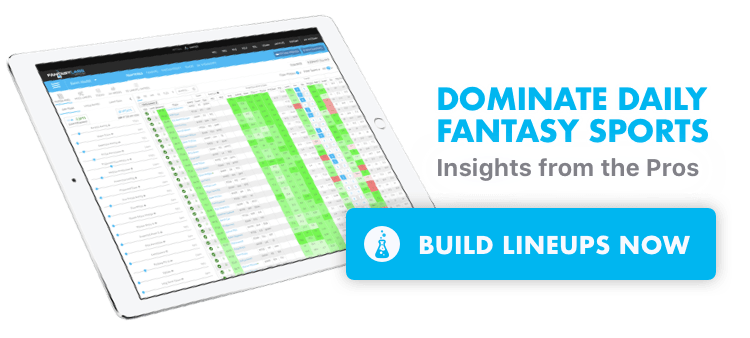 Overall, I don't put too much weight into course history most weeks. At least, I'll never roster someone or write them off only due to being good or bad at a given course (except Augusta). However, Course Adj Rd Score is the third-highest metric among the backtesting in our Trends tool.
So, it certainly won't hurt to target someone if they've had consistent success here in the past, but I'd prefer if their course history is paired with strong recent or long-term form. For example, Adam Scott has an excellent track record here, and he's one of the best golfers in the field over the long term, but he also hasn't played in a tournament since December. Granted, that was when he won the Australian PGA Championship.
This course favors bombers with driving distance popping in the top four of our trends. Distance should come in handy since there are four par 4s that are at least 470 yards in length. Limiting damage on the par 4s will be crucial here because they're historically the toughest holes on the course. Per Fantasy National, six of the par 4s on this course own bogey rates above 20%. The toughest par 4 is No. 12, sporting has a robust bogey rate of 31%.
Limiting damage on the par 4s and capitalizing on the par 5s will be a key component this week. Hole No. 1 is essentially a gimmie, owning a birdie rate of nearly 62%. Another decision point for golfers will be the short par 4 on No. 10. There are few to play this risk/reward hole. Either going for it off the tee or choosing to lay up and attack it with your wedge.
And while it didn't pop in the back-testing, targeting a golfer with a decent short game could be a skillset worth targeting because Riviera CC features some of the lowest greens in regulation (GIR) on tour. Per Fantasy National, golfers have historically hit 57% of GIR at Riviera which is 8% lower than an average event.
Key metrics: Driving distance, par-4 and par-5 scoring, birdie scoring, Strokes Gained: Around-the-Green, Strokes Gained: Approach
And as usual, I like LT and Recent Adj Rd Scores as catch-all metrics.
Pictured above: Adam Scott
Credit:  Bradley Kanaris/Getty Images