This article is a data-driven deep dive on strategic decision-making and roster construction for DFS cash games and tournaments. It relies heavily upon FantasyLabs' extensive suite of analytical DFS tools, as well as advanced metrics and film study. First, I walk through narrowing down the player pool at each position. Then, I lay out how to choose the highest-floor lineup combinations for cash games. Finally, I go game-by-game to present the biggest edges (stacks, pivots, leverage opportunities, etc.) in each.
Week 2 shmoney time!
New NFL DFS Trial Offer: Try our new football subscription for $4.95 and get access to our industry-leading tools and projections.
Quarterback (Cash)
Kyler Murray, Cardinals ($6,100 DK, $8,000 FD) vs. WAS
Lamar Jackson, Ravens ($8,200 DK, $9,500 FD) at HOU
Our NFL Player Models project Kyler Murray with the top Plus/Minus at his position on DraftKings, and my Labs model rates him as the top QB play on that site by a landslide. Playing against the 49ers in Week 1 was a great tune-up for Washington's front seven, which will have trouble replicating its eight-sack performance from Week 1 against the elusive Murray, who can expose the Football Team's shaky secondary with new toy DeAndre Hopkins. Nuk bypassed the whole "building chemistry" stage with Murray, lighting up the 49ers for 14 catches.
FanDuel essentially lets us fit whoever we want each week, so why settle for Murray when we can jam in Lamar Jackson? As per usual, Jackson leads the entire slate in projected points, and he lit up the Texans for 32.75 FanDuel points last November, passing for 222 yards and four touchdowns, and adding another 79 rushing yards on 10 carries.
Running Back (Cash)
Jonathan Taylor, Colts ($5,700 DK, $5,800 FD) vs. MIN
Derrick Henry ($7,900 DK, $8,300 FD) vs. JAX
Ezekiel Elliott, Cowboys ($8,200 DK, $8,600 FD) vs. ATL
With Marlon Mack (Achilles) going down for the season last week, it sets up as Jonathan Taylor's official coming-out party. The rookie second-round pick out of Wisconsin flashed last week, rattling off 89 yards on 17 touches. Most promising was that he tied Parris Campbell for second on the team with six catches behind Nyheim Hines' eight receptions. That said, Philip Rivers appears to have brought his propensity to target running backs with him to Indianapolis. Taylor has a top-three Projected Plus/Minus across all DFS sites in our models this week.
Under head coach Mike Vrabel, Derrick Henry is averaging 109.5 total yards and 1.19 total TDs as a favorite compared to 80.1 total yards and 0.68 total TDs as an underdog. The Titans currently sit as -7.5 favorites against the Jags (view live odds here).
Ezekiel Elliott posted 127 yards and two touchdowns on 25 touches in a game which the Cowboys scored just 17 points in Week 1. Even with the status of left tackle Tyron Smith (neck) up in the air, the Cowboys are one of three teams on the slate currently implied to score at least 28 points, and the Falcons defense he'll be up against let up 38 total points and four touchdowns to running backs against the Seahawks in Week 1. According to our NFL Trends tool, Zeke averages a 61% Consistency Rating at home compared to a 37% mark on the road in his career.
[Bet now at DraftKings and get a $1,000 bonus, including a $500 risk-free bet]
Wide Receiver (Cash)
Corey Davis, Titans ($4,000 DK, $4,900 FD) vs. JAX
Dionte Johnson, Steelers ($4,500 DK, $5,800 FD) vs. DEN
CeeDee Lamb, Cowboys ($4,700 DK, $5,200 FD) vs. ATL
Davante Adams, Packers ($8,100 DK, $8,600 FD) vs. DET
Corey Davis: He was a 100-yard receiver in Week 1 and chalk DFS play in Week 2, just like we drew it up. In all seriousness, Davis projects as a Top 5 value at WR with A.J. Brown (toe) out, and benefits from the Titans ultra-efficient, play-action attack that routinely allows him to face single coverage.
Diontae Johnson was one of 14 wide receivers to see double-digit targets in Week 1, hauling in 6 of 10 targets for 57 yards. Denver allowed five-plus catches to all three Titans wide receivers in Week 1, so Johnson should be a safe bet for another high-volume day even if the yardage isn't huge. Johnson is No. 2 in Projected Plus/Minus on DraftKings among WRs in the $4,000-4,900 range.
Right behind Johnson in that range is CeeDee Lamb, who is also the top value among all WRs on FanDuel, where he's priced at just $5,200. The 17th overall pick of the 2020 draft was in on 87.5% of the Cowboys pass plays in Week 1, according to Pro Football Focus, and hauled in 5 of 6 targets for 59 yards in his NFL debut. He should be even more effective against a Falcons defense that allowed Seahawks wideouts to catch 16 of 20 targets for 232 yards and a touchdown.
Davante Adams lit up the Vikings for 14/156/2 in Week 1 and now gets a banged up Lions secondary that will have to rely on No. 3 overall pick Jeff Okudah more than it probably wants to this early in the season. Adams is locked in as the No. 1 overall WR on the slate, leading all other WRs by 3 projected points.
Tight End (Cash)
Jordan Reed, 49ers ($2,600 DK, $4,800 FD) at NYJ
Dallas Goedert, Eagles ($5,000 DK, $5,500 FD) vs. LAR
DraftKings' sub-$3,000 salary floor for TEs usually makes it optimal to punt the position, so here we are rostering Jordan Reed like it's 2015. With No. 1 tight end George Kittle (knee) out and No. 1 wide receiver Deebo Samuel (foot) out, Reed has a shot at leading the team in targets in Week 2. At the very least, he should be an every-down player; only Ross Dwelley and Charlie Woerner are behind him at tight end. At a mere $2,600, Reed owns the top Projected Plus/Minus on the entire slate on DraftKings.
On FanDuel, we can aim a bit higher with Dallas Goedert, who is undervalued on the site at $5,500 compared to DraftKings ($5,000). This gives Goedert a position-high 99% Bargain Rating, which tends to be predictive of strong DFS value. Dallas lost starting tight end Blake Jarwin to a torn ACL in Week 1 and thus was unable to exploit the Rams with the tight-end position in Week 1, but LA gave up the ninth-most yards (893) to the position a year ago. Goedert is our projected TE7 on FanDuel this week but has the ninth-highest salary.
Defense//Special Teams (Cash)
Tampa Bay Buccaneers ($2,900 DK, $3,800 FD) vs. CAR
Arizona Cardinals ($3,000 DK, $3,600 FD) vs. WAS
As a large home favorite against the Panthers, Buccaneers DST projects as the top option under $3,000 on DraftKings, and they're the only DST with a Top-10 projection to cost under 3 stacks as well.
On FanDuel, we can exploit a price inefficiency (what else is new?): Despite the top projection on the entire slate at the position, Cardinals DST is priced 17th-highest. Football Team quarterback Dwayne Haskins' most valuable contribution to last week's game came in the locker room via his "raucous" halftime speech; on the field, he produced only 5.7 yards per pass attempt and 2.4 yards per carry while taking three sacks and losing a fumble.
Roster Build (Cash)
On DraftKings, you can fit Murray, Elliott, Henry, Taylor, Adams, and Bucs DST if you go with Johnson and Davis at WR2 and WR3 while punting TE with Reed.
On FanDuel, you can fit in (whoever you want, but more specifically…) Jackson, Elliott, henry, Taylor, Adams, Goedert, and the Cardinals DST if you lock in the discounted Lamb and Davis at WR2 and WR3.
Atlanta Falcons at Dallas Cowboys (GPP)
The Cowboys are a tricky GPP team. They're projected to be one of the highest-scoring teams on the slate, but both their QB and RB are expected to be chalk. The questionable status of Smith at left tackle complicates matters; Prescott has struggled mightily without him, but it may not matter against a Falcons defense that hemorrhaged 322 yards and four touchdowns on 31 of 35 passing to Russell Wilson in Week 1.
Ultimately, I would refrain from using Amari Cooper and CeeDee Lamb outside of stacks with Prescott, and would treat Michael Gallup as the top GPP play for the Cowboys. Gallup is expected to carry lower ownership than Dak, Zeke, Cooper, and Lamb, and he runs the majority of his routes on the left side of the field, where the Falcons got torched for 6/106/1 on seven targets by Seahawks receivers last week.
For the Falcons, Matt Ryan, Julio Jones, Calvin Ridley, and Hayden Hurst are all hovering right around the +EV borderline leverage-wise, while Todd Gurley and Russell Gage are squarely in the -EV category. The Cowboys have an uncharacteristically low 030.11 QB-Opposing QB correlation since the start of last season, according to our NFL Correlations Dashboard, and the correlation between Cowboys RB1 and the opposing QB is even lower, at +0.05. This means that despite the high total, the best move here may be to fade game stacks given the high collective ownership of all players involved.
Baltimore Ravens at Houston Texans (GPP)
This is another great spot for Mark Andrews. He was in on 87% of Baltimore's pass plays in Week 1 after hovering in the 50-60% range for most of last season, giving him No. 1 overall upside among all skill players on the slate. Andrews' ownership is expected to top out in the high single digits or low teens, which should be low enough to allow him to him to still be valuable in GPPs given his immense upside. The Texans allowed the seventh-most yards to tight ends in 2019 (927) and allowed Travis Kelce to catch 6 of 6 targets for 60 yards and a score in Week 1.
The top play on the Texans side is David Johnson. With Duke Johnson (ankle, questionable) banged up, DJ could see a monster workload (No. 3 back Buddy Howell is almost strictly a special-teamer in non-Week 17 situations). DJ got off to a good start in his Texans debut, rushing for 11/77/1 and adding 3/32/0 through the air against Kansas City, and he now gets to face a Ravens defense that got gashed for 137 yards on 24 carries (5.7 YPC) by Browns running backs in Week 1.
Buffalo Bills at Miami Dolphins (GPP)
With DeVante Parker (hamstring) ailing, Preston Williams is popping with one of the top Leverage Scores at WR. I would prefer rolling with Williams, who was Miami's top receiver over Parker when healthy last season over Mike Gesicki, who is also popping in our models, but faces a Buffalo defense that has been Top 3 in fewest yards allowed to tight ends in each of the past two seasons under Sean McDermott and allowed just 37 yards on seven targets to Chris Herndon in Week 1.
For the Bills, don't overlook Stefon Diggs, who is projected for sub-5% ownership despite catching 8-of-9 targets for 86 yards in his Bills debut last week against the Jets.
Carolina Panthers at Tampa Bay Buccaneers (GPP)
It's rare that Christian McCaffrey pops with positive Leverage Scores, but we expect him to be in the 5-8% or 9-12% ownership range after Tampa Bay's stout front seven held him to just 110 yards on 42 touches combined in the two matchups a year ago, though he did score two touchdowns. The case for playing CMC is the low ownership and unique roster construction he forces you into via his huge salary. For as strong as the Bucs are against RBs, remember that Alvin Kamara was inches away from a third TD last week against them.
Also, just one game into the Teddy Bridgewater era, and everyone's already off D.J. Moore? His 54-yard effort in Week 1 was certainly disappointing, but he still led the Panthers in targets with nine, and probably would have gotten a few more had fellow wideout Robby Anderson not swallowed up 75 yards in one play via a long touchdown on a catch-and-run play. Moore clocks in with a Top 3 Leverage Score at his position.
For the Bucs, Ronald Jones II is popping near the top of the leaderboard in Leverage Score for running backs. it's tough to know if Jones' heavy workload was due to Leonard Fournette being eased in or not, but Carolina was the league's worst run defense in 2019 and coughed up three touchdowns to Josh Jacobs in Week 1. As favorites by more than one score, Tampa Bay may be able to support two high-volume runners this week.
In the passing game, I love Scotty Miller as a leverage play on Mike Evans with Chris Godwin (concussion) doubtful. While Tom Brady threw as many interceptions (2) as completions while targeting Evans and Justin Watson, with a pick while targeting each of them, Miller was Brady's most consistent wideout aside from Godwin, hauling in 5 of 6 targets for 73 yards. Miller was in on 35 of Tampa Bay's 43 passing plays in Week 1, well ahead of tight ends Rob Gronkowski (23) and O.J. Howard (22), as well as Watson (8).
The Panthers struggled to contain inside/outside threat Henry Ruggs III, who routinely came open against Carolina, averaging 18.3 yards per reception and 11.0 yards per target on 5 targets before injuring his knee. Carolina was a lot more effective against larger perimeter threat Bryan Edwards, who finished with just one catch for nine yards.
On FOX's telecast, Troy Aikman noted that he expects a big year from Miller due to his fit with Brady, which is notable since commentators get inside access to coaches and players before the games, and Aikman, being a former quarterback, is generally good at getting inside a quarterback's mind.
Denver Broncos at Pittsburgh Steelers (GPP)
James Conner is popping with the top Leverage Score among RBs in our models. I'll have shares, but am not going all in. Denver held its own against Henry last week, and I'm not sure we can expect a high-volume day for Conner given his propensity for in-game injuries and the emergence of Benny Snell Jr. The best plays in this game, though, are JuJu Smith-Schuster and Steelers DST. Smith-Schuster is expected to be in fewer than half as many lineups as Dionte Johnson, which makes sense from a cash game value perspective, but not from a GPP perspective, since Smith-Schuster is the highest-ceiling Steelers receiver and the team's best bet for targets and touchdowns.
The Steelers defense, meanwhile, will be facing a Broncos offense that will travel to Pittsburgh as a large underdog with a banged-up No. 1 wide receiver in Courtland Sutton (shoulder, questionable) and left tackle in Garrett Bolles (elbow, questionable). Denver also has a quarterback in Drew Lock who would rather target Jake Butt, Nick Vannett, and DaeSean Hamilton than Jerry Jeudy and Noah Fant in key situations, along with a head coach in Vic Fangio, who would rather take chances on the opponent missing a chip-shot field goal than call timeouts and give the ball back to Lock and the offense.
Detroit Lions at Green Bay Packers (GPP)
Matthew Stafford is projected for 0-1% ownership against a Packers defense that allowed Kirk Cousins to average 10.4 yards per attempt with two touchdowns on 25 attempts. The Vikings scored a late TD to pull within 43-34, but it's not as if the Packers defense rolled up on purpose in the second-half; the Vikings continuously drove down the field, forcing the Packers to keep scoring to maintain their cushion.
Marvin Jones, Danny Amendola, Quintez Cephus, and T.J. Hockenson aren't great plays on their own, but are all viable stacked with Stafford. I would lean toward the wide receivers — Jones in particular — as Green Bay got lit up by Vikings No. 1 receiver Adam Thielen for 6/110/2 but limited tight ends Kyle Rudolph and Irv Smith Jr. to a combined three catches.
For the Packers, Aaron Rodgers projects to be under owned relative to Davante Adams, so the best move in GPPs is to stack them together and pivot to Aaron Jones, who has a positive Leverage Score, in non-Rodgers lineups. Even with three other backs mixing in, Jones still played 55% of the snaps and handled 20 touches last week.
Jacksonville Jaguars at Tennessee Titans (GPP)
Stacking Derrick Henry with Titans DST is a great way to differentiate your lineup from the many entires that will include Henry. The two have a +0.42 correlation over their last 17 games, which is one of the strongest RB-DST correlations in the league. The Titans are projected for single-digit ownership on both sites, including just 2-4% on DraftKings.
For the Jags, this is a great buy-low opportunity on DJ Chark. Though he caught a TD from Gardner Minshew last week, he only saw three targets, which is expected to keep his ownership in the 2-4% range, giving him a top-six Leverage Score among WRs on both sites. Chark's target count was low, sure, but remember that Minshew threw only 20 passes. I'm also expecting Laviska Shenault Jr. to have his true coming-out party sooner than later after catching a TD pass and picking up a couple of carries in Week 1, so I like him at 2-4% projected ownership.
Last but not least, James Robinson carries underrated upside after handling all 16 of the team's running back carries, running one fewer route (11) than Chris Thompson (12), and turning 17 touches into 93 yards. Robinson comes at a discounted price ($4,400 on DraftKings, $5,300 on FanDuel) with sub-5% projected ownership.
Kansas City Chiefs at Los Angeles Chargers (GPP)
Hunter Henry has the top Leverage Score among TEs. Henry led the Chargers with 73 receiving yards in Game 1 of the Tyrod Taylor era, and tied for second on the team with eight targets. Chiefs defensive coordinator Steve Spagnuolo tends to scheme to funnel the ball away from wide receivers and toward the middle of the field, and his unit allowed texans tight ends to catch 4 of 4 targets for 58 yards and a touchdown last week.
For the Chiefs, Tyreek Hill has a Top 6 Leverage Score. Hill only played seven snaps in the first matchup against the Chargers last season due to injury. In his other five games against them since 2017, he's averaging a 5.0/88.2/0.80 line against them. And Patrick Mahomes at single-digit projected ownership just might be the nuts.
Los Angeles Rams at Philadelphia Eagles (GPP)
While Goedert makes sense in cash on FanDuel given the price, Zach Ertz is my preferred GPP play. Since Eagles head coach Doug Pederson took over in 2016, Ertz is averaging 75.8 yards and 0.60 touchdowns per game at home compared to 48.8 yards and 0.30 TDs per game on the road. Coming off a shaky start in which he was clearly out of rhythm with newer faces such as DeSean Jackson and Jalen Reagor, I expect Carson Wentz to lean on his go-to guy in Ertz, who has a top-three Leverage Score on both sites at 2-4% projected ownership.
For the Rams, Tyler Higbee is popping as a top-two Leverage TE. The Eagles allowed a team-leading eight targets and a TD to Football Team tight end Logan Thomas in Week 1, while Higbee ran 22 routes to Gerald Everett's eight against the Cowboys.
This is also a nice bounce-back spot for Cooper Kupp. He should be able to escape Darius Slay because he runs the majority of routes from the slot, and though it was Robert Woods who posted the better game of the two in Week 1, Kupp (30) actually ran one more route than Woods (29), so last week's slow start should be chalked up to variance rather than the concerns some had about his playing time heading into the season.
Minnesota Vikings at Indianapolis Colts (GPP)
Both Kirk Cousins and Philip Rivers are projected for 0-1% ownership. The Colts defense allowed 19 of 20 passing and three touchdowns to Minshew. The Vikings defense allowed 364 yards and four touchdowns to Rodgers. Something is off here. T.Y. Hilton, Adam Thielen, Parris Campbell, Justin Jefferson, and Mo-Alie Cox are all great stacking options with their respective QBs, with Thielen, Hilton, and Cox clocking in as the best values. Stacking the Colts passing game is a great way to gain leverage against the Jonathan Taylor chalk. Dalvin Cook is also a +EV play at single-digit projected ownership.
New York Giants at Chicago Bears (GPP)
Saquon Barkley predictably struggled against Pittsburgh's elite run defense, mustering six yards on 15 carries, but he was explosive in the passing game. We should expect Barkley to be extra motivated to make a statement after Giants great Tiki Barber questioned his toughness and his three-down ability. Projected for single-digit ownership on both sites, Barkley has a Top 4 Leverage Score among running backs.
For the Bears, Allen Robinson could have a big game at single-digit ownership. The Giants' secondary benefitted from a rusty Ben Roethlisberger for almost the entire first half, and he still finished with with 199 yards and three touchdowns on 16 of 21 passing to his WRs, including a two-score day by No. 1 receiver Juju Smith-Schuster. A-Rob has a top-five Leverage Score among WRs on DraftKings and is +EV on FanDuel as well.
San Francisco 49ers at New York Jets (GPP)
Yuck. Play one of the DSTs or keep it moving.
Washington Football Team at Arizona Cardinals (GPP)
Even after his 14-catch outburst in Week 1, DeAndre Hopkins' ownership is projected to be modest, in the high single digits or low teens, putting him squarely in the +EV category. Kyler Murray will be chalk, so I wouldn't play him in GPPs unless stacked with Hopkins.
For Washington, it's Logan Thomas or bust against the NFL's worst tight end defense from a year ago that was bailed out by Kittle's injury last week. Thomas led the Football Team with a 26.7% target share in Week 1, catching four passes for 37 yards and a touchdown.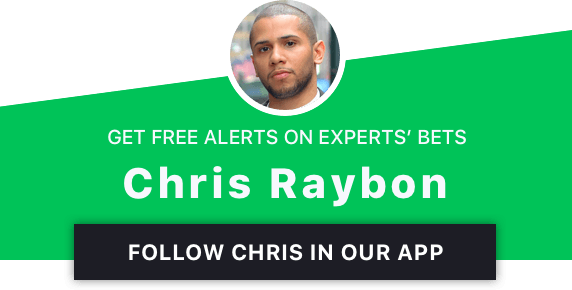 Chris Raybon is a Senior Editor at the Action Network who hosts the weekly NFL Betting edition of The Action Network Podcast and is featured each week on The Fantasy Flex edition of the pod, as well. He has watched every snap of every NFL game since 2010 — even the kneel downs. Follow him on Twitter @ChrisRaybon and read about how he quit his accounting job and got paid to watch sports.
Pictured: Kyler Murray
Photo Credit: MSA/Icon Sportswire