This article is a data-driven deep dive on strategic decision-making and roster construction for DFS cash games and tournaments. It relies heavily upon FantasyLabs' extensive suite of analytical DFS tools, as well as advanced metrics and film study. First, I walk through narrowing down the player pool at each position. Then, I lay out how to choose the highest-floor lineup combinations for cash games. Finally, I go game-by-game to present the biggest edges (stacks, pivots, leverage opportunities, etc.) in each.
Week 13 shmoney time.
Quarterback (Cash)
Patrick Mahomes ($7,400 DK, $8,600 FD) vs. OAK
Patrick Mahomes destroyed the Raiders for 443 yards and four TDs back in Week 2 in Oakland. Now, he gets to face their 30th-ranked pass defense in Football Outsiders' DVOA at home in Arrowhead. Mahomes is the only QB at home with a FanDuel Projected Plus/Minus of at least +4.0 in our NFL Player Models, and per our NFL Trends tool, QBs who fit that trend have produced a 78% Consistency Rating and +5.22 Plus/Minus since the start of last season.
Running Back (Cash)
Benny Snell, Steelers ($4,700 DK, $6,100 FD) vs. CLE
Jonathan Williams, Colts ($5,500 DK, $6,800 FD) vs. TEN
Miles Sanders, Eagles ($5,400 DK, $5,800 FD) at MIA
Christian McCaffrey, Panthers ($10,500 DK, $11,000 FD) vs. WAS
In the last two games he has finished, Benny Snell carried 17 times for 76 yards and 21 times for 98 yards. He is underpriced again as he faces a Browns defense that is ranked 22nd in rushing DVOA.
Despite Jordan Wilkins being healthy and active last week, Jonathan Williams played 45-of-67 snaps and carried 26 times for 104 yards and a TD, adding three catches for 17 yards. Williams has a top-four Projected Plus/Minus among all RBs on DraftKings and is tied for second with six Pro Trends.
Miles Sanders played 64-of-75 snaps two weeks ago and 64-of-76 last week, averaging 16 carries plus targets per contest. With Jordan Howard (shoulder) out, Sanders is slated for his most productive game yet against a Dolphins defense that is ranked 29th in run-defense DVOA. Sanders has the top Projected Plus/Minus of all RBs on both sites, as well as the top mark in projected points per dollar. RBs projected for 2.6-2.9 DraftKings points per dollar, such as Sanders, have averaged 62% Consistency and a +3.9 Plus/Minus since the start of last season, per the Trends tool.
Christian McCaffrey has earned permanent jam-him-in status. McCaffrey has posted at least 21.7 DraftKings points in all nine of Kyle Allen's starts, failing to record at least 30 only twice and surpassing salary-based expectations in each game.
Wide Receiver (Cash)
Auden Tate, Bengals ($3,800 DK, $5,200 FD) vs. NYJ
Devante Parker, Dolphins ($5,700 DK, $6,000 FD) vs. PHI
D.J. Chark, Jaguars ($6,600 DK, $6,900 FD) vs. TB
D.J. Moore, Panthers ($6,800 DK, $6,800 FD) vs. WAS
Auden Tate has a top-two Projected Plus/Minus among WRs on DraftKings. Tate has surpassed salary-based expectations in seven of his past nine games, including each of the last six of Andy Dalton's starts by an average of +4.74 DK points. The Jets have improved in pass defense since inserting Blessuan Austin and Arthur Maulet at cornerback, but they still project as a pass funnel thanks to a top-two mark in rushing DVOA.
Devante Parker continues to make his case as the 2019 "By Default" fantasy MVP. Over the past seven games, his worst outing is 11.8 DraftKings points, and he's been targeted at least 10 times in each of the three games since Preston Williams (knee) went on Injured Reserve.
D.J. Chark has overall-WR1 upside this week against a pass-funneling Tampa Bay defense that allows the most schedule-adjusted targets (10.4) and second-most schedule-adjusted receiving yards (85.8) per game to opposing No. 1 wide receivers. Chark is projected for 67 receiving yards this week, and the 19 receivers projected for at least 45 receiving yards against the Bucs this season are averaging 79% Consistency and a +9.8 Plus/Minus.
D.J. Moore has hit value in all but two games this season and has a top-five Projected Plus/Minus and projected points per dollar on FanDuel. Since the start of last season, WRs projected for at least 1.8 points per dollar have posted 57% Consistency and a+2.8 Plus/Minus.
Tight End (Cash)
Tyler Higbee, Rams ($2,500 DK, $5,500 FD) at ARI
Greg Olsen, Panthers ($4,400 DK, $5,100 FD) vs. WAS
Tyler Higbee will start at tight end for the Rams with Gerald Everett (knee) out. The Cardinals are allowing 67% Consistency and a +5.17 Plus/Minus to TEs this season.
Greg Olsen continues to be underpriced on FanDuel, and the Panthers' tendency to concentrate opportunities among their top four options gives him value even when rostering McCaffrey and Moore. Olsen has surpassed salary-based expectations in each of the four games he's been priced $5,300 or less on FanDuel, doing so by an average of +3.4 FD points per game.
Defense/Special Teams (Cash)
Cleveland Browns ($2,600 DK, $3,500 FD) at PIT
Pittsburgh Steelers ($3,500 DK, $3,700 FD) vs. CLE
Steelers-Browns is projected to be a close, low-scoring game that has seen it total drop 1.5 points since open (see live odds here), giving both DSTs in this game value. On DraftKings, Browns DST owns the top Projected Plus/Minus due to a median projection in the top eight but a salary in the bottom five. On FanDuel, Steelers DST earns a top-four Projected Plus/Minus by way of being the only DST projected for more than 7.3 points at a salary below $3,900.
Roster Build (Cash)
On DraftKings, you can fit in Mahomes, McCaffrey, Sanders, Williams, Chark, and Parker if you punt with Tate, Higbee, and Browns DST.
On FanDuel, you can fit in Mahomes, McCaffrey, Sanders, Chark, Moore, and Parker if you punt with Snell, Olsen, and Steelers DST.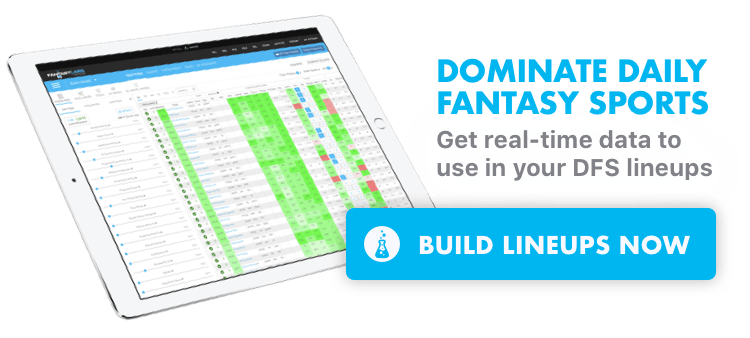 Cleveland Browns at Pittsburgh Steelers (GPP)
Despite being in line for another 17-plus carries in a close game, Benny Snell's ownership is projected to to out at below 5%, giving hi one of the best Leverage Plus/Minuses at the position. The Browns are ranked just 22nd in run-defense DVOA.
Green Bay Packers at New York Giants (GPP)
Davante Adams and Aaron Jones both have top-four ceiling projections at their respective positions, but Adams projects to clock in with upwards of four times as much ownership. Adams has the better matchup, but not to the extent which ownership implies. Jones is averaging 1.64 opportunities per game inside the 10 while Adams is averaging just 0.43, so TD variance could easily tilt the edge in Jones' favor.
Saquon Barkley has a top-two DraftKings ceiling against the Packers' 28th-ranked defense in rushing DVOA, which offers slight value given that his ownership, while still projected to be substantial (17-20%), is likely end up in the 3-5 range given the presence of McCaffrey and value options such as Sanders, Williams, etc.
Los Angeles Rams at Arizona Cardinals (GPP)
Kyler Murray has a top-two ceiling projection but isn't expected to draw more than the third-fifth highest ownership at the position. The rams are ranked 11th in defensive DVOA on the season, but just as we've seen with some of the other better defenses in the league this season, the Rams have struggled with mobile quarterbacks, giving up a combined nine total TDs in two games vs. Russell Wilson and Lamar Jackson.
Per our NFL Correlations Dashboard, the correlation between opposing QBs in Cardinals games this season has ben relatively strong at +0.48, so it's also worth noting that Jared Goff's matchup is pristine. The Cardinals are ranked 28th in pass-defense DVOA and afford Goff the position's top Opponent Plus/Minus on FanDuel (+7.6) and DraftKings (+6.7). The Cardinals have allowed at least 82 yards receiving to all three receivers Patrick Peterson has shadowed this season, but Peterson has only ventured to the slot on 13% of his coverage snaps, per Pro Football Focus, so after Tyler Higbee, I would treat Cooper Kupp (74% slot rate) as the option to stack Goff with. Kupp is one of only five WRs with a Leverage Plus/Minus of at least +5 on both sites. Robert Woods doesn't offer much leverage-based value, but he's a better play on DraftKings thanks to a top-four Projected Plus/Minus and the top Bargain Rating (91%) of any WR above $3,700 there. Brandin Cooks is a contrarian option who is popping as a FanDuel-specific leverage play. FanDuel's half-PPR scoring system doesn't penalize Cooks' potential lack of volume stemming from running lower-percentage routes as much.
Los Angeles Chargers at Denver Broncos (GPP)
Despite averaging under 50 receiving yards per game in his last five matchups against the Broncos, Keenan Allen is expected to draw more ownership than Hunter Henry. Henry has he No. 2 projected ceiling on the slate but is expected to appear in fewer than 5% of the field's lineups.
Melvin Gordon is also going overlooked in what projects to be a close, low-scoring game that would, in theory, favor the run. Gordon is averaging 21.0 touches per game since former offensive coordinator Ken Whisenhunt got fired, and he has a top-six ceiling projection at sub-5% projected ownership.
New York Jets at Cincinnati Bengals (GPP)
Andy Dalton is surely an upgrade over Ryan Finley, but the market is overvaluing Dalton's return and underrating an improving Jets DST that has specialized in shutting down bad teams since an embarrassing loss to Miami. Since then, the Jets sacked Daniel Jones and Dwayne Haskins six times each before holding the Raiders to 3 points last week. The Jets' top-two run defense should be able to contain Cincy's bottom-five rush offense and force Dalton to throw, giving the Jets ample opportunity to build on their average of 13.7 fantasy pints per game over their last three. With ownership projected to fall between 0% and 1%, Jets DST is one of the top leverage plays at the position.
This game also sets up well for Robby Anderson, as the Bengals are ranked dead last in DVOA on deep passes, according to Football Outsiders.
Oakland Raiders at Kansas City Chiefs (GPP)
This is a good spot for Darren Waller. Waller is averaging 6.1 receptions for 67.0 yards and 0.38 TDs when the Raiders are underdogs compared to 3.3 receptions for 57.0 yards and 0.00 TDs when the Raiders are favorites.
Travis Kelce is also worth rostering despite likely high ownership. In three meetings with the Raiders since Jon Gruden took over as head coach, Kelce is averaging 26.9 DraftKings points and 20.6 FanDuel points.
Philadelphia Eagles at Miami Dolphins (GPP)
Carson Wentz and Alshon Jeffery, who was removed from the injury report, have a +0.54 correlation this season, and both are expected to have single-digit ownership for a matchup with Miami's 32nd-ranked defense in DVOA vs. the pass.
San Francisco 49ers at Baltimore Ravens (GPP)
George Kittle also projects to go under-owned due to the availability of cheaper options at the position. Kittle has a top-three ceiling projection among TEs and faces a Ravens defense ranked 20th in DVOA vs. the position, which is their only below-average ranking among all receiver positions.
On the Ravens side, Lamar Jackson always deserves mention as a top-tier GPP play. San Fransisco has struggled against mobile QBs this season. Jackson's best stacking partner shapes up as Marquise Brown, as the 49ers are ranked No. 1 in DVOA vs. both tight ends and running backs, but rank ninth vs. No. 1 wide receivers.
Tampa Bay Buccaneers at Jacksonville Jaguars (GPP)
Ronald Jones is averaging 14.5 touches per game over his last four and will now face a Jaguars defense that is ranked 32nd in rushing DVOA and has allowed four 100-yard rushers in its past three games. Over that span, the Jags are allowing 196.3 rushing yards and 1.67 rushing TDs per game to opposing backfields, plus an additional 54.3 receiving yards per game. Jones is expected to draw ownership below the 5% range on both sites.
Chris Godwin projects for less ownership than Mike Evans, giving him an edge in GPP value among the two.
For the Jags, Dede Westbrook and Chris Conley also fit the trend of WRs projected for at least 45 yards smashing against the Bucs, creating of multitude of options as far as stacking with Nick Foles.
Also note that due to the erratic nature of Jamies Winston, Jaguars DST has the top ceiling projection among DSTs on the slate.
Tennessee Titans at Indianapolis Colts (GPP)
Despite posting 23-plus DraftKings points in three of his last five games, with none under 19.42, Ryan Tannehill is projected for 0-1% ownership. Tannehill has a +0.90 correlation with A.J. Brown, who is also expected to attract low ownership (2-4%). Jonnu Smith is also a sneaky play with Delanie Walker (ankle) placed on IR. Smith has topped 60 yards twice in Tannehill's five starts, has seen a red zone target in four of his past six games,, and, despite being shut out in the target department week, played a season-high 94% of offensive snaps.
With Eric Ebron (ankle) being placed on IR, fellow tight end Jack Doyle is the best value among Colts pass catchers, but Zach Pascal is the best GPP play when ownership is considered given that T.Y. Hilton (calf) will also be out. Pascal is projected to be under 5% owned against a Titans defense that is ranked 27th in DVOA vs. No. 1 wide receivers.
Washinigton Redskins at Carolina Panthers (GPP)
Curtis Samuel has a -0.40 correlation with McCaffrey and slots in as a top-four Leverage Plus/Minus on both sites. Samuel entered Week 13 seventh among wide receivers in air yards this season (1,162).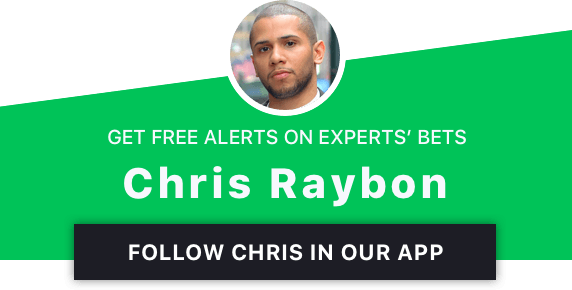 Chris Raybon is a Senior Editor at the Action Network and a host of "The Action Network" on Sirius XM Fantasy Radio every Wednesday-Friday at 10 a.m. ET. He also hosts the weekly NFL Betting edition of The Action Network Podcast and is featured each week on The Fantasy Flex edition of the pod, as well. He has watched every snap of every NFL game since 2010 — even the kneel downs. Follow him on Twitter @ChrisRaybon and read about how he quit his accounting job and got paid to watch sports.
Pictured above: Kansas City Chiefs quarterback Patrick Mahomes (15)
Photo Credit: Jay Biggerstaff-USA TODAY Sports