We're in the thick of the NFL offseason and it's officially time to start fantasy football prep. I'll be answering the biggest questions heading into the 2019 season; this is part of that series.
---
There's a short list of running backs who are worthy of discussion as the No. 1 overall pick in fantasy drafts with PPR scoring.
Our choices essentially boil down to:
Saquon Barkley
Ezekiel Elliott
We'll focus on Barkley here in an effort to see just what makes the Giants' franchise talent so successful, and to evaluate whether he's worthy of the highest honor that any fantasy football owner is capable of giving out.
Defenses Have Struggled to Stop Saquon Barkley
We can debate whether the Giants should've used the No. 2 overall pick of the 2018 draft on a quarterback. We can also debate if it was wise to draft Daniel Jones with the No. 6 selection of the 2019 draft.
One thing we can't debate is whether Barkley is one of the best running backs in the league.
The Associated Press' 2018 NFL Offensive Rookie of the Year regularly torched defenses as both a runner and receiver on his way to totaling a league-high 2,028 yards from scrimmage and 15 total touchdowns. And Barkley did so while regularly embarrassing virtually any defender in his path.
NFL leader in broken tackles by year (PFF):

2010: Adrian Peterson
2011: Michael Turner
2012: Peterson
2013: Marshawn Lynch
2014: Lynch
2015: Doug Martin
2016: David Johnson
2017: Kareem Hunt
…
2018: Saquon Barkley 👑 pic.twitter.com/5KViwCiAGn

— Ian Hartitz (@Ihartitz) April 2, 2019
But Barkley's domination doesn't stop at being a tackle-breaking workhorse. He's also demonstrated the elite ability to break big plays, function as a receiver and simply be an all-around monster.
Barkley had 16 rushes of 20-plus yards in 2018, tied for the fifth-most in a season since 2000.
Barkley (91 receptions) was one of just six running backs to lead their team in catches last season.
Barkley (99th-percentile SPARQ-x score) joins Nick Chubb (98th) and David Johnson (95th) as the only starting running backs with marks in the 90s.
It shouldn't be possible for a 6foot, 233-pound running back to do the things that Barkley does on a routine basis. Of course, there is the problem at quarterback.
The Giants Have an Eli Manning Problem
The Giants' long-time franchise quarterback largely had his best statistical season since 2015 last season, averaging 7.3 adjusted yards per attempt with a 3.6% touchdown rate and 92.4 quarterback rating. Still, those figures ranked just 17th, 24th and 20th among 32 signal callers who started at least eight games in 2018.
There are two massive problems at this stage in Manning's career that don't seem close to fixed.
Manning has never been confused as a dual-threat talent, but the 38-year-old has grown increasingly immobile over the years. His statue-esque presence in the pocket resulted in a crippling and career-worst 7.5% sack rate in 2018.
It's been awhile since we've seen defenses fear Manning on downfield passes. Overall, his average of 9.87 yards per deep-ball attempt (passes thrown 20-plus yards downfield per Pro Football Focus) ranks 46th among 69 quarterbacks with at least 10 of such attempts since 2016.
Not helping matters is the fact that Elisha Manning has generally been atrocious without ex-BFF Odell Beckham Jr. on the field.
What better way to extend your aging QB's career than to trade away the only thing that made him somewhat average?

Eli Manning with Odell Beckham Jr. since 2014 (59 games):
22.6 PPG
64% cmp
7.1 Y/A
4.6% TD rate

Manning without OBJ (20 gms):
18.6 PPG
61% cmp
6.4 Y/A
3.8% TD rate

— Ian Hartitz (@Ihartitz) March 13, 2019
Golden Tate is a great (and swaggy) receiver in his own right, but he's more of a pure slot receiver who won't draw the same level of attention from defenses as we saw from OBJ. The same can be said for incumbent starter Sterling Shepard.
None of this is good for the Giants' overall outlook in 2019, but that might not matter for Barkley's fantasy stock.
Barkley Is One of the NFL's Only True Featured Backs
There aren't many teams that still think it's a wise idea to feed your starting running back more than 300 touches in a single season. Fortunately for future Barkley fantasy investors, the Giants aren't one of them.
RBs with 300+ touches by season:

2000: 19
2001: 13
2002: 16
2003: 15
2004: 12
2005: 14
2006: 14
2007: 11
…
2008: 9
2009: 9
2010: 11
2011: 8
2012: 10
2013: 9
…
2014: 5
2015: 4
2016: 7
2017: 6
2018: 5 (Zeke, Saquon, CMC, Gurley, DJ)

— Ian Hartitz (@Ihartitz) May 1, 2019
Overall, Barkley (83% snaps) joined McCaffrey (91%), Elliott (83%) and David Johnson (80%) as the only running backs that played at least 80% of their offense's snaps in 2018.
OBJ's absence over the final four weeks of the season hardly made a difference to Barkley, as he ranked as the league's PPR RB5. Barkley tied for fifth among all running backs in total touches during Weeks 14-17 when the Giants were playing for little other than pride.
Last season's overall PPR RB1 got the job done on the league's No. 16 overall scoring offense and No. 29 ranked offensive line in adjusted line yards per rush. It remains to be seen if either mark will be much better in 2019, but the addition of Browns guard Kevin Zeitler should at least be a minor boost to the big uglies on the line of scrimmage.
Barkley's projected status as the Giants' No. 1 receiver in 2019 theoretically gives him a higher floor than Elliott, while his rushing workload will likely continue to surpass that of McCaffrey.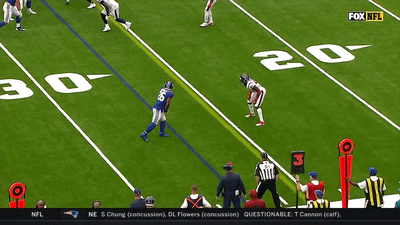 A similar three-down athletically-gifted back by the name of Johnson "disappointed" to the tune of an overall RB9 finish on the 2018 Cardinals. This is probably Barkley's worst-case scenario (assuming health), as it's tough to imagine a world in today's NFL where Barkley doesn't find a way to manage top-10 production with his luxurious workload.
Barkley's best-case scenario, as we saw last season, is an overall RB1 finish. He's accordingly more than worthy of a 1.01 selection in any PPR fantasy draft.
Pictured above: Saquon Barkley
Bob Donnan-USA TODAY Sports