While building DFS lineups, we regularly encounter different questions that we must take into consideration for each individual player. How is the player projected to perform? What does Vegas say about the game? What is the weather like? How shitty is the defense the player is playing? This last question is what we are going to look at today in the latest edition of #ModelBuildingWithIan: how can you use FantasyLabs to better prepare yourself to play players with the best defensive matchups?
What is Defensive Unit Rating in 50 words or less?
Defensive Unit Rating is a percentile rank that determines how well a defense has defended a specific position over the past 16 games. This is determined by looking at the defense's Plus/Minus allowed versus a position. A higher Defensive Unit Rating represents a better matchup for the offensive player.
Could I have an example please?
You don't like Brandon Weeden, I don't like Brandon Weeden, as far as I know, no one likes Brandon Weeden. For some it's because of his status as the worst starting ginger quarterback in the NFL (Andy Dalton gets a break while Tony Romo heals), but for most people, they don't like Weeden because he's a terrible fantasy quarterback. You should not start Brandon Weeden against the New Orleans Saints this week. With that said, Weeden actually has a nice matchup!
You can view Weeden's favorable Defensive Unit matchup in two places. The first is under the column "Opp +/-". Here we see that Weeden has a +2.6, which means the Saints have, on average, allowed an additional 2.6 points to opposing quarterback's projected fantasy totals. So this takes Weeden's current 15.2 rating and instead projects him at 17.8. That's about the difference between Jimmy Clausen and Eli Manning.
The second place to view Defensive Unit Rating is under the "Pro Trends" column, by clicking on the box with each player's respective Pro Trends. Obviously not all quarterbacks have a favorable defensive matchup, so by clicking on Weeden's Pro Trend Box, we notice that Weeden has a +0.73 Pro Trend called "Opponent Bottom 20% in Plus/Minus Allowed to QBs." His rating of 87 in this category represents a favorable Defensive Unit Rating for Weeden, and gives hope to him possibly breaking his nine game losing streak against both real opponents, and the spread.
How does this help me win money?
This idea that you should look at a defense's impact on a fantasy player's production is far from revolutionary. What is revolutionary is having this information at your fingertips and available by position. For example, just because a team has a great pass defense does not necessarily mean they are a kryptonite for fantasy tight ends. By using this FantasyLabs feature, you get accurate, position-specific, and up-to-date information on how your DFS prospects are projected to be impacted by the defense they are playing.
The extra two or three points that you can identify your player may score against a specific defense is certainly helpful, but I believe the biggest benefit to this feature is being able to determine which positions a great defense is truly great against. The average DFS player will not have this information, so what better way to identify a potentially under-owned, but still very good, player than by finding one playing against a top defense with a mediocre effect on a specific position.
Effect on Models
Same old song and dance as last week: I will create a model on Fantasy Labs that heavily weights player's Defensive Unit Rating when rating the players. Again, the idea with this is not to create the most optimized model, but rather to see the effect that heavily weighting Defensive Unit Rating has on a model. I will use Jonathan Bales' "Bales' Model" as my comparison model.
Defensive Unit Model
Defensive Unit Rating = 50 points
Bargain Rating, Vegas Score, Projected Points Per Dollar, Median Projection, Projected Plus/Minus, Pro Trends Rating, Plus Minus, Month Salary Change, Consistency, and Upside = 5 points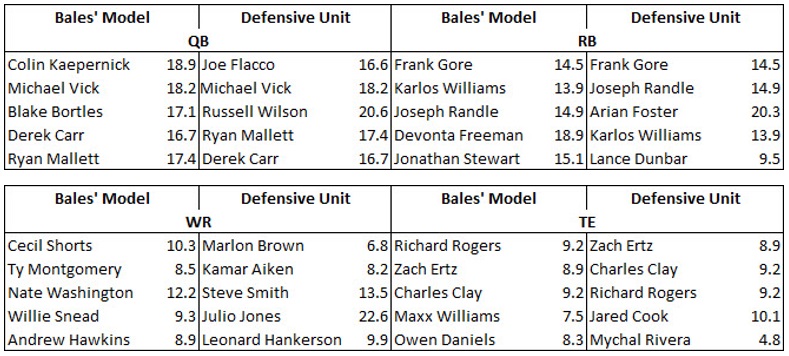 – As a whole, the Defensive Unit model spat out a few more scrubs than the Bales' Model. This is more of a result of putting an unrealistic (50) amount of points on the Defensive Unit Rating, which in turn caused players such as Marlon Brown (Joe Flacco's 2nd or 3rd primary target) to be rated as the number one overall wide receiver for this week.
– Another "issue" which Defensive Unit Rating will highlight is a reliance on only certain teams who have good matchups. This is why it can be useful to potentially use several different models for one lineup, as sometimes your strategy can change by position, not lineup. So if you only have $4,000 left on DraftKings and want to get the most bang for your buck at running back, you could utilize the Defensive Unit Rating in order to secure a running back with a great matchup. Using a highly weighted Defensive Unit Rating model could potentially spit out multiple running backs from the same team (like Joseph Randle and Lance Dunbar above) when in reality pairing these running backs on the same lineup would be a poor idea.
And that's that for Defensive Unit Rating. While keeping Defensive Unit Rating in mind for all of your picks is obviously a good idea, I think most of its value comes from two separate uses. One: being able to tell which positions elite defenses are truly elite against which leads to….Two: the ability to target players with potentially low ownership due to the defense they are facing. These two steps are made simple for you thanks to FantasyLabs, and you should most definitely take advantage on your way to DFS championships.