This is a breakdown of one-game DFS contests for the AFC Divisional Round matchup featuring the Houston Texans at Kansas City Chiefs on Sunday, Jan. 12 at 3:05 p.m. E.T. on CBS. Be sure to check our Models up until kickoff for up-to-date projections that reflect the latest breaking news.
Cash Game Strategy
Patrick Mahomes clocks in with slate-leading projections in median, floor and ceiling from our DraftKings Showdown Models, but Deshaun Watson isn't far behind. Due to pricing, Watson works slightly better in the Captain spot. A lineup captained by Watson can also fit Mahomes, Damien Williams, Carlos Hyde, Harrison Butker, and Darwin Thompson. Mahomes can be thrown in the MVP slot on FanDuel without worrying about the cost. Minus Butker, the aforementioned group also fits within the FanDuel cap.
Core GPP Plays
Note: These are in addition to the players already mentioned in the cash write-up, and I generally focus on pass-catchers, though sometimes players from the cash section will be re-highlighted as appropriate. On FanDuel, QBs generally make for the top plays in the 1.5x slot because the half PPR format creates a wider gap in scoring between QB and RB/WR/TE; on DraftKings, a RB/WR/TE who hits the 100-yard bonus is the ideal play.
WR Tyreek Hill, Chiefs: Went 5-80-2 in the first matchup against Houston.
WR DeAndre Hopkins, Texans: Kansas City forced him to work underneath (9-55) in the first matchup, but his volume upside remains massive.
RB Damien Williams, Chiefs: Williams is averaging 18.3 touches for 120.8 scrimmage yards and 1.0 total TDs over his past four healthy games and should be able to find running room against a Texans defense that ranked 29th in schedule-adjusted efficiency, according to Football Outsiders' DVOA. Houston coughed up 5.88 yards per carry to Chiefs running backs in Week 6. Our models peg Williams with the third-highest ceiling among non-QBs.
TE Travis Kelce, Chiefs: Houston allowed 57.7 schedule-adjusted receiving yards to tight ends during the regular season, 11th-most.
Correlations/Stacks
Note: Individual player correlations can be found in the player cards in our NFL Player Models. Team positional correlations can be found in our NFL Correlations Dashboard. Unless otherwise noted, all player correlation data is from the past 12 months and team correlation data is from the start of 2019.
Chiefs
Mahomes-Robinson +0.49
Mahomes-Kelce +0.45
Mahomes-Watkins +0.43
Mahomes-Hill +0.26
Hill-Kelce +0.21
Mahomes-Hardman +0.15
Williams-Watkins +0.15
Mahomes-Butker +0.09
Williams-Hill +0.03
Mahomes-Williams +0.02
Watkins-Kelce -0.12
Hill-Watkins -0.18
Williams-Kelce -0.28
Mahomes-Chiefs DST -0.5
As I mentioned in our Divisional Round Main Slate breakdown, Mahomes-Williams is an underrated pairing. Houston allowed the second-most schedule adjusted receiving yards per game to running backs (56.1) and figures to prioritize protecting against the deep ball. Houston has struggled on passes to the deep left over the past six games with their current configuration of cornerbacks, giving Demarcus Robinson (second on the team in deep left targets) and Mecole Hardman (third) appeal as pivots of Hill and Kelce, and/or Sammy Watkins. Hardman earned a Pro Bowl honors as a kick returner and can be stacked with Chiefs DST.
Texans
Watson-Fuller +0.64
Fuller-Fells +0.53
Watson-Fells +0.49
Watson-Johnson +0.37
Watson-Hopkins +0.36
Hyde-Texans DST +0.36
Watson-Akins +0.27
Watson-Stills +0.17
Hyde-Hopkins +0.08
Hopkins-Fuller +0.06
Hopkins-Stills +0.06
Hopkins-Fells +0.05
Watson-Hyde 0.00
Hyde-Johnson -0.08
Watson-Texans DST -0.17
Hopkins-Texans DST -0.26
Fuller-Stills -0.52
Kansas City allowed a league-low 50% target rate to wide receivers. With Jordan Akins (hamstring) already ruled out, Darren Fells deserves just as much consideration as Will Fuller and Kenny Stills. Fells tied Hopkins for the team lead in red-zone targets (13). Hyde-Texans DST is a strong contrarian stack, as the Texans would undoubtedly love to shorten the game and keep Mahomes off the field like they did in the first matchup, where Hyde piled up 116 rushing yards on 26 carries.
Leverage Plays
Players whose production would benefit owners more than expensive or highly-owned players. Kickers and D/STs generally make for strong leverage plays, but those who stand out will be highlighted below.
Chiefs DST: I already alluded to the upside Hardman brings as a returner, and the Kansas City defense also draws upside from facing Watson, who took the sixth-most sacks during the regular season (44) before getting dropped on 7-of-32 dropbacks last week against Buffalo.
RB Duke Johnson, Texans: Negatively correlated with Hyde from a game script perspective.
RB LeSean McCoy, Chiefs: Maybe Reid really is saving him for the playoffs?
Dart Throw Rankings
Ranking the low-cost, complementary players not already discussed in the leverage section by likelihood of having a worthwhile fantasy stat line.
TE Darren Fells, Texans: Ran a route on a season-high 78% of dropbacks with Akins out last week.
WR Sammy Watkins, Chiefs: Will be chalk but came alive during the playoffs last season.
WR Mecole Hardman, Chiefs: Love him stacked with Chiefs DST, plus Andy Reid thrives with extra time to prepare and may have schemed up a few new wrinkles for his explosive rookie during the bye.
WR Demarcus Robinson, Chiefs: Has run a route on roughly half of his team's pass plays over the past two weeks.
TE Jordan Thomas, Texans: Ran 30% of the routes last week and can be a theat in the red zone.
RB Darwin Thompson, Chiefs: Better as a cash play.
TE Blake Bell, Chiefs: Has run a pass pattern on roughly a quarter of KC's dropbacks over the past three weeks.
WR DeAndre Carter, Texans: Returner with two guys made of glass ahead of him on the wide receiver depth chart.
RB Taiwan Jones, Texans: Randomly caught a 34-yard pass in overtime last week after not playing on offense all season because Bill O'Brien.
FB Anthony Sherman, Chiefs: Barely involved.
WR Byron Pringle, Chiefs: Sixth in the wide receiver pecking order.
RB Buddy Howell, Texans: Special teamer.
WR Keke Coutee, Texans: Dog-housed.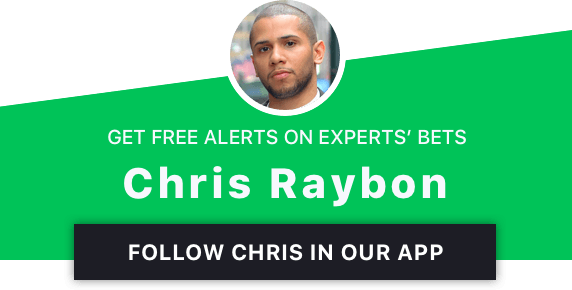 Chris Raybon finished No. 4 in FantasyPros' weekly fantasy football rankings accuracy contest in 2019. He is a Senior Editor and NFL analyst at the Action Network, as well as a co-host of "The Action Network" on Sirius XM Fantasy Radio on Thursdays and Fridays at 10 a.m. ET. He also hosts the weekly NFL Betting edition of The Action Network Podcast and is featured each week on The Fantasy Flex edition of the pod, as well. He has watched every snap of every NFL game since 2010 — even the kneel downs. Follow him on Twitter @ChrisRaybon and be sure to read about how he quit his accounting job and got paid to watch sports.