March is an exciting time for football fans. There's the combine, free agency and enough draft speculation to make the average NFL junkie briefly forget there's no actual football being played.
But this year we have the Alliance of American Football.
We're on to Week 6 of the new league, and business is booming. We have eight competitive teams thanks to some recent switches under center, and only the Orlando Apollos seem to have any sort of significant edge on the competition.
What follows is an in-depth look at all four of this weekend's games, including the betting market, Week 5 takeaways, injuries, key matchups, daily fantasy edges and betting picks.
And if that's not enough, we have this lineup of comprehensive coverage:
Let's dig in.
Spread: Stallions -7
Over/Under: 39.5
Time: 4 p.m. ET on Saturday
TV: B/R Live
Betting market: The Stallions opened as 8-point favorites, but have since moved down to -7 at most books. The opening over/under of 40 points has also dropped to 39.5.
Week 5 Takeaways
Memphis' 23-20 Loss to Atlanta
The Express held a 20-14 lead over the Legends entering the fourth quarter of their Week 5 loss, but a late interception by Zach Mettenberger allowed Aaron Murray and Co. to drive down the field for a last-second game-winning field goal.
It's actually surprising the game was this close, as Memphis ran just 42 plays compared to 76 for Atlanta.
Mettenberger has averaged the second-most yards per attempt in the league, but has yet to throw more than 25 passes during a game in Mike Singletary's run-heavy offense.
Salt Lake's 25-27 Loss to San Diego
Josh Woodrum set season-high marks in attempts (48), yards (380), yards per attempt (7.9) and … interceptions (3) during last week's loss. Still, he deserves credit for leading the Stallions on consecutive touchdown drives over the final 10 minutes to give Salt Lake a 25-24 lead with just 57 seconds in regulation.
The Stallions utilized a two-back committee featuring Joel Bouagnon and Terrell Newby with Branden Oliver on the injured reserve list, while slot receiver De'Mornay Pierson-El remains the passing game's go-to target.
Which team is healthier? Memphis
The Express have a multitude of injuries to worry about, although none appear to be too serious.
Defensive end Corey Vereen, offensive lineman Jessamen Dunker and starting wide receiver Dontez Byrd failed to practice Wednesday. Defensive linemen Montori Hughes and Julius Warmsley along with cornerback Charles James were at least able to get in limited sessions.
Meanwhile, the Stallions placed running back Matt Asiata and starting receiver Kaelin Clay on Injured Reserve with season-ending injuries. They then added running backs Terry Swanson and Terron Ward along with linebacker John Timu in corresponding roster moves.
Key matchup: Memphis' Rush Offense vs. Salt Lake's Front-Seven
The Express are hell-bent on getting every last mile out of Zac Stacy's legs, but they'll have their hands full controlling the line of scrimmage against the Stallions' elite run defense.
Rush yards allowed per carry: 3.16 (first in the AAF)
Rush yards allowed per game: 73.2 (first)
Rushing touchdowns allowed: 2 (tied for first)
PFF run defense grade: 83.4 (first)
Memphis' best bet for success is to utilize a more pass-heavy game plan to take advantage of Mettenberger's early success and to avoid attacking the teeth of the Salt Lake defense.
DFS edge: Kenny Bell bounce-back performance
Bell entered the season as one of the league's best known players thanks to his past exploits at Nebraska. But he's caught just 10-of-18 targets for 86 scoreless-yards in four games.
Still, the opportunity is there for Bell to provide enough production for his reduced DFS salary. He's had at least five targets and three receptions in each of the past three weeks, and his $4,200 price tag is curiously low.
Bell was one of only seven receivers to play at least 85% of their offense's snaps in Week 5.
Reece Horn ($5,000): 93% snap rate
Rashad Ross ($7,600): 93%
Dontez Ford ($6,300): 91%)
Quinton Patton ($5,300): 90%
Jalin Marshall ($5,400): 89%
Charles Johnson ($8,000): 87%
Kenny Bell ($4,200): 87%
Bet to watch: Memphis +7
Memphis lost 26-0 in Week 1 during the Christian Hackenberg experience, but since then they've…
Lost by two points to Arizona in Week 2
Lost by four points to Orlando in Week 3
Beat San Diego by three points in Week 4
Lost to Atlanta by three points in Week 5
The Express boast a mediocre defense and arguably the league's worst offensive scheme. Still, Mettenberger has helped keep them stay competitive in each of their past three games, and no team outside Orlando has done enough to be favored by more than a touchdown.
---
Spread: Apollos -10
Over/Under: 44
Time: 8 p.m. ET on Saturday
TV: NFL Network
Betting market: The Apollos opened as 9-point favorites and have moved up to -10 at some books across the industry. The over/under has also increased since opening, as the game total opened at 43.5 points but now sits at 44.
Week 5 Takeaways
Arizona's 29-25 Loss to San Antonio
The Hotshots turned in a season-worst performance while the Commanders played their most complete game. And yet, Arizona lost by just four points after out-scoring San Antonio 25-3 in the second half.
Still, two of John Wolford's three interceptions were certainly his fault, and the run game never managed to get on track.
Arizona has lost three consecutive games and doesn't resemble the unit that was largely considered the AAF's best team from the preseason through Week 2.
Orlando's 31-14 Win Over Birmingham
The Apollos easily out-classed Birmingham in a battle between the league's best offense and best defense.
Garrett Gilbert has been the AAF's best quarterback throughout the season while De'Veon Smith and D'Ernest Johnson helped Orlando rack up 182 rushing yards on just 29 carries (6.3 yards per rush).
The Apollos' secondary deserves to be considered alongside the Iron's as the league's best unit.
Which team is healthier? Arizona
The Hotshots are expected to welcome back starting wide receiver Richard Mullaney (knee) while offensive lineman Josh Allen, defensive back Dexter McDougle and defensive lineman were all at least able to get in a limited practice on Wednesday.
Orlando is also fairly healthy, but cornerback LaDarius Gunter (head), defensive end Anthony Moten (lower leg), outside linebacker Earl Okine (lower back) and defensive tackle Leon Orr (illness) weren't able to suit up for their first practice of the week. Linebacker Terrance Parks (neck) and corner Marquez White (hip) were limited.
Key matchup: Rashad Ross vs. Orlando CBs
The Apollos have continued to stifle opposing passing attacks thanks to their stupid-deep group of cornerbacks.
Keith Reaser: Pro Football Focus' No. 1 CB
Cody Riggs: No. 2
LaDarius Gunter: No. 10
Deji Olatoye: No. 11
Orland is one of three defenses allowing fewer than 200 passing yards per game and rank second in yards allowed per attempt (6.15).
The Apollos face their toughest test yet in the form of Ross, who has caught 24-of-33 targets for 401 yards and six (!!!) touchdowns.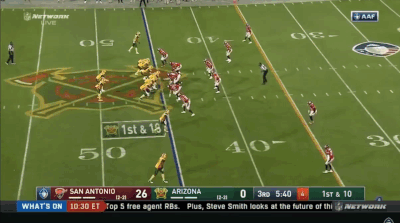 Ross has at least five targets in every game. Arizona's best player needs to ball out for the Hotshots to have a shot at knocking off the league's last remaining unbeaten team.
DFS edge: Cheap Arizona players
I've been taking the sum of each skill position player's carries and targets divided by their FanBall salary in an effort to find players who could be undervalued based on their workload.
Arizona boasts the No. 2 receiver and running back in Richard Mullaney and Jhurell Pressley in this opportunity/salary metric, while receiver Freddie Martino is the week's only player with a sub-$4,000 salary who played at least 80% of their offense's snaps in Week 5.
Both wide receivers are cost-saving options who boast fairly modest floor/ceiling combinations, but Pressley is my favorite play of the week in any format considering his salary has dropped by a week-high $1,600 despite playing 56% of Arizona's snaps last week.
Bet to watch: Orlando -10
I consider this the week's best line, so consider emptying your bank roll on one of the other games.
Still, the Apollos have proven to be in a different class than their opponents and I'm inclined to ride that wave until proven otherwise — especially against a reeling Arizona team.
---
Spread: Legends -1.5
Over/Under: 40.5
Time: 4 p.m. ET on Sunday
TV: CBS Sports Network
Betting market: The Legends have held steady as 1.5-point favorites since open. The over/under also hasn't moved since opening at 40.5 points.
Week 5 Takeaways
San Antonio's 29-25 Win Over Arizona
Logan Woodside had a quarterback rating of 120.7 in Week 5 after failing to clear even 70 in Weeks 1 through 4. The Commanders' two-game win streak and Woodside's season-best performance seem to have cemented his spot as the team's starting quarterback over Marquise Williams, who hasn't played a snap since Week 3.
Note that San Antonio boasts the league's worst defense in yards allowed per pass and rush attempt.
Atlanta's 23-20 Win Over Memphis
Aaron Murray has played exceptionally well in his first two starts, regularly completing passes down the field into tight windows. The Legends have scored 37 combined points in his two starts compared to just 30 in Weeks 1-3.
Starting running back Tarean Folston also deserves credit for his efficient play during the Legends' comeback win in Week 5, although he still played just 46% of the offense's snaps.
Which team is healthier? San Antonio
Only tight end Cole Hunt (lower leg) and defensive lineman Joey Mbu (ankle) were unable to practice Wednesday for San Antonio.
The Commanders are otherwise healthy. Kenneth Farrow notably isn't even listed on the injury report after he seemed to get banged up at one point in Week 5.
The Legends have a few more questions. Defensive lineman Tavaris Barnes (shoulder), running back Lawrence Pittman (ankle) and defensive back Damian Swann (ankle) started the week off with a DNP. The outlook is a bit more positive for stud safety Ed Reynolds (groin) and wide receiver Ervin Phillips (groin), who at least managed to start the week with a limited practice session.
Key matchup: Aaron Murray vs. San Antonio's secondary
The Commanders have allowed a league-worst 7.98 yards per attempt and 255.6 yards per game through the air this season. Meanwhile, Murray has been both accurate (61.9% completion rate) and efficient (7.1 yards per attempt) while regularly making tough throws downfield.
Aaron Murray is throwing some dimes!@TheAAF game play has been 🔥🔥🔥 now that every team seemingly has a competent quarterbackpic.twitter.com/srBhcJDzSW

— Ian Hartitz (@Ihartitz) March 10, 2019
Only cornerback De'Vante Bausb (No. 15) ranks among PFF's top-25 defensive backs while Atlanta wide receivers Montay Crockett (No. 8), Seantavius Jones (No. 17) and Malachi Jones (No. 21) all rank among the AAF's top-25 receivers in yards per route run.
DFS edge: San Antonio WRs
The Commanders and Legends join the Fleet as the only offenses that didn't have a running back play even 50% of their offense's snaps in Week 5. Both quarterbacks also saw a price increase. And Atlanta's pecking order at wide receiver is still murky with seven receivers playing between 19-67% of the offense's snaps last week.
That leaves us with San Antonio's wide receivers as the position group to target.
The Commanders don't have the world's greatest matchup against Atlanta's third-ranked defense in pass yards allowed per attempt, but their wide receivers' price tags are still a bit too cheap given their average opportunity:
Greg Ward ($4,300): No. 5 wide receiver in opportunities/dollar
Mekale McKay ($5,800): No. 7
De'Marcus Ayers ($4,600): No. 8
Note that Ayers played just 35% of the offense's snaps last week and has split time with Alonzo Moore.
Bet to watch: Atlanta -1.5
The Commanders' road streak combined with the Legends' superior play with Murray under center makes me confident that Atlanta can get the job done.
This week should be a good indicator of whether Woodside's and the San Antonio defense's impressive performances in Week 5 were a fluke or not.
Spread: Fleet -6
Over/Under: 35.5
Time: 8 p.m. ET on Sunday
TV: NFL Network
Betting market: The Fleet opened and remain 6-point favorites. The opening over/under of 36 points also hasn't moved.
Week 5 Takeaways
Birmingham's 31-14 Loss to Orlando
The Iron have lost consecutive games after winning three straight to start the season. Things are still looking up after Keith Price took over for Luis Perez in Week 5 and completed 18-of-29 (62.1%) passes for 234 yards (8.1 yards per attempt) and a touchdown.
Here's what head coach Tim Lewis said after the game: "We'll continue to work the way we've been working, but with an added emphasis on 'he who moves it gets to stay in' … I'm all about that. I'm all about when you have your opportunity, if it moves, you get to stay at the helm, and I'm OK with that."
We have roughly five games of evidence that Perez is incapable of consistently moving the Birmingham offense, so an expected switch to Price is certainly welcomed.
San Diego's 27-25 Win Over Salt Lake
Mike Bercovici played light years better during the Fleet's Week 5 victory than he did during his porous Week 1 debut. While his 51.2% completion rate wasn't ideal, his willingness to push the ball downfield still helped him throw for 304 yards and a touchdown.
San Diego has deployed one of the league's best pass rushes and rushing attacks all season and is positioned for a late-season run if Bercovici and Co. can keep making plays downfield.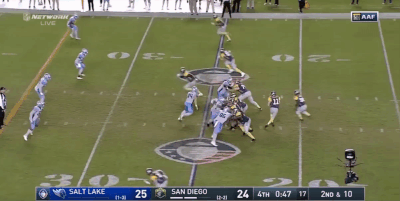 Which team is healthier? San Diego
The Fleet are only dealing with injuries to offensive lineman Damien Mama (ankle) and stud linebacker A.J. Tarpley (back), who were limited in practice to start the week. Of course, starting quarterback Philip Nelson (fractured clavicle, IR) is out indefinitely.
The Iron appear a bit closer to getting Week 1 starting wide receiver Amba Etta-Tawo (knee) back after he started the week with a limited practice. Defensive back Trovon Reed (ankle) and running back Brandon Ross (groin) were also limited while offensive linemen Korren Kirven (calf) and J.C. Hassenauer (knee) joined defensive back Ryan White (head) on the sideline.
Note that the Iron waived scat back Ladarius Perkins in favor of Marshaun Coprich.
Key matchup: Bercovici vs. Birmingham's Secondary
We've already seen the best and worst versions of Bercovici during his two starts this season. He'll need to at least resemble the accurate yet- earless gunslinger who was on display last week to have success against the Iron's league-best defense in yards allowed per attempt.
The Birmingham secondary got torched a bit by the Apollos last week, but the Iron still boast more talent than pretty much anybody:
CB Jamar Summers: Pro Football Focus' No. 3 overall corner among 46 qualified corners
CB Trovon Reed: No. 16
CB Elijah Campbell: No. 19
CB Ryan White: No. 20
S Joe Powell: PFF's No. 2 overall safety among 27 qualified safeties
S Jacob Hagen: No. 9
S Max Redfield: No. 13
S Jack Tocho: No. 14
DFS edge: Birmingham WRs
There's more value among the Iron wide receivers than any other position group on the slate.
Amba Etta-Tawo (No. 1 in opportunities per dollar), Quinton Patton (No. 3) and L'Damian Washington (No. 4) all appear to be underpriced, especially after considering their likely upgrade at quarterback.
Patton in particular is egregiously cheap considering his 7.4 targets per game trail only Charles Johnson (8).
Bet to watch: Iron +6
We've seen Atlanta and Memphis benefit immensely from switching quarterbacks. I'm confident that Price has the ability to instill a similar spark with the Iron offense, which is getting healthier and has uncovered solid options in Washington and tight end Wes Saxton.
Birmingham (+27) boasts a better point differential than San Diego (+22) despite their identical 3-2 records.