+
Access premium lineup optimizer tools, available exclusively to One Week Season members.
Optimize up to 150 lineups at once
Access to player NFL projections from both One Week Season and FantasyLabs
Use groups and rules to maximize correlation
Control targeted player exposures and control total projected ownership in lineups
Export lineups easily to DraftKings + FanDuel
Access for every sport (NFL, NBA, MLB, Golf, NHL + More)
OWS and FantasyLabs player projections preloaded
Optimize up to 150 lineups in each sport
Player projections for every sport, including OWS NFL
Custom stacking and correlation rules
Access to create and explore data trends
Recommended player props
Whether you focus primarily on smaller field tournaments or mass multi-entry, our Lineup Builder and Optimizer tools make it easier than ever to efficiently create optimal lineups. Both tools are included in these exclusive packages.
OPTIMIZER
best for multi-entry
Quickly generate up to 150 optimized lineups based on your settings.
Create highly correlated lineups by pairing together players who positively correlate while avoiding negative correlation.
Use player groups to control your exposure levels to groups of specific players.
Conditionally increase or decrease player projections based on a number of criteria.
Create advanced team stacking rules.
Set ownership limits to ensure your tournament lineups do not become too chalky.
Export saved lineups to DraftKings or FanDuel.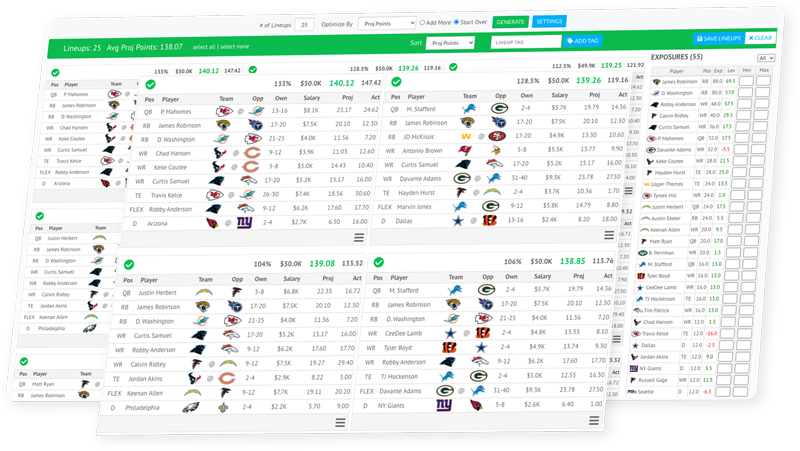 LINEUP BUILDER
best for single entry
Leverage One Week Season's projections to help you find your optimal lineup.
Lock in the players you'd like to target and let our Lineup Builder do the rest.