Tampa Bay's 26-year-old rookie appears to possess the keys of the kingdom – home runs and stolen bases. But what happens when you take the two most dynamic offensive categories in DFS and strip away all the other qualities that make up a good hitter?  You get Steven Souza Jr.
Souza has been instrumental in the Rays early success, leading the team in homers, steals, runs…. strikeouts, double plays. He's a busy guy on the diamond and as a result finds himself in some elite daily fantasy company.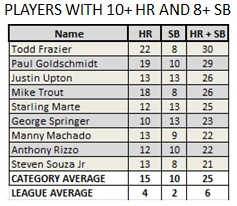 Look down that list and you'll see star after emerging star and some of the best overall players the game has to offer. Then there's Souza, essentially photobombing the picture of Cooperstown hopefuls.
At the core, a dual homer and steal threat should at least make for a boom-or-bust GPP candidate. But for our purposes here at Fantasy Labs, I wanted to find out whether a combination of power and speed was enough to make someone a viable fantasy option in all formats.
Let's take a deeper look at the players above to help us figure out Souza's value:
Yikes – good thing DFS sites don't hold strikeouts against you or Souza would be public enemy #1. Luckily in our world, strikeouts are just another out and outs are just the absence of points.
But is that actually the case?
Among the 32 players with at least 12 HR, Souza, Luis Valbuena, Chris Carter and Chris Davis are the only four with a Fantasy Labs Consistency Rating lower than their Dud Percentage. Out of the same qualifying group, they are the only four who strike out over 30% of the time.
Although the inability to put the ball in play may not directly subtract points from your total, this indicates that it does work against you in more subtle ways.
Now let's have a look at how this all converts to fantasy production: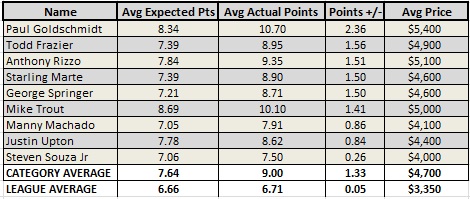 Another indication that Souza Jr. isn't on the same planet as these other multi-dimensional hitters. Despite the lowest average price over the last 15 games (thus the lowest expected point value), Souza still checks in at the bottom of the list in terms of +/-. In fact, he's closer to the league average than the average of his peers.
The first lesson to take away is that power and speed are not enough to excuse the glaring flaws of a hitter. While homers and steals are the ultimate bonus, base hits and contact rate are the foundation to profit on offense, at least in cash games. Which takes us to our second lesson: Even if the correlation between contact rate, batting average and DraftKings scoring is relatively low, it is the starting point to judge a hitter.
Hitting below the league average leaves total bases on the board and striking out at an astronomical rate leaves potential RBIs in scoring position. These volatile bats are not made for cash games, but it's okay roll with them in a tournament if you're feeling lucky.