I'll be breaking down the top wide receiver/cornerback matchups every week throughout the 2018 NFL season.
Below is a data-driven analysis of the week's best passing-game matchup, eight potential shadow matchups and an additional seven potential non-shadow matchups, then wrap it up with a quick look at plus and minus matchups.
Visit the FantasyLabs NFL page for more weekly fantasy breakdowns. You can also view all of this week's WR/CB matchups using our Matchups tool.
Jump to: Matchup of the Week | Shadow Matchups | Non-Shadow | Plus/Minus
Matchup of the Week
Chargers Offense vs. Raiders Defense
Philip Rivers has thrown multiple touchdowns in every game this season while orchestrating the Chargers' 11th-ranked scoring offense. Sadly, No. 1 receiver Keenan Allen (1 TD) hasn't managed to find the end zone nearly as often as teammates Tyrell Williams (5) and Mike Williams (5).
I highlighted Allen's potential for a second-half renaissance in Week 7 and again last week with some help from our Trends tool.
Keenan Allen 2H breakout incoming (per @FantasyLabsNFL trends tool)

Career in Sep-Oct: 15.3 DraftKings PPG, -0.5 Plus/Minus, 32% Consistency
Nov-Dec: 21.4 DraftKings PPG, +5.9 Plus/Minus, 56% Consistency

— Ian Hartitz (@Ihartitz) October 31, 2018
Allen got #ComebackSzn started in Week 9 by catching 6-of-10 targets for 124 scoreless-yards against the Seahawks and even pitched in 28 rushing yards on two carries. Allen leads the team in target share (28%) and air yard market share (29%) through nine weeks. He was one of only 13 receivers with a target share of at least 25% heading into Week 9.
Helping matters for Allen is a matchup against a Raiders secondary that he's made a habit of torching throughout his career:
The Chargers' entire passing game is set up well against the Raiders' bottom-two defense in Football Outsiders' overall and pass DVOA that doesn't feature a single cornerback graded higher than 50th by Pro Football Focus this season.
Rivers should have more than enough time to throw against Oakland's league-worst pass rush in adjusted sack rate, something he did with pleasure in Week 5:
@Chargers QB Philip Rivers shows @Raiders no respect today, mocking them here: "Nice defense, huh?" He then yells for all to hear which route he wants Virgil Green to run! pic.twitter.com/4WvevH18Tp

— Jon Becker (@JonBecker28) October 8, 2018
Tyrell is the better Williams to target this week, as his frequent downfield usage (team-high 11 deep-ball targets) could be put to good use against a Raiders defense that's allowed 35 passes of 20-plus yards this season, the third-highest mark in the league.
Mike has scored in consecutive weeks and could feasibly see an expanded role as the season continues, but he hasn't received more than four targets in a game since Week 3. Mike was out-snapped 18 to 15 by Travis Benjamin in the Chargers' Week 9 win over the Seahawks.
The Week 10 Shadow Club
Not many cornerbacks are consistently asked to travel with the opposition's No. 1 wide receiver, but we can expect at least eight cornerbacks to regularly line up across from their opponent's top receiver in Week 10 — including James Bradberry across from Antonio Brown in the Panthers-Steelers matchup on Thursday night.
Falcons WR Julio Jones vs. Browns CB Denzel Ward
Jones broke his career-long streak of 12 scoreless regular-season games last week by taking a screen 35 yards to the house against the Redskins.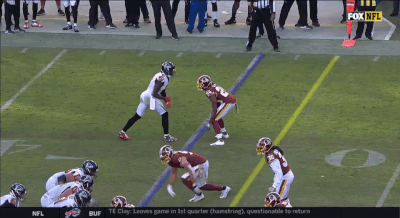 Still, as Chris Raybon and I discussed on The Action Network NFL Podcast, Jones continues to see virtually zero red-zone work, so an avalanche of touchdowns isn't necessarily around the corner for one of the league's best receivers.
The league's leader in air yards will continue to boast the position's highest-weekly ceiling, but Jones still has as many receptions in the red zone as I do after nine weeks.
Perhaps Jones' 6-foot-3, 220-pound frame will be put to better use against the 5-foot-11, 183-pounds Denzel Ward. The 2018 draft's No. 4 overall pick has earned PFF's No. 12 overall grade and held up admirably in shadow dates with John Brown (4-58-0) and Keenan Allen (4-62-0), but Antonio Brown (6-74-2) proved the rookie isn't a cornerback to shy away from in fantasy just yet.
Be sure to monitor our Injury Report for Ward's daily practice participation and eventual game status, as he played only eight snaps last week before exiting with a hip injury. No. 2 cornerback E.J. Gaines (concussion, IR) will miss the remainder of the season.
---
Bears WR Allen Robinson vs. Lions CB Darius Slay
Robinson has been dealing with a groin injury and hasn't played since Week 7. He wasn't exactly balling out prior to getting hurt, either. The Jaguars' former No. 1 receiver has averaged a career-low 11.4 yards per reception and has yet to surpass 83 receiving yards in a game.
Most concerning for Robinson has been his inability to separate and provide Mitchell Trubisky with a consistently-open target. Overall, A-Rob is one of only nine receivers averaging two or fewer yards of separation per target per Next-Gen Stats), and Trubisky has accordingly averaged only 5.47 adjusted yards per attempt when targeting Robinson.
Even if Robinson is able to suit up, he'll have his hands full with the Lions' first-team All-Pro cornerback.
Slay hasn't been afraid to chase the opponent's No. 1 receiver in the slot this season, and he's largely erased anybody and everybody who has stood in his path (with the exception of Davante Adams).
Here's every wide receiver Slay has shadowed in 2018:
---
Titans WR Corey Davis vs. Patriots CB Stephon Gilmore
Davis is the Titans' undisputed No. 1 pass-game target, and he joins DeAndre Hopkins (32%), Julio Jones (30%), Adam Thielen (29%) and Odell Beckham Jr. (29%) as the league's only wide receivers with a target share of at least 29%.
Of course, Davis' production hasn't been anything close to what the other receivers in that category have been able to accomplish. He's largely been shut down aside from balling out in Week 4 against the Eagles' porous cornerback group.
Davis vs. the Eagles: 15 targets, 9 receptions, 161 yards, 1 TD
Average in other 7 games: 7.3 targets, 3.9 receptions, 41.4 yards, 0 TD
Inconsistent play from Marcus Mariota and a tough cornerback schedule hasn't helped, but neither of those problems will be relieved for Week 10's battle against the Patriots.
Davis is expected to be shadowed by Gilmore, who is PFF's No. 5 overall cornerback this season for good reason.
Patriots CB Stephon Gilmore is BALLING this season

Week 1 DeAndre Hopkins: 8 receptions-78 yards-0 TD
Week 2 Donte Moncrief: 4-34-1
Week 3 Marvin Jones: 4-69-1
Week 6 Sammy Watkins: 2-18-0
Week 7 Allen Robinson: 1-4-0
Week 8 Kelvin Benjamin: 2-45-0
Week 9 Davante Adams: 6-40-1 pic.twitter.com/cgRJr08oJs

— Ian Hartitz (@Ihartitz) November 6, 2018
Taywan Taylor (foot) is far from 100%, and the Patriots' No. 2 corner Jason McCourty is PFF's ninth-ranked cornerback, anyway.
---
Buccaneers WR Mike Evans vs. Redskins CB Josh Norman
Evans had his lunch stolen by Bradberry last week, catching only 1-of-10 targets for 16 scoreless-yards. Still, the Panthers' 6-foot-1, 210-pound cornerback was better positioned than most to matchup against the Buccaneers' 6-foot-5, 230-pound No. 1 receiver.
We shouldn't let one bad week distract us from the fact that Evans has otherwise worked as one of the league's most-productive receivers this season:
18.45 PPR points per game (10th among all WRs)
147.6 total PPR points (12th)
786 receiving yards (5th)
1,118 air yards (4th)
4 TDs (T15th)
Evans is one of my top trade targets, and there's no reason why his resurgence can't come against Norman. The Redskins have finally allowed their high-priced cornerback to travel with the opponent's No. 1 receiver over the past two weeks, but that hasn't stopped Julio Jones (7-121-1) and Odell Beckham Jr. (8-136-0) from having big games.
Still, Evans and Norman have faced off on four previous occasions when Norman played for the Panthers, and Evan struggled to get much going.
The good news for Evans is that Ryan Fitzpatrick remains under center. Evans has posted an average 5-71-0.3 receiving line with Jameis Winston at quarterback compared to a 5.4-93-0.6 line with FitzMagic since 2017.
No. 2 Redskins cornerback Quinton Dunbar (leg) is still banged up, so DeSean Jackson, Adam Humphries and Chris Godwin are certainly in play against a secondary that doesn't currently feature a cornerback graded higher than 64th by PFF outside of Dunbar and Norman.
---
Jets WR Robby Anderson vs. Bills CB Tre'Davious White
Anderson was one of only two receivers who the Bills asked White to shadow last season, and they've been much more willing to deploy him against opponents' best receivers in 2018.
White deserves to have his name mentioned alongside the league's best corners, as he's largely erased the opposition's No. 1 outside receiver all season.
White is a baller, but Anderson did prove in 2017 that he's capable of creating big plays against the Bills' No. 1 cornerback.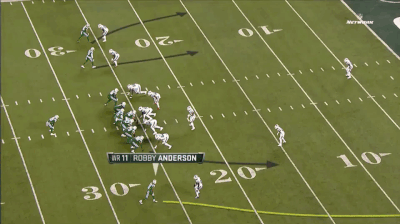 Anderson's field-stretching ability gives him a chance to win any matchup, though he's received a pedestrian 5.3 targets per game to work with this season.
Adding to Anderson's troubles is quarterback Sam Darnold, who has thrown for more than 230 yards only twice.
No one involved in the Jets' low-volume passing game is an intriguing play against the Bills' top-three ranked defense in overall and pass DVOA.
---
Colts WR T.Y. Hilton vs. Jaguars CB Jalen Ramsey
The Jaguars deployed Ramsey in shadow coverage against Hilton in each of the teams' matchups in 2017, and the Jaguars' No. 1 corner even spent an average of seven snaps in the slot.
Hilton was largely held in check during these matchups with Jacoby Brissett under center, although he did slip away for a 40-yard touchdown.
Hilton in Week 7 vs. Ramsey: 2 receptions-27 yards-0 TD (8 targets)
Hilton in Week 13 vs. Ramsey: 3 receptions-51 yards-1 TD (6 targets)
The Colts offense is certainly light years of anything we saw last season, and the unit is set up well against a banged-up Jaguars' secondary that could be without cornerbacks A.J. Bouye (calf), Tyler Patmon (neck) and D.J. Hayden (toe).
Still, Hilton will have to work for every last yard against Ramsey, who has fared well in his 10 career shadow dates:
This over/under has dropped to 47 points since opening at 47.5 (see live odds here).
---
Packers WR Davante Adams vs. Dolphins CB Xavien Howard
The Packers' ever-changing rotation at receiver should be a bit more clear this week after Geronimo Allison (core) was placed on Injured Reserve.
Marquez Valdes-Scantling and Randall Cobb will move forward as Aaron Rodgers' No. 2 and No. 3 targets, but it's largely been Adams and everybody else through nine weeks of action.
Packers 2018 WR production

Davante Adams: 87 targets, 58 receptions, 730 yards, 7 TD, 173 PPR
Cobb + Allison + MVS: 100 targets, 63 receptions, 919 yards, 5 TD, 182.9 PPR pic.twitter.com/mP73crMt5K

— Ian Hartitz (@Ihartitz) November 6, 2018
Adams doesn't have the week's easiest matchup against Howard, who has more interceptions (4) than touchdowns allowed (3) this season. Still, he's one of only 23 cornerbacks who have allowed more than 400 passing yards into his coverage.
With all due respect to Howard as a legit No. 1 cornerback, Rodgers' No. 1 wide receiver is 100% matchup proof.
Cobb should spend most of his time in the slot with talented rookie Minkah Fitzpatrick, so consider firing up MVS against Bobby McCain — PFF's No. 86 ranked cornerback this season.
---
Potential Non-Shadow Matchups
Saints CB Marshon Lattimore: The Saints haven't asked Lattimore to shadow in consecutive weeks after the team added Eli Apple before the trade deadline. The Saints' 29th-ranked pass defense isn't exactly a unit to fear, but they have allowed fewer than 23 points against every team other than the Rams, Falcons and Bucs. A.J. Green (toe) and John Ross (groin) are uncertain for Sunday, so the Saints could focus most of their efforts on slowing down Tyler Boyd. Still, Boyd is positioned to run the majority of his routes against slot corner P.J. Williams, who is PFF's No. 108 graded cornerback.
Cardinals CB Patrick Peterson: The Cardinals have only asked Peterson to shadow Stefon Diggs this season, although Tyreek Hill would certainly warrant that treatment. Sammy Watkins (foot, questionable) is also a candidate considering Hill has run 37% of his snaps from the slot this season. Matchups aren't particularly worrisome for anyone involved in the league's top-ranked scoring offense, although Hill's infamous home/away splits are just getting ridiculous at this point. Overall, TyFreak has scored 20 touchdowns in 20 career road games compared to eight touchdowns in 22 games at Arrowhead Stadium.
Chargers CB Casey Hayward: The Chargers have only sparingly used Hayward as a shadow cornerback this season, as he mostly stuck to the left side of the field in matchups against the Chiefs, Rams, 49ers and Seahawks. So basically against teams without a clearly-defined No. 1 outside receiver. This week's matchup against the Raiders presents a similar dilemma, although Jordy Nelson, Seth Roberts and Brandon LaFell shouldn't be confused with some of the aforementioned offenses. Nelson had nearly as many yards in Week 3 (173) as he has in the Raiders' other seven games games (180).
Rams CB Marcus Peters: The Rams have asked Peters to shadow in consecutive weeks … and PFF's 106th-ranked cornerback accordingly allowed Davante Adams (5-133-0) and Michael Thomas (12-211-1) to go off. Peters is one of only three corners who have allowed at least six touchdowns this season, one of which came at the hands of Tyler Lockett back when these teams first played in Week 5. Still, the Seahawks' pass-averse offense has featured similar target distribution between Doug Baldwin (17%), Lockett (15%) and David Moore (17%) since Baldwin returned in Week 4.
Cowboys CB Byron Jones: Only Zach Ertz (51) has been targeted more than Alshon Jeffery (44) since Jeffrey returned in Week 4. Still, Jeffery has remained somewhat touchdown-dependent, as he's cleared 100 yards just once in his past 35 games and is currently averaging a career-low 11.8 yards per reception. The Eagles' 6-foot-3, 218-pound receiver won't have his usual size advantage in Week 10 against the 6-foot-1, 200-pound Jones and the 6-foot, 202-pound Chidobe Awuzie. The good news is Jeffery should run roughly half his routes against Awuzie, PFF's No. 88-ranked cornerback.
49ers CB Richard Sherman: Sherman has rarely been asked to align anywhere other than left cornerback this season. PFF's No. 24 corner has largely exceeded expectations coming off surgery on both of his Achilles, but Odell Beckham Jr. is plenty capable of winning any and every matchup: Jalen Ramsey (11-111-0), James Bradberry (8-131-1) and Josh Norman (8-136-0) have all lost battles to OBJ this season. The Giants have certainly helped matters by aligning Beckham in the slot on 27% of his snaps. Sterling Shepard is also set up well against the 49ers' 24th-ranked scoring defense.
Giants CB Janoris Jenkins: Jenkins joins Peters and Malcolm Butler in the infamous six-plus touchdown club, and the Giants have accordingly not asked Jackrabbit to shadow since Week 4. The Giants are No. 2 cornerback B.W. Webb's fifth team since he joined the league in 2013, and he's been just as bad as Jenkins. Marquise Goodwin is plenty capable of winning either matchup thanks to his game-breaking speed, although rookie-sensation/international-superstar Nick Mullens targeted Pierre Garcon (5) and George Kittle (4) as much as Goodwin (5) last Thursday night.
Potential Plus Matchups
Saints WR Michael Thomas vs. Bengals
Thomas could be positioned for success against a banged-up Bengals defense dealing with injuries to cornerbacks Dre Kirkpatrick (Achilles) and Darqueze Dennard (shoulder) in addition to difference-making linebacker Vontaze Burfict (hip).
Thomas has run 27% of his routes from the slot this season, and primary slot receivers Adam Humphries (7-76-0), JuJu Smith-Schuster (7-111-0), Mohamed Sanu (6-111-0) and T.Y. Hilton (5-46-1) have had plenty of success against Cincinnati.
The Bengals utilized shadow coverage against the Buccaneers in Week 8 for the first time all season, and Thomas would certainly be another player worthy of the treatment. Thomas' 12-211-1 line against the Rams in Week 9 demonstrated his lofty ceiling to go with a floor that has featured at least five receptions in 33-of-41 career games.
Tre'Quan Smith remains a weekly boom-or-bust play with a team-high average target depth of 14.5 yards, but the Dez Bryant signing throws an outspoken wrench into the pecking order behind Thomas. The whole pass offense is set up well against a Bengals defense that has allowed a league-high 319.4 pass yards per game.
---
Browns WR Jarvis Landry vs. Falcons
Landry remains the Browns' undisputed No. 1 wide receiver, but the return of Rashard Higgins, the presence of Breshad Perriman and the usage of Duke Johnson in offensive coordinator Freddie Kitchen's debut adds some uncertainty to the situation.
Browns target distribution in first game post-Hue:

Duke Johnson 9 👀
Jarvis Landry 7
Breshad Perriman 6 (!?)
David Njoku 5
Antonio Callaway 5
Rashard Higgins 4
Damion Ratley 4

— Ian Hartitz (@Ihartitz) November 4, 2018
The Falcons have allowed the fifth-most DraftKings points per game to opposing wide receiver units this season and have been particularly weak in the slot. Landry's $6,200 price tag on DraftKings is his lowest since Week 1, and he carries a strong +3.5 Projected Plus/Minus in our Pro Models.
---
Redskins WRs Josh Doctson and Maurice Harris vs. Buccaneers
The Buccaneers join the Saints as the league's bottom-two defenses in DraftKings points allowed per game to opposing wide receiver units, but it remains to be seen how the Redskins plan on giving Alex Smith enough time to throw against the Bucs' 13th-ranked defensive line in adjusted sack rate.
Washington Redskins offensive line …

LT Trent Williams (thumb) expected to miss one month
LG Shawn Lauvao (torn ACL) on IR
C Chase Roullier is PFF's No. 24 center out of 35 qualified players
RG Brandon Scherff (torn pec) on IR
RT Morgan Moses (knee) questionable for Sunday

— Ian Hartitz (@Ihartitz) November 6, 2018
Paul Richardson (shoulder, IR) is done for the season, so Doctson and Harris join tight Jordan Reed as the pass game's top-three options as long as Chris Thompson (ribs) remains sidelined.
The Redskins might just be the NFL's most-injured team as we enter the second half of the season.
Harris is again set up well after last week's 10-124-0 explosion, as he should run the majority of his routes against slot corner liability M.J. Stewart. Doctson hasn't cleared 50 yards or seen eight targets in a game all season.
---
Cowboys WRs Amari Cooper, Cole Beasley and Michael Gallup vs. Eagles
Cooper's debut went about as well as could be expected (aside from the scoreboard). He converted a team-high eight targets into a solid 5-58-1 line. Even more encouraging was his fantasy-friendly usage as Dak Prescott fed Cooper as many targets inside the 10-yard line (2) as former-No. 1 receiver Cole Beasley saw in Weeks 1-8 combined (2).
Up next for the Cowboys' passing "attack" is a great matchup against the Eagles' injury-riddled secondary. Cornerbacks Sidney Jones (hamstring) and Jalen Mills (foot) are uncertain for Sunday. They've also allowed an absurd 93.7 yards per game to opposing No. 1 wide receivers this season.
Still, Prescott's trouble handling pressure and history against the Eagles doesn't bode well for the Cowboys' passing game. Overall, Prescott has completed only 54% of his passes while averaging six yards per attempt with a 3-to-4 touchdown-to-interception ratio in four career games against Philadelphia.
---
Potential Minus Matchups
Lions WRs Marvin Jones and Kenny Golladay vs. Bears
The Lions' decision to trade Golden Tate was indicative of their confidence in Jones and Golladay, but the pair of outside receivers combined to covert 12 targets into only 112 scoreless-yards in their Week 9 loss to the Vikings.
Still, it would behoove Stafford to feed the most-efficient targets of his career moving forward:
Matthew Stafford has easily been at his best when targeting Kenny Golladay and Marvin Jones during his career (min. 50 targets) pic.twitter.com/Ot5wY3O3Ss

— Ian Hartitz (@Ihartitz) November 6, 2018
Theo Riddick saw an enhanced slot role in the offense's first game without Tate, but the offense's big plays should continue to flow through the outside. Both Jones (37%) and Golladay (27%) have received more than 25% of the Lions' air yard market share this season, but they've somehow combined for five games with fewer than five targets over the past four weeks.
In addition to potential volume concerns, the whole Lions' passing game will have its hands full with the Bears' top-ranked defense in overall DVOA that features three of PFF's top-25 cornerbacks this season.
---
Cardinals WRs Larry Fitzgerald and Christian Kirk vs. Chiefs
The Cardinals managed to defeat the 49ers in offensive coordinator Byron Leftwich's first week calling plays. The performance perhaps revealed Josh Rosen's pecking order moving forward.
Larry Fitzgerald: 12 targets
Christian Kirk: 7 targets
David Johnson: 4 targets
Ricky Seals-Jones: 4 targets
The only problem this week is a road trip against the Chiefs' run funnel defense that ranks 14th in DVOA against the pass and dead last against the run. Be sure to monitor our Injury Report for the eventual statuses of left guard Jeremy Vujnovich (hamstring) and right guard Justin Pugh (hand).
The Cardinals will need all the help they can get to put up points in Arrowhead:
Chiefs defense on the road since 2015: 23.5 PPG, 269.3 pass yards
At home: 16.7 PPG, 227 pass yards
---
Patriots WRs Josh Gordon, Julian Edelman and Chris Hogan vs. Titans
Edelman and Hogan are expected to run the majority of their routes against Logan Ryan and Adoree' Jackson, PFF's No. 29 and No. 16 ranked cornerbacks, respectively.
Add in a hobbled Rob Gronkowski (back) and a road date with the Titans' top-ranked scoring defense, and it's tough to call this an easy matchup for anyone involved … with the exception of Gordon. The Patriots' No. 1 outside receiver is expected to spend most of his afternoon across from weekly-burn victim Malcolm Butler. Overall, opposing quarterbacks have completed 39-of-54 passes into Butler's coverage for a league-high 618 yards and seven (!) scores.
Gordon still hasn't exactly displayed the same game-breaking ability we saw in 2013, but he's now topped 100 receiving yards in two of his past three games. The Patriots are implied to score a solid 26.5 points.
---
Be sure to check out FantasyLabs' industry-leading NFL News and Models, along with the Multi-Lineup Builder, Stack Builder, ownership projections and more. Other tools for the 2018 season are also available, including the Matchups page, DFS Contests Dashboard, NFL Ownership page and NFL Correlations page.
Pictured above: T.Y. Hilton, Jalen Ramsey
Credit: Kirby Lee-USA TODAY Sports