It's time for Week 4 in the Alliance of American Football league. Each glorious weekend of action has gifted us at least one viral moment so far, including:
For now, we'll focus on the on-field product in an attempt to find some value with the odds. What follows is a preview of all four games featuring betting odds, trends, key matchups, injuries, daily fantasy edge and betting pick(s).
And if that's not enough, we also have this lineup of comprehensive coverage:
Now let's dig into this weekend's games.
---
Spread: San Diego -6.5
Over/Under: 39.5
Time: 4 p.m. ET on Saturday
TV: B/R Live
Betting market: There's been movement on the spread and the over/under, as San Diego opened as a -5.5 favorite with a total of 41 points.
The public apparently doesn't think Zach Mettenberger will prove to be much of an upgrade over whatever the hell the Christian Hackenberg experience was supposed to be.
Week 3 Takeaways
San Diego's 31-11 Win Over San Antonio
Philip Nelson is entrenched as the Fleet's starting quarterback and had his finest performance in last week's win. He rebounded brilliantly after throwing an interception on the game's first play to complete 17-of-25 passes (68%) for 193 yards (7.7 yard per attempt) and a pair of touchdowns.
San Diego was the only team to utilize only two running backs in Week 3. Terrell Watson and Ja'Quan Gardner racked up double-digit touches for the second time in as many weeks, though Watson (60% snaps) was the offense's preferred goal-line and two-point conversion back over Gardner (40%).
Nelson Spruce has emerged as the clear-cut No. 1 receiver for the Fleet. Brian Brown and tight end Gavin Escobar were the only other receivers to play at least 65% of the offense's snaps in Week 3, as Francis Owusu and Dontez Ford played just 22% and 40% of the offense's snaps, respectively. Spruce is one of only seven receivers with at least 25% of his team's air yard market share (per NoExtraPoints.com).
Memphis' 21-17 Loss to Orlando
Zac Stacy keeps racking up touches despite Sherman Badie and Terrence Magee continuing to stay involved. Overall, Stacy (49% snaps) was one of only two lead backs who failed to play at least half of their offense's snaps in Week 3. Still, his 50 touches are more than any AAF player outside of Birmingham can attest to having through three weeks.
Reece Horn and Gerrard Sheppard led the way by playing 97% and 72% of the offense's snaps, respectively. Alton Howard and Devin Lucien played just 56% and 38% of the offense's snaps, while Dontez Byrd and tight end Brandon Barnes posted respective snap rates of 23% and 66%.
Mettenberger had only 12 pass attempts, but he managed to throw more touchdowns (2) than Hackenberg managed in 63 attempts (0). The former LSU quarterback's ability to consistently dice up the Orlando defense downfield was particularly impressive.
Imagine starting Christian Hackenberg over Zach Mettenberger pic.twitter.com/KG21axjO0M

— Ian Hartitz (@Ihartitz) February 25, 2019
Which team is healthier? Memphis
Both teams are in solid shape after three weeks of action.
San Diego's only concerns are difference-making linebacker A.J. Tarpley (back), stud defensive end Damontre Moore (knee) and cornerback Jude Adjei-Barimah (wrist), who each failed to practice to start the week.
Memphis' only players to not practice in full to start the week was Stacy (illness), defensive tackle Julius Warmsley (ankle) and swing tackle Christian Morris (knee). It would be a surprise if Stacy is ultimately unable to suit up.
Key matchup: Memphis' Offensive Line vs. San Diego's Pass Rush
Mettenberger was pressured on 6-of-13 (46%) dropbacks during his season debut. This isn't exactly unusual for the Express, as they're tied with the Iron for the highest pressure rate allowed on offense (38.7%) after three weeks.
Next up is San Diego's league-best defense in pressure rate per dropback. The Fleet's 54.5% pressure rate is well-above the Commanders' second-place mark of 49%, as Damontre Moore (No. 4 in Pro Football Focus' pass-rushing productivity metric) and Shakir Soto (No. 5) have each consistently made life rough on opposing signal callers.
Damontre Moore played with the Giants, Dolphins, Seahawks, Cowboys and Raiders from 2013-2018.

Now Moore is the best pass rusher in @TheAAF with league-high marks in sacks (3) and pressures (15). pic.twitter.com/St8XBOWdBT

— Ian Hartitz (@Ihartitz) February 18, 2019
DFS edge: San Diego RBs
Memphis has allowed the second-most yards per carry and joins Atlanta as the only units to allow more than 30 fantasy points per game to opposing backfields.
Gardner ($7,000) and Watson ($4,900) are set up brilliantly in this matchup, so why not play them both!? The AAF's version of Alvin Kamara and Mark Ingram have each racked up double-digit touches in consecutive weeks and currently function as the only two-back committee in the league.
The Fleet are averaging an astronomical 6.3 yards per carry this season and have been plenty content to ram the ball down their opponent's throats since turning the offense over to Nelson over the past two weeks.
Take advantage of the league's clearest defined backfield outside of Birmingham before Watson's price inevitably rises.
Bet to watch: Memphis +6.5
Mettenberger played like a top three quarterback during his 30 minutes of action in Week 3 and managed to out-score the consensus top three team in the league. I'll take the points and continue to ride what's been a strong home field advantage to start the season.
AAF home field advantage after three weeks:

Home teams straight up: 9-3
Against the spread: 8-4
Average home points: 24.1
Average away points: 15.3

— Ian Hartitz (@Ihartitz) February 25, 2019
Spread: Orlando -4.5
Over/Under: 41
Time: 8 p.m. ET on Saturday
TV: NFL Network
Betting market: The Apollos are receiving just 4.5 points against the Stallions, who managed to outscore Arizona by five points during their six quarters with Josh Woodrum under center.
The over/under has dropped by 1.5 points since opening at 42.5.
Week 3 Takeaways
Orlando's 21-17 Win Over Memphis
Garrett Gilbert has worked as the AAF's best quarterback since pretty much the first play of Week 1. He ranks third and first in yards per attempt on 20-plus yard throws and play-action passes, respectively. This willingness to attack every inch of the field in Steve Spurrier's Sun 'N' Gun offense has helped Orlando easily stand out as the league's most-productive offense after three weeks of action.
D'Ernest Johnson has overtaken Akeem Hunt as the lead man in Orlando's backfield. Johnson (54% snaps) was one of only six running backs in Week 3 to play more than half of their offense's snaps. And while De'Veon Smith remains plenty involved as a short-yardage specialist and early-down grinder, Spurrier indicated after the Apollos' Week 3 win that Johnson had played well enough to keep the starting job.
The Apollos have one of the league's clearest defined pecking orders at wide receiver. Neither Jalin Marshall nor Charles Johnson missed a snap last week, while Rannell Hall played 64% of the snaps compared to measly 5% rate for Chris Thompson. Thompson (No. 2), Johnson (No. 5), Marshall (No. 16) and Hall (No. 24) rank among PFF's top-25 receivers in yards per route run this season.
Salt Lake's 23-15 Win Over Arizona
The Stallions have out-scored their opponent (Arizona) by five points in six quarters with Woodrum on the field this season. They're certainly capable of continuing to win games with steady quarterback play and a strong run game and defense, but there won't be much big-play upside in the Salt Lake passing game as long as Woodrum continues to not test defenses downfield.
Branden Oliver continues to work ahead of Joel Bouagnon, though both have received plenty of work in Salt Lake's run-heavy offense. Terrell Newby was also involved in Week 3 and threatens to steal receiving work from both backs. Only the Express (48% pass-play rate) and Hotshots (50%) have run the ball more than the Stallions (53%) have.
The passing game benefited from the return of wide receivers Kenny Bell and Kaelin Clay. De'Mornay Pierson-El has worked as the offense's No. 1 receiver in terms of targets, but he played only 49% of the snaps in Week 3 and is being used strictly as a slot receiver.
Which team is healthier? Orlando
The only player on the Apollos' injury report is outside linebacker Ryan Davis (head/neck), who was unable to practice Wednesday.
The Stallions have a few more concerns to worry about. Starting right guard Ryan Cummings (leg), right tackle Nick Callender (knee) and tight end Anthony Denham (leg) were unable to practice on Wednesday while wide receiver Jordan Leslie (hamstring) was limited after failing to suit up last week.
Key matchup: Salt Lake WRs vs. Orlando CBs
Woodrum has the league's quickest average release time by a whopping 0.33 seconds. He's been at his best when getting the ball out quickly, ranking third and fourth in quarterback rating and completion rate, respectively, when getting the ball out in 2.5 seconds or faster.
Salt Lake's offense runs into problems when Woodrum is forced to hold onto the ball. Only Christian Hackenberg has a lower passer rating than Woodrum does when taking 2.5 seconds or longer to throw, so Orlando's ability to take away his initial read will be crucial.
The Apollos' seventh-ranked pass rush in pressure rate per dropback isn't ideal for screwing with a quarterback's timing, but their cornerbacks might be good enough to make up for the lack of disruption in the trenches.
Keith Reaser: PFF's No. 1 cornerback among 31 qualified players
Cody Riggs: PFF's No. 3 cornerback
Marquez White: PFF's No. 13 cornerback
DFS edge: D'Ernest Johnson
Salt Lake's defense has been solid all season, but there's a distinct possibility that Orlando's offense offense is simply in a different stratosphere compared to every other team.
Rostering the starting running back of the league's clear-cut No. 1 offense is typically a solid move in daily fantasy, which can be had for the low price of $5,500 this week.
Johnson has been the Apollos' best back all season and is their confirmed Week 4 starter. This role produced a 54% snap rate and 16 combined rushes and targets in Week 3 — each of which were the fourth-highest marks among all running backs.
Top AAF running backs in opportunities per dollar on @Fanball …

1. Branden Oliver (18 carries and targets in Week 3, $5,300 Week 4 salary)
2. D'Ernest Johnson (16, $5,500)
3. Zac Stacy (18, $6,200)
4. Trent Richardson (22, $7,600)
5. Terrell Watson (14, $4,900)

— Ian Hartitz (@Ihartitz) February 27, 2019
Fantasy-friendly touches should continue to flow to the starting running back of the league's best offense, and Johnson has also demonstrated plus-receiving ability that has slate-winning ability.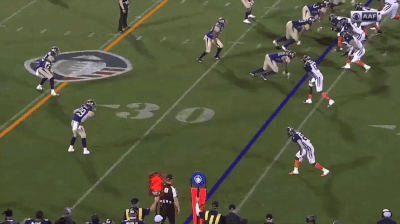 Bet to watch: Orlando -4.5
I really wanted to take Salt Lake because of how much better the Stallions have played with Woodrum under center. Orlando's schedule has also been cake so far.
Still, there's a real possibility this Apollos offense is on an entirely different level than the rest of the league, so I'm fine with backing Spurrier and Co. at anything up to a touchdown.
---
Spread: Birmingham -7.5
Over/Under: 36.5
Time: 4 p.m. ET on Sunday
TV: CBS Sports Network
Betting market: There's already been some line movement, as the Iron opened as 7-point favorites and have climbed to as high as -8.5 at some books.
Meanwhile, the over/under has been in a free fall since opening at 37.5 points.
Week 3 Takeaways
San Antonio's 31-11 Loss Against San Diego
Logan Woodside has the worst quarterback rating and the worst completion rate among starters. Marquise Williams has only attempted eight passes for the Commanders, but he was good enough to keep Mitchell Trubisky sidelined at North Carolina for two seasons. Head coach Mike Riley has already indicated that Woodside will again start under center instead of Williams.
Kenneth Farrow seemed to be entrenched as the Commanders' lead back entering Week 3, but Trey Williams emerged as the offense's only path to production in the second half of his debut. Williams out-touched Farrow 8-to-4 in the second half of San Antonio's loss and was easily the offense's most efficient back. David Cobb also remained involved, as this was one of only two backfields in Week 3 without a running back with a snap rate of at least 50%.
Mekale McKay is locked in as San Antonio's No. 1 receiver, leads the league with a 24.3% target share and is one of only four receivers with more than 300 air yards. Greg Ward and De'Marcus Ayers fill out 3-WR sets, while tight end Evan Rodriguez is more of an H-back and has been featured near the end zone. Ward in particular seems poised for positive regression after he scored two touchdowns last week … but one was overturned by penalty and the other by review.
Birmingham's 28-12 Win Over Atlanta
Luis Perez boasts bottom five marks among quarterbacks in yards per attempt, quarterback rating and completion rate. Birmingham is the league's only offense without a passing touchdown through three weeks. Perez deserves some slack, though, considering the Iron also lead the league in dropped passes (10). San Antonio's seventh-ranked scoring defense is as good a chance as ever for Perez and the pass game to get on track.
Trent Richardson is literally the AAF's only bell-cow back. This has helped him rack up six touchdowns through three games, but T-Rich has struggled mightily to establish any sort of consistency on the ground. His average of 2.5 yards per carry trails what he managed at Alabama (5.8) and with the Browns (3.5) and Colts (3.1).
Quinton Patton leads the league in air yards and is one of just five wide receivers with a target share of at least 20%. L'Damian Washington was the only other Birmingham receiver to play even 40% of the offense's snaps in Week 3.
Which team is healthier? San Antonio
The Commanders aren't dealing with any significant injuries. Only defensive tackle Matt Godin (head) and starting right guard Fred Lauina (ankle) failed to practice in full to start the week.
Meanwhile, the Iron continue to deal with multiple injuries to their receiving corps.
Neither Amba Etta-Tawo (knee) nor L'Damian Washington (groin) managed to practice on Wednesday, and Quan Bray (rib) was placed on the injured reserve list. Cornerback Trovon Reed (ankle), outside linebacker Xzavier Dickson and starting center J.C. Hassenauer (knee) were also sidelined to start the week. Tight end Busta Anderson (hamstring) and edge defender Jonathan Massaquoi (neck) were at least limited.
Key matchup: San Antonio's Front Seven vs. Birmingham's Run Game
Birmingham is averaging a league-low 2.6 yards per carry while San Antonio has allowed a league-high 6.2 yards per carry.
Something has to give.
Of course, last week's matchup against Atlanta also appeared to set up T-Rich brilliantly … before he managed only 46 yards on 17 carries (2.7 yards per carry).
San Antonio has struggled to slow down any running back they've faced this season.
Week 3: Ja'Quan Gardner 12 carries-122 yards-1 TD (10.2 YPC)
Week 3: Terrell Watson 13-73-0 (5.6)
Week 2: D'Ernest Johnson 8-57-0 (7.1)
Week 2: De'Veon Smith 4-4-1 (1)
Week 1: Gardner 8-55-0 (6.9)
Week 1: Watson 3-10-0 (3.3)
DFS edge: Quinton Patton
Patton (20.4% target share) joins Seantavius Jones (20.2%), Charles Johnson (23.8%), Mekale McKay (24.3%) and Rashad Ross (22.2%) as the league's only receivers with more than 20% of their offense's target share.
A closer look at his competition reveals Birmingham's depth chart at receiver is particularly thin:
Jones played only 65% of the offense's snaps this week and has converted his 22 targets into just 138 yards.
Johnson is locked in as Orlando's No. 1 receiver, but Jalin Marshall is certainly capable of stealing his thunder during any given week with a 100% snap rate.
McKay is the current league leader in targets, but each of Greg Ward Jr. and De'Marcus Ayers have also proven capable of earning additional looks.
Ross is tied with Johnson for the fewest total targets of the group with 20 and also has a competent No. 2 receiver on the depth chart in Josh Huff.
Meanwhile, the Iron's aforementioned injury questions could leave Patton as the offense's only wide receiver who played more than even 40% of the team's snaps last week.
If 100% exposure to Quinton Patton is wrong I don't want to be right pic.twitter.com/ASm6cYE2EK

— Ian Hartitz (@Ihartitz) February 23, 2019
Perez has already showed an affinity for feeding his No. 1 receiver, and now he really doesn't have another choice in a matchup against the league's worst secondary.
Bet to watch: Birmingham -7.5
I'm as skeptical of Birmingham's early-season success as the next guy. But the Iron's defense (particularly the secondary) seems legit while the Commanders' defense is bad enough to make even Birmingham's inefficient unit average for 60 minutes.
---
>> Sign up for The Action Network's daily newsletter to get the smartest conversation delivered into your inbox each morning.
---
Spread: Arizona -14
Over/Under: 41.5
Time: 8 p.m. ET on Sunday
TV: NFL Network
Betting market: The Hotshots opened as 13.5-point favorites, but they're on the rise already.
The over/under has dropped since opening at 41.5, but any news on Arizona quarterback John Wolford (strained back) could be crucial to both the spread and total.
Week 3 Takeaways
Atlanta's 28-12 Loss Against Birmingham
Matt Simms wasn't terrible in Week 3, but the league's worst offense didn't do him any favors with a seemingly never-ending supply of back-breaking drops. It remains to be seen whether the Legends will even pretend to have a run game moving forward: They boast a league-high 65% pass-play rate after three weeks. No other offense is higher than even 56%.
Denard Robinson was surprisingly one of just six running backs that played at least 50% of their offense's Week 3 snaps just a week after being a healthy scratch. Shoeless could see reduced snaps due to his general ineffectiveness and brutal end-zone drop, but none of Lawrence Pittman, Akrum Wadley nor Tarean Folston (inactive Week 3) have done much to warrant additional touches.
Seantavius Jones joins the fab-five AAF receivers with a target market share of at least 20.2% as well as the fantastic-four players that have at least 300 air yards. No. 2 receiver Malachi Jones boasts a 12.8% target share this season and played 53% of the offense's snaps last week. Seantavius has easily shown the most big-play ability in this offense and helped convert the league's first successful "onside kick".
Arizona's 23-15 Loss Against Salt Lake
It's #WolfordWatch time in Arizona. Wolford was unable to return after the first play of the second half in Week 3 due to a strained back. Trevor Knight didn't put up great statistics in relief, but his willingness to throw the deep ball could produce some fan-friendly offense when paired with the 96th-percentile SPARQ-x athlete's rushing ability.
Jhurell Pressley racked up a combined 14 carries and targets while leading the way with a 51% snap rate in Week 3. Neither Justin Stockton nor Week 2 hero Tim Cook have significant roles, but it seems unlikely that any single back winds up with a consistent three-down workload.
Rashad Ross has caught 15-of-20 targets for 221 yards and four touchdowns. Josh Huff also offers weekly upside, especially while Richard Mullaney remains sidelined with a knee injury. Ross has received an incredibly fantasy-friendly workload as the offense's featured deep ball and red-zone target and is locked in as a top three overall receiver.
Rashad Ross has been targeted 20 times this season

Incomplete passes: 5
Touchdowns: 4
Swaggy celebrations: ~10 pic.twitter.com/KnYOhJuA4W

— Ian Hartitz (@Ihartitz) February 27, 2019
Which team is healthier? Atlanta
The most significant injury to watch this week is Wolford (strained back), who managed to practice on Wednesday and is considered day-to-day.
Arizona also hopes to have defensive back SaQuan Edwards (hamstring), but stud linebacker Steven Johnson (hamstring) is considered "questionable at best." Wide receiver Richard Mullaney (knee) reportedly "seems likely" to miss this week's game.
Atlanta is believed to be near full health with the exception of right tackle John Kling IV (ankle), who was placed on the injured reserve list. Additionally, the Legends signed running back Brandon Radcliff due to reported injuries to both Akrum Wadley and Tarean Folston.
Key matchup: Arizona's WRs vs. Atlanta's CBs
The Hotshots have averaged a strong 7.7 yards per attempt through the air, a mark that only trails the Apollos (10.1). Meanwhile, the Legends currently employs four of PFF's bottom 12 cornerbacks in passer rating allowed this season.
Ross and Huff boast enough talent and route-running ability to make life tough on any AAF secondary, let alone what could be the league's weakest crop of cornerbacks.
Their ability to dominate this matchup would make life significantly easier on Knight if Wolford is ultimately unable to suit up.
DFS edge: Arizona Quarterback
Wolford is pretty much the league's consensus No. 2 quarterback and is facing the undisputed worst team in the AAF. Yet his $5,700 price tag is just the sixth-highest salary among quarterbacks.
Knight is even lower at $5,300, giving us a prime opportunity to roster the signal caller of a top offense facing the league's worst defense in points allowed per game.
Here's what Wolford said about his status on Wednesday: "Not 100% yet but hoping to be 100% by the end of the week … just a strain. My back locked up. Nothing serious. X-rays came back negative."
He certainly looked ready to go in practice.
Quarterback John Wolford, who left Saturday's game after a hard hit to his back, is looking sharp in today's @aafhotshots practice. pic.twitter.com/XqgXTIizOE

— José M. Romero (@RomeroJoseM) February 27, 2019
Bet to watch: Arizona -14
We've seen the biggest mismatch of the week yield spreads up to 16 points in past weeks, so I'm happy to lock in Arizona at a reasonable cost against easily the worst team in the AAF.