We're on to Week 6 of the Alliance of American Football league, which means we once again have the luxury of competing in the glorious pastime known as daily fantasy football.
Here's this weekend's four-game slate:
Memphis Express at Salt Lake Stallions (-8): Saturday at 4 p.m. ET on B/R Live
Arizona Hotshots at Orlando Apollos (-9): Saturday at 8 p.m. ET on NFL Network
San Antonio Commanders at Atlanta Legends (-1.5): Sunday at 4 p.m. ET on CBS Sports Network
Birmingham Iron at San Diego Fleet (-6): Sunday at 8 p.m. ET on NFL Network
FanBall offers daily fantasy contests featuring six-player lineups with a $35,000 salary cap with one quarterback, one running back, one wide receiver and three flex players (running back, wide receiver or tight end). Scoring is pretty much the industry-wide point-per-reception format with multi-point bonuses for clearing 100, 150 and 200 rushing or receiving yards and 300, 350 and 400 passing yards.
And if you're looking for more in-depth analysis, we have you covered with all the AAF content your heart could desire:
Be sure to check out this week's betting guide later in the week for specific Week 5 takeaways along with relevant matchup and injury notes.
Here's a key to the table below that features the following information for every player included in our FantasyLabs AAF Fantasy Rankings.
Personal: Player name, team, opponent, position and FanBall salary.
Salary Diff: The difference between each player's Week 6 and Week 5 salaries. A positive number means the player's salary has increased since last week.
Workload: Pass attempts, carries and targets per game.
Week 4 snap %: Each player's respective percentage of snaps played on offense.
Opportunity per dollar: The sum of each player's average pass attempts and rush attempts (for quarterbacks) or carries and targets (for running backs and wide receivers) per game divided by their FanBall salary. A higher number indicates that player has earned an above-average workload relative to their price tag, while a low number could mean that specific player might need a huge game to meet their salary-implied expectation.
Week 6 FantasyLabs AAF Model and Roster Construction Notes
Quarterback
Mike Bercovici played light years better in the Fleet's Week 5 victory than he did in his porous Week 1 debut. While his 51.2% completion rate wasn't ideal, his willingness to push the ball downfield still helped him throw for 304 yards and a touchdown. This week's matchup against Birmingham's league-best secondary in yards allowed per attempt is far from ideal, but his reduced price tag still makes him a viable DFS salary-saving option.
Keith Price took over for Luis Perez in Week 5 and never looked back. Overall, the Iron's probable new starting quarterback completed 18-of-29 (62.1%) passes for 234 yards (8.1 yards per attempt) and a touchdown. Here's what head coach Tim Lewis said after the game: "We'll continue to work the way we've been working, but with an added emphasis on 'he who moves it gets to stay in' … I'm all about that. I'm all about when you have your opportunity, if it moves, you get to stay at the helm, and I'm OK with that." There's a little bit of risk with assuming Price will play the whole game in Week 6, but he's cheap, and we have roughly five games of evidence that Perez is incapable of consistently moving the Birmingham offense.
Logan Woodside has played 100% of the Commanders snaps over the past two weeks and appears to have fully seized the starting job over Marquise Williams. Woodside's salary remains reasonable and he's coming off a game in which he set season-high marks in completion rate (78%), yards (290), yards per attempt (10.7) and touchdowns (2). Woodside had a quarterback rating of 120.7 in Week 5 after failing to clear even 70 in Weeks 1-4. Still, I'm a bit hesitant to chase his season-best performance in DFS against a solid Atlanta secondary. Also note that the Commanders will be playing their fourth (!!!) consecutive road game this week.
Josh Woodrum had an up-and-down Week 5 on his way to setting season-high marks in yards (380), yards per attempt (7.9) and … interceptions (3). Salt Lake asked Woodrum to drop back 51 times after not clearing even 35 pass plays in Weeks 1-4, although it's unclear if this was more of a result of game flow or starting running back Branden Oliver being placed on the injured reserve list. He offers arguably as much upside as any quarterback under $6,000 in a prime matchup against a Memphis defense that joins San Antonio as the only units to allow more than seven yards per attempt.
John Wolford threw three interceptions in Week 5, two of which were definitely his fault. He did nearly rally the Hotshots back in the second half and finished with a respectable 7.5 yards per attempt while throwing for two touchdowns. Still, the Hotshots have hardly resembled the same explosive pass offense in recent weeks that they looked like during Weeks 1-2. I don't like their chances of getting back on track in a tough matchup against the Apollos' second-ranked secondary in yards allowed per attempt. Orlando has four of Pro Football Focus' top-12 highest-graded cornerbacks in Keith Reaser (No. 1), Cody Riggs (No. 2), LaDarius Gunter (No. 10) and Deji Olatoye (No. 11).
Garrett Gilbert has crossed the $7,000 threshold after yet another solid performance during the Apollos' Week 5 blowout win against Birmingham and the league's best secondary. Woodside and the Commanders had no issues slicing through the Hotshots' coverage last week, and the Gilbert-Charles Johnson stack remains the highest-projected quarterback-wide receiver combination.
Zach Mettenberger has shown off his big and accurate arm under center while also being a willing rusher near the goal line. Still, head coach Mike Singletary seems to have his heart set on utilizing a run-first offense with Zac Stacy. It's going to be tough for Mettenberger to ever clear 200 passing yards in a game if he continues to receive so few opportunities to throw. He's attempted just 17, 25 and 12 passes during his 2.5 games worth of action.
Aaron Murray has played exceptionally well during his first two starts, regularly completing passes down the field into tight windows. The Legends have scored 37 combined points during his two starts compared to just 30 total points in Weeks 1-3. He's set up well in Week 6 against a San Antonio secondary that's allowed a league-worst 7.98 yards per attempt and 255.6 yards per game through the air. The only negative is his fairly massive $700 increase in salary.
Aaron Murray is throwing some dimes!@TheAAF game play has been 🔥🔥🔥 now that every team seemingly has a competent quarterbackpic.twitter.com/srBhcJDzSW

— Ian Hartitz (@Ihartitz) March 10, 2019
Running Back
Seven running backs had a salary decrease of at least $500: Akeem Hunt, Kenneth Farrow, Ja'Quan Gardner, Denard Robinson, Brandon Ross, Terrell Watson and Jhurell Pressley. Among those backs, Watson (47% snaps in Week 5) and Pressley (56%) seem like the best bets to continue to see their usual workloads moving forward. Note that Hunt was injured and didn't suit up last week.
Five running backs have had a salary increase of at least $500: Tarean Folston, Joel Bouagnon, Bishop Sankey, D'Ernest Johnson and De'Veon Smith. All were warranted, but Johnson's and Smith's respective bumps in workload increase could quickly evaporate if Hunt manages to return in Week 6.
There are a couple situations that will feature new running backs. Salt Lake has placed little-used Matt Asiata on IR, adding both Terry Swanson and Terron Ward. Meanwhile, Birmingham waived scat back Ladarius Perkins in favor of Marshaun Coprich. It's unclear whether these new backs will even be active in Week 6, but Bouagnon, Terrell Newby, Trent Richardson and Brandon Ross are seemingly set for additional snaps.
Only Richardson (5.2 targets per game) and Folston (4) have surpassed even three targets per game. Both rank among the week's top-nine values, indicating their high-priced salaries might still be a bit too cheap.
Only Richardson (59% snaps), Zac Stacy (59%), Bouagnon (59%), Pressley (56%) and Johnson (55%) managed to play at least half of their offense's snaps last week. Watson (47%) and Gardner (38%) in San Diego, Folston (46%) and Brandon Radcliff (35%) in Atlanta, as well as Farrow (44%), Green (28%) and Trey Williams (28%) in San Antonio appear to be locked into multi-back committees.
Richardson (20.2 combined targets and carries) joins Stacy (17), Farrow (16.8) and Pressley (15.2) as the only backs averaging at least 15 opportunities per game.
The highest-valued backs in opportunities per dollar are (in order): Radcliff, Pressley, Farrow, Richardson, Stacy, Gardner, Green, and Tim Cook. I believe Pressley is the best play on the board this week due to his extreme price drop, consistently high snap rate and his ability to contribute in both the pass and run game.
Wide Receiver
There are six clear-cut No. 1 receivers. Charles Johnson (8 targets per game), Quinton Patton (7.4), Mekale McKay (7), Rashad Ross (6.6), Seantavius Jones (6) and De'Mornay Pierson-El (6) are the league's only players averaging at least six targets per game after five weeks.
This leaves San Diego and Memphis as the only teams without a featured receiver. The Fleet feature Nelson Spruce (5.6 targets per game), Brian Brown (5.2) and Dontez Ford (4.4) in 3-WR sets. The Express have rolled with Reece Horn (4.4), Alton Howard (4.2) and Devin Lucien (2.7) in their run-first offense.
Jalin Marshall (89% snap rate in Week 5), Kenny Bell (87%) and Freddie Martino (84%) are the only other receivers wo haven't been mentioned that played at least 75% of their offense's snaps last week, while L'Damian Washington (5.3 targets per game) and Greg Ward Jr. (5) are also in play thanks to their respective consistent volume.
Five wide receivers experienced a salary increase of at least $500: McKay, S. Jones, Pierson-El, Bug Howard and  Tobias Palmer. The former three receivers seem to be better positioned to maintain their targets entering Week 6.
Six wide receivers had their salary decrease by at least $500: Bell, Ward Jr., Howard, Washington, Gerrard Sheppard and Montay Crockett. Bell (87% snaps), Ward Jr. (62%) and Washington (68%) remain heavily involved in their respective offenses and remain viable fantasy options.
Neither of the top-two values at receiver were able to suit up in Week 5, although Richard Mullaney seems much closer to a return than Amba Etta-Tawo.
The Birmingham, San Antonio and Atlanta passing games stand out as having the most value in Week 6 in terms of opportunities per dollar.
Tight End
Only five active tight ends are averaging at least three targets per game. Wes Saxton Jr. (81% snaps) and Keith Towbrdge (83%) are the superior options from the group over Anthony Denham (50%), Gavin Escobar (64%) and Marcus Baugh (59%).
The only other tight ends that played at least 70% of their offense's snaps in Week 5 were Evan Rodriguez (76%) and Brandon Barnes (70%), although neither is averaging even two targets per game this season.
The clear top-four value plays of the week are Saxton Jr., Towbridge, Denham and Cole Hunt, who hasn't played since Week 3 due to a leg injury and needs to be monitored.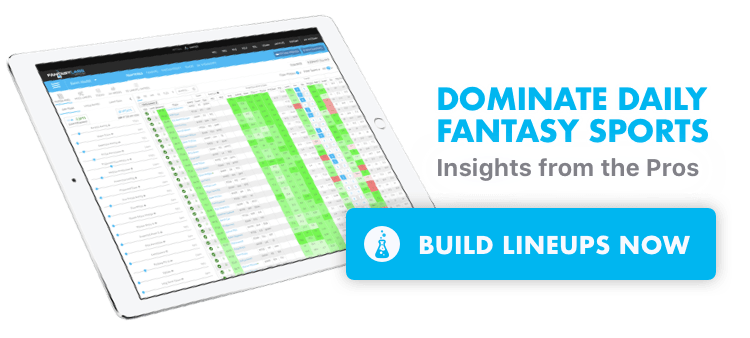 Cash Game Strategy
My lock-button plays are Richardson and Pressley at running back along with C. Johnson at wide receiver.
From here, we have two main stacking options to choose from …
Bercovici and Brown with the potential to fill out the lineup with one a high-usage receiver such as A. Howard, Washington or Martino. The downside here is the matchup against the Iron's elite pass defense.
Price and Patton with a low-price receiver at $3,700 or cheaper like Adonis Jennings, B. Howard or Sheppard, who led this group with a 57% snap rate last week. You could also choose to stack Price with Washington instead, which leaves enough salary for either Horn or B. Brown.
Freddie Martino ($3,900), Gerrard Sheppard ($3,500), Terrell Newby ($3,600), Terrence Magee ($3,100) and Aaron Green ($3,000) are the best bets for sub-$4,000 flex options that seem to offer a resemblance of a floor. I'm most willing to take a chance on Martino or Newby among the group. Richard Mullaney ($3,000) is also tentatively expected to suit up and slide back in to starting 3-WR sets.
Tournament Strategy
Paying up at quarterback to get Gilbert could help differentiate lineups, but you'll need to take plenty of chances on cheaper running backs and receivers after also locking in Johnson and/or Marshall.
Atlanta is also intriguing to target, as most of Murray's pass catchers are fairly affordable and allow users to spend up a bit more at running back.
Focusing exposure to the likes of McKay and Patton seems wise considering both are sub-$6,000 receivers who have consistently established themselves as their offense's No. 1 option.
Core Groups
Orlando: Garrett Gilbert, Charles Johnson, Jalin Marshall OR Rannell Hall
Atlanta: Aaron Murray, Seantavius Jones, Malachi Jones OR Keith Towbridge
Birmingham: Keith Price, Quinton Patton, and L'Damian Washington OR Wes Saxton Jr.
San Diego: Mike Bercovici, Brian Brown OR Nelson Spruce
Dart Throws
QB: Mike Bercovici, Keith Price
RB: Terrell Newby, Terrence Magee
WR: Freddie Martino, Adonis Jennins, Bug Howard, Gerrard Sheppard, Richard Mullaney (if active)
TE: Anthony Denham, Evan Rodriguez
Photo credit: Courtesy of @TheAAF/Twitter
Pictured: Arizona RB Jhurell Pressley